Video Poker: Basic Strategy
A good Video Poker strategy is about knowing which cards to hang on to and which to discard. It's one of the main ways in which the game is so different from slot machines: slots are utterly random, but with Video Poker a good playing strategy can improve your winning odds significantly.
Video Poker comes in a number of varieties so there's no definitive, only a one-size-fits-all payout table. Though a higher combination of cards will mean significantly higher payout numbers. In the "Jacks or Better" version of the game, a 5-credit wager with a Royal Flush will pay 4000 credits, meaning a 99.5% return on your wager. In the Deuces Wild version, however, the theoretical return on a 5-credit wager is 100.8%, meaning the player can actually gain an advantage over the house.
Aside from aiming for the highest combinations possible, here are some useful guidelines to get you going: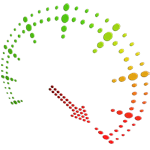 Always play the maximum number of coins
There's nothing worse than finding you have an incredibly strong card combination but you've wagered so little that your win is at best, paltry and at worst, a completely wasted opportunity. Bet max for max payouts. Also, many video poker machines will offer players a bonus on the highest hand if the maximum bet is made. Sure, the higher you bet the higher your potential loss, but remember you're at the casino to win, and if you're putting your chips/coins out there you should do so properly and hope you'll get lucky.
It's not always about the ace
We like aces: they're the single strongest card in Poker. But remember, a pair of fours will always trump a single ace. In other words, don't hold onto the aces just because they're aces – judge your hand by all the cards on your screen and not just the ones you think will give the best payout in the current hand. Poker develops over time, and a sterling hand in one round can easily become a mediocre hand in another one.
Aim high
We know there's a sense of certainty when it comes to hanging on to a pair or, if you're particularly lucky, a three of a kind. Sometimes, if the odds are right, it is better to strive towards the larger and more rewarding hands like a straight, flush, full house or even (if you're really lucky) a straight or royal flush. Playing only for a pair in every round will mean small and potentially frustrating payouts over the course of an evening.
But... Don't aim too high
Sometimes, it's a mistake to aim exclusively for high-value combinations. You risk losing everything. Assess and adjudge your hand carefully.  A good video poker strategy is learning about which best possible combination to make, at what time, and in what proportion. Some of this is strategy, some of it plain old chance. Just make sure you understand how Video Poker payouts work.