Wines of South Africa: Stellenbosch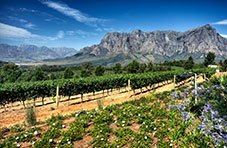 Established in 1679, Stellenbosch is the second oldest settlement in South Africa. With a winemaking tradition of more than 300 years and about 170 producers, this is also the country's leading wine area. It's home to the only university in the country offering a degree in viticulture and oenology. Some say that Stellenbosch is to South African wine what Napa is to Californian wine.
Picturesque Surroundings and Variety of Wine Styles
Stellenbosch is situated at the foot of the Cape Fold mountain range, with vineyards stretching over the hills and sheltered valleys from Helderberg on the southern side to Simonsberg Mountain to the north. The variation of this terrain, combined with suitable mesoclimates, allows for the cultivation of different grape varieties and an interesting diversity in wine styles.
Most widely planted grape variety is Cabernet Sauvignon, frequently combined with Merlot to create Bordeaux Blend wines. Stellenbosch Cabernet Sauvignon is appreciated by wine enthusiasts across the globe, and same goes for Sauvignon Blanc, Shiraz and Chenin Blanc. This wine growing area is also known as the birthplace of Pinotage, a cross between Pinot Noir and Cinsaut.
The Top Stellenbosch Wards
Stellenbosch wine-growing area is divided into 7 sub-regions, or wards, many of which are recognized by the Wine of Origin scheme. Simonsberg-Stellenbosch area features extremely bold wines due to the deep reddish clay soils. Because the wines contain large amounts of tannins, they are usually cellared for several years. Bordeaux blends and Syrahs feature smoky black currant, black cherry, tobacco and cedar flavours, and the ward also produces a unique white blend with Chenin Blanc and Sauvignon Blanc. Banghoek, situated right next to Simonsberg-Stellenbosch, boasts some of the best South African Chardonnay. Along with Chenins, these wines offer lemon-curd, pineapple and vanilla flavours and a streak of acidity.
Jonkershoek Valley is not only known for its wines, but also the Nature Reserve which is home to more than 1,000 floral species. A limited number of wine producers develop peppery and savory Syrah and Cabernet Sauvignon, as well as floral white blends featuring ginger, saffron and beeswax notes. Somerset West offers outstanding Bordeaux blends made with Cabernet Sauvignon and flavours of tobacco, smoke and black current, along with easy-to-drink white and rosé wines. Blaauwklippen River Valley ("Blue Cliffs") is situated southwest of Stellenbosch and famous for its bold Syrah with flavours of blackberry and spices. It's also the origin of excellent aromatic white wines with Chenin Blanc and Viognier.
Taste Some of the Best South African Wines
Unique wine farms scattered over the area surrounded by breathtaking mountains offer a one-of-a-kind experience to both the connoisseurs and novices. Visitors will get to explore unique and award-winning wines while enjoying picturesque views, soaking up the sun with glass in hand. Stellenbosch Wine Festival is a 3-day event which takes place in February and showcases hundreds of wines produced by large wineries as well as small boutique ones. The Wine Library offers you to meet a winemaker and taste rare vintages and small batch wines. A chance to do some grape-stomping is provided for those who'd like to experience real harvest action.
If you choose to visit the area during the month of March, you might get an opportunity to participate in the Stellenbosch Vineyards Pizza & Wine Festival and enjoy two days of great wine, food and live entertainment. One can take part in fun outdoor activities or opt for simply relaxing on the lawn under the trees.