The Inseparable Babies: Elephant Loboito and Kiko the Giraffe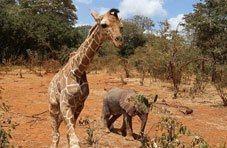 Humans can really learn a lot from their animal companions. While we often struggle to overcome our differences, numerous stories testify to animals befriending each other despite belonging to different species and having completely different physical appearance and habits.
One of such heartwarming stories features two four-legged babies, young giraffe Kiko and little elephant Loboito. They were both rescued from the wilds after having been abandoned soon after they were born. If left to themselves, neither would have survived. No mums to feed them milk, they were also in danger of poachers who have already managed to decrease the number of their brothers and sisters with an alarming efficacy.
Luckily, Kiko and Loboito are now in the good hands of the David Sheldrick Wildlife Trust caretakers. Receiving specialist care 24 hours a day, Kiko and Loboito are given a chance to grow up safely and eventually return to the wild. In the meantime, they enjoy each other's company immensely. Loboito has got very attached to his tall companion and follows Kiko around wherever he goes.
David Sheldrick Wildlife Trust was founded in 1977 by Dr. Dame Daphne Sheldrick in honour of the memory of her late husband. With the help of its dedicated team members, the Trust has hand-raised over 150 infant elephants and has successfully reintegrated the orphans back into the wild.