An Unlikely Couple: Themba the Elephant and Sheep Albert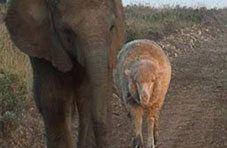 Themba was only six months when his mother fell off a cliff and died. The little orphan was in danger of starving to death before being rescued by the team from Shamwari Wildlife Rehabilitation Centre.
At the Centre, baby elephant got to meet his first animal friend, though not of the same species. While Themba was clearly super-happy to meet sheep Albert, their first encounter almost gave the sheep a heart attack. But it didn't take long for them to bond and become inseparable.
The two friends now chase each other around, explore the surroundings together and take naps side-by-side. Albert now copies everything Themba does which sometimes results in a behaviour typical for elephants but not at all for sheep. Watching them play and befriend other baby animals, while treating each other as best buddies in the world, is a truly heartwarming experience.
Shamwari Wildlife Rehabilitation Centre employs a committed team of people sharing the same passion. They help rescue, rehabilitate and care for sick, injured, abandoned or orphaned animals before they are released back into their natural habitat.d.