Play for Fun, Just for Fun
Details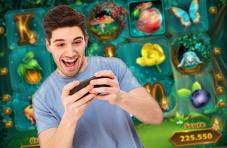 New Zealand is a great place to live or visit.  We have mountains and beaches in close proximity to each other, mild weather year round, and New Zealand is thankfully far away from all the international contretemps we read about and see on television news.
There is so much to do in New Zealand that many native Kiwis and guests look for mild, fun pastimes to complete an evening, give them a few minute's relaxation, or generally entertain them. 
In the last few years, online gaming has become very popular.  One big reason for the explosion in popularity of online games is that mobile casinos are now better than ever.  The graphics quality in mobile casinos, such as the mobile app through Springbok, the top online casino for Kiwis, is simply a lot better than mobile casino graphics were when these apps were introduced, which pre-dated Springbok in the online and mobile casino market.
In this article, we would like to list a few ways you can make your online gaming even better than it already is.
Fun, Fun, Fun
In the early 1960's the American rock group The Beach Boys had a song with the words: "and she'll have fun, fun, fun 'til her daddy takes her T-Bird away."
The song was a big hit in the United States over fifty years ago and the message still rings true: we need to find ways to have fun, fun, fun simply because our many responsibilities sometimes weigh heavily on us.  Even as we love taking responsibilities upon ourselves, we also need escapes that will have us smiling and grooving.
At its best, online gaming is pure fun.  It's fine to make large bets if you can truly afford to be a high roller but for the rest of us, online gaming gives us the chance to play casino games for small sums.  The minimum bet at many games is minutely small.
In addition, online casinos allow unlimited free play because cyberspace affords them unlimited space.  In this way, you can play for as long as you wish at no cost at all.  Most players, either from the outset or eventually, do choose to play for real money. Playing for real money adds a measure of excitement to the games.  The key to long-lasting online gaming fun is to keep it all in perspective.
Play in Slots Tournaments
We at Springbok offer many tournaments in slots.  We keep the entrance fees either very small or free so that slots aficionados can play at almost no cost and have a great time "competing" for prizes that are in keeping with the entrance fees.
Another great aspect of slots tournaments is that they are easy to set up and run so we offer tournaments every day, even sometimes more than once a day.  We also run weekend and holiday tournaments.  They are just another way we do our utmost to make online gaming at Springbok as fun as possible.
Try New Games
One of the most amazing advantages of online casino gaming is that you never have to wait.  When a person travels to a land-based casino for a long weekend or a short holiday, they generally stay at the same game for several hours.  They don't try out different games.  The reason is simple: you can't save a place at one game as you go to try out a different game.
At Springbok, you never have to wait for a game.  That's the magic of cyberspace!  As a result, you are free to travel around the casino, trying out as many games as you wish.  You might find a game that you really enjoy playing and stay with that game or you might play a number of games for short periods of time.  The choice is yours because our online casino gives you the ultimate in freedom.
There are basically two types of games at any casino: games of chance and games of skill.  When you decide to learn a game of skill, it is far better to learn it online in free play mode than at a land based casino.
Save Winnings
This piece of advice falls under the rubric of sound money management.  One aspect of good money management is simply to give yourself a percentage of all winnings.  In this way, you will have money left over when you finish a session even if luck wasn't a lady for you that time.
This idea also goes hand in hand with the idea that online gaming is fun: you can stretch a gaming session when you pay yourself for wins by making your bets relatively small.
A corollary to this idea is that you should always set the length of time you'll play and the amount you'll bet.  Some players also set a win limit but if you're winning, why quit?  That is, as long as you do stop when you reach your pre-set gaming time limit.
Accept Bonuses
Online casinos offer many bonuses.  As long as you follow all our advice regarding playing times and betting limits and you pay yourself for wins, taking as many bonuses as you can is a great way to increase your bankroll.  In the long run, if you are lucky and if you play the games of skill skillfully, you will have a lot more money to withdraw than you deposited.
Along with the idea that bonuses can give you more money to withdraw than you deposited, it is always a good idea to understand that online gaming is not a get rich quick scheme.  You might hit a big jackpot but we always tell our gamers to see gaming as gaming.  A state-run lottery is a get rich quick scheme but online gaming is not.
Betting Systems and Tilt
Many players try to win by using a betting system.  Please, please, avoid using betting systems.  A system might get you back to even money if you make only 1-1 bets but it cannot work in games of skill.  Failing to win whilst using a betting system is one element in what gamblers call tilt.
Tilt is when you lose perspective, stop having fun, get angry, play longer than your allotted time period, bet good money after bad, and generally have a horrible time.  Please, please stop playing if you see that you are getting frustrated or angry.  There will always be another day to play and if you follow our advice, you will still have plenty of time and money to have a lot of fun.