Online Casinos are the Untapped Benefactors of Local Economies
Details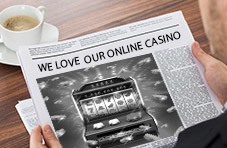 The news is constantly filled with reports about land-based casinos.  The headlines either reflect hard times for land-based casinos in a given area, good times ahead for casinos in other locations, and the vast amounts of money that entrepreneurs are investing in massive land-based casino projects.
Have you ever wondered why the headlines are so infrequently about online casinos?  it is extremely ironic that many players need to read blog articles such as this one in order to hear about the best online casino for Kiwis or the large number of Springbok casino games.
Regulation
The first part of the answer to this astute question is that politicians think that land based casinos are a lot easier to regulate than online casinos.  This was not always the case; the term "skimming" was created to describe what was at one time the common practice of taking some of the massive amounts of cash that came through many land based casinos before reporting the rest.
These days, skimming is a lot harder to do since there is usually a record of credit card or ewallet transactions.  Since that is the situation for land based casinos, it would seem to also be the case for online casinos.
The very fact that land based casinos are entirely physical whilst online casinos are entirely ephemeral, existing, as they do in cyberspace, makes tracking all manner of events a lot easier at land based casinos.
A Plethora of Casinos
One reason that local authorities feel that they cannot fully regulate online casinos is because there are so many of them.  In fact, there are thousands of online casinos, whilst in any location, there are usually one or just a few land based casinos.  Las Vegas is an anomaly in this regard but even there we find just a few dozen land based casinos.
With so many online casinos, we also find that some are less than fair to their players.  Regulation and certification become a major part of online casino gamers' confidence that they are playing at a reputable casino.  With that in mind, we can say that local authorities are actually being derelict in their duties by not legalizing and regulating online casinos.
However, a growing number of locations and jurisdictions are finding that the can, indeed, regulate the online casinos that operate within their jurisdictions to the benefit of many. 
Taxes
It is no secret that local authorities want to control land-based casinos in their areas because it is easier to collect taxes from them than to collect taxes from online casinos.  However, there was a time that most places did not have income taxes because they felt that it would be too hard to collect these taxes from private individuals. 
Most locations have discovered that they can collect income taxes from the people in their jurisdictions.  The only thing that prevents them from collecting all of the taxes legally owed them by residents is that taxes are usually too high in almost every jurisdiction thus forcing many people into an underground economy where no taxes are paid.
Opposition to Online Casinos
It makes a lot of sense that the greatest opposition to online casinos comes from land based casino interests.  This is based on two realities.  First, even a "simple" casino and hotel complex may cost hundreds of millions of dollars to build.
The money has to be invested before a single roulette wheel or blackjack hand is played.  The investment cannot be returned without a lot of gamers flooding the casino floor at all hours of the day and night.  That's the main reason that there are no clocks and windows at almost all land based casinos: they need players to lose track of the time so they'll continue playing long into the night.
This is also the reason that alcohol flows so freely at land based casinos.  Players love the perk of getting free drinks and the casinos love the money these gamers lose as their critical judgment gets impaired from even a single strong drink.
Integrated Resorts
The second reason why land-based casino interests are in the forefront of the opposition to the legalization and regulation of online casinos in many locations is that local authorities that have long been opposed to land based casinos have softened their opposition as the Integrated Resort concept has taken hold.
The Integrated Resort idea was first formed in Singapore which is a conservative city-state in Southeast Asia.  The local authorities were opposed to gambling in any form for generations.  The Integrated Resort idea changed that.  An Integrated Resort is a massive complex in which the casino is just a "small" part. 
An IR has a luxury hotel with suites that cater to families, a conference centre, a large shopping mall, waterparks, and other family-friendly attractions, pubs, and theatres for all manner of live entertainment, restaurants and much more.  In short, an IR costs far more to build than a "mere" casino and hotel complex.
In a standard casino and hotel complex, the hotel's front desk is through the casino.  In an Integrated Resort, you walk to the hotel desk through the hotel lobby; the casino may not be an afterthought to the investors but it can be so to many hotel patrons.
Online casinos are not inexpensive to set up but they are far less expensive than land based casinos.  For this reason, online casinos have a higher return to player rate than do land based casinos.
Land based casinos have the disadvantage of needing to get as much money out of players in a short period of time as possible.  The playthrough requirement for cash bonuses is hard to finish at land based casinos.
Benefit to Local Economy
An ancillary benefit to the local economy where a land based casino is located is another reason cited for opposition to online casinos.  Land based casinos and hotels and Integrated Resorts create a lot of jobs.  The people who come to gamble or for any other reason add to the local economy through the many purchases they make whilst there.
This is an odd argument since the money people save by not travelling to play casino games can be spent in the economy where those people live. Money not spent in one place gets spent in another place so regulated online casinos are good for a broader spectrum of local economies.
To Recap
We should request from our local politicians and news media to report about online casinos and their many manifest benefits.