We are Entering a Golden Age of Mobile Gaming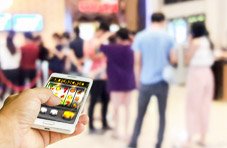 This is a question that few people would have asked even ten years ago! That's because mobile gaming wasn't always as convenient and accessible as it is today. We have mentioned the value of mobile gaming in several previous blog articles so we decided to dedicate an entire article to mobile gaming here at Springbok, the top Aussie online casino.
Prehistory of Mobile Gaming
The term prehistory is a tongue-in-cheek term, of course. But long before Springbok came along online and even longer before Springbok had a mobile adjunct to our flagship desktop casino, some online casinos were experimenting with mobile casino games.
These experiments were mostly less successful than the casino operators had hoped for three very good reasons. First, there were no games that had been developed exclusively for mobile platforms. That meant that the game providers had to reformat any game their affiliated casinos wanted to run on the mobile site.
The second reason that the early experiments with mobile casinos were less than successful follows from the first: the few mobile platforms weren't compatible with each other and the games that were compatible with one were not compatible with any of the others.
Finally, in addition to the difficulties mentioned above, the graphics for mobile games were nowhere near as good as the graphics for desktop casino games. Interestingly, the same was true at the time for the graphics at laptop computers; they offered the same games as the desktop casinos but the graphics weren't as good.
Today, our large library of Springbok online pokies works perfectly on the desktop casino and on all major mobile devices and platforms. The graphics on our mobile pokies rivals the graphics of any game anywhere.
21st Century Technology
The first mobile games arrived in the late 1990s but the big changes began with the introduction of the first generation Apple iPhone. The convenience we now associate with smartphones and tablets was just beginning but the iPhone was a major step forward. Other online stores soon followed, offering games of all sorts. Casinos soon followed as well.
Compatibility and Formats
At Springbok, our mobile games are available for almost every mobile platform. In addition, you can either download the casino app to your smartphone or play in our Instant Play platform directly through your server.
Instant Play is a story in itself and it is directly connected to the advances in computer graphics. At one time, in the recent past, anyone who wanted to play online casino games had to download the entire casino to their hard drive. Nowadays, many people would prefer to keep their older computers instead of upgrading to accommodate an online casino that had grown exponentially since its modest beginnings. The modern Instant Play technology ended that conundrum for most gamers.
So, now you can play through your server as easily as you can play through the app.
One Account
When you join Springbok casino, you get a single casino account. You can use the funds in that account to play at your desktop or laptop or on your mobile device.
There are two exceptional advantages to having a single account for the different gaming platforms: security and promotions.
The first advantage is simple security. Now, security is not a simple matter and we take it very, very seriously here at Springbok.
We use the same SSL encryption software to safeguard your money regardless of which platform you play on. That includes through your desktop or laptop, through your favourite browser in Instant Play, or through the mobile app.
Promotions
The second advantage to having one casino account across all of the gaming platforms is that any promotion you access or accept whilst on one of our platforms is available to you on all of our other platforms. So, if you accept a deposit bonus whilst at the desktop casino, you can use the bonus money to play on your mobile device.
The value of cross-platform promotions has many other applications. For example, if you join a slots tournament whilst you're on the mobile platform, you can continue playing and competing in the same tournament if you switch to the desktop platform.
Another aspect of playing with bonus money across our several platforms is that you work off the wagering requirement regardless of which platform you are playing at. As far as mobile gaming is concerned, you can open the mobile app and play whilst you're waiting somewhere and in that way work off a good amount of the play through requirement!
Finally, we run a solid comp points promotion that all gamers automatically join when they begin playing at Springbok. In the same way that you can use bonus money and can participate in tournaments across platforms, you can add to your comp points total regardless of which platform you're playing on.
Non-Stop Improvements
Just as the world of desktop casino gaming has mirrored the dramatic changes in desktop computers generally, the progress of mobile gaming has mirrored the massive progress still being made in mobile computers.
Our game providers now develop games just for Springbok and other mobile casinos. Whilst the game providers do still reformat classic games, especially pokies, from older formats to fit the mobile format, they increasingly now develop games just for the mobile gaming sector.
The realization that we need to be constantly improving every one of our products has propelled Springbok to emphasize mobile games no less than we once emphasized desktop gaming. The fact is that most online casino gaming today is done on mobile devices.
Two Main Types of Mobile Gaming
The two main types of mobile gaming are gaming in short bursts whilst on the go and long gaming whilst curled up on a soft chair, sofa, or bed. The short bursts of gaming usually emphasize tournaments or progressive games. Many players feel that if they are to play a progressive pokies game, they might do so for a few quick spins whilst they are waiting somewhere.
The far more relaxed gaming described by the second main type of mobile gaming represents a major step forward in online gaming. You can play easily with a large tablet screen with your partner or significant other. In this way, the super-mobile device we can't leave home without is also a medium that lets us play and be with the important people in our lives at the same time.