Money Management - A Few Excellent Tips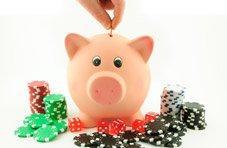 A lot of gamers ask how they can best manage their bankroll when they are playing casino games for real money.  In this article, we'll talk about gaming at Springbok desktop casino, Springbok mobile casino, and at a land-based casino in general.
Gambling Online
The big question raised is: Since it is so convenient to gamble online, isn't it also easier for a player to run through their bankroll at an online casino as opposed to a land based casino.
As we will demonstrate later, it is actually easier to manage bankrolls at an online casino, but first we have to state a few basic assumptions and then we'll get into ways to best manage money whilst playing at an online casino.
Assumption Number 1:  You are interested in better bankroll management and don't have a gambling problem.  Springbok is 100% committed to helping players who demonstrate a gambling problem.  In this article, we are focusing on basic money management techniques.
Assumption Number 2:  You lead a full and active life with a strong network of family, friends, and colleagues.  This means that online gambling is just a pastime to you rather than the most important activity of the day.
Assumption Number 3:  In general, you are good at managing your time. 
Gaming as Entertainment
We say this over and over: you should always see online gaming as a form of entertainment and the money you put aside for gaming should come out of your overall entertainment budget.
If you don't yet have a dedicated entertainment budget, the first step toward better money management generally is to set up an entertainment budget.  This is more than picking a number out of a hat.  If there is a popular restaurant but it is too expensive for your outside dining budget, you will either go there less often than others or you won't go there at all.
The same applies to everything we buy such as clothing, holidays, books, movies, cars and other forms of transportation and so on.  The reason that the economy section on airplanes is so much bigger than first class or business class is that air travelers know instinctively that given their budget, first and business class are too expensive.
So, it is very important to see online gaming as entertainment. 
People who travel to a land based casino tend to see the excursion overall as a holiday.  It may be for just a long weekend or for a longer period of time but it is much more challenging to see gambling as a form of entertainment when everything as a land-based casino destination is a form of entertainment.
Set a Time Frame for Online Gaming
We specifically said that we assumed you had a broad spectrum of family, friends, and colleagues.  This makes it a lot easier to set a time frame for your online gaming.  In addition to the people in your life, you have many work and domestic responsibilities.
When you go to a land based casino, you don't think about the work project you've been working on.  If the work project is so important, you won't consider taking a few days off to travel to a land based casino.
When you go to a land based casino, you don't think about cleaning up, washing the dishes, doing the laundry, shopping, and cooking.  At home, you surely think about some of these things every day.  Gaming at home is a natural venue for setting a time limit on gaming because there are people to see and so many other things to do.
Setting a time frame for gaming is a great way to manage your bankroll and the absence of a time frame at a land based casino makes them the perfect venue to mismanage your bankroll.  That's why land-based casinos have no windows and no clocks.  That's also why they offer free meals and especially free drinks.
Gaming at Springbok mobile is also a great way to manage your time.  Although mobile gaming has become even more popular than desktop gaming, it is still usually a short term activity.  Some land based casinos have begun offering mobile gaming.  At home, your natural time regulator will make it easy to close a session and get on with the many other people and activities in your life.
Manage Your Money Soberly
It is absolutely vital that you stay away from alcohol whilst you are gaming.  This is a lot easier to do at home.  Alcohol flows so freely at land based casinos because the proprietors know that players make poor decisions when they have even a little alcohol in their bloodstream.
Control Your Emotions
When you play online, you can call up a friend or family member if you have made the mistake of gambling too much and for too long.  At a land based casino, you are basically on an island all alone.
When you feel yourself getting frustrated by a losing streak, simply go away from the computer.  At home, you have other things to do.  At a land based casino, the temptation will always be to try to win your money back.
If you see gaming as a form of entertainment, you won't ever try to win your money back; the money was spent on entertainment.  As we said above, when you're at a land based casino, everything is entertainment; it is difficult to separate gaming from sitting at the casino bar, eating at the buffet, or taking in a show.
Budget for the Game You Want to Play
If you love slots, then online gaming is far better than land based gaming because you can go from game to game, never wait, and you can return to any game any time you want to.
You can have a lot of fun playing slots for the minimum bet because the great entertainment side of slots is the theme and the gameplay.  You can play for even a long time at minimum bets and have a great time whilst winning or losing small sums.
Blackjack, poker, and video poker require decisions on every hand.  You should bet the maximum in video poker because of the big extra win for a Royal Flush.  Because of this, you need to find a game where the maximum bet is in line with your budget.
Blackjack is an interesting game in itself.  At a land based casino, the table with the minimum that is most in line with your budget may be full.  Many gamers at land based casinos wind up at blackjack tables with a much higher minimum bet.  So, the best place to play blackjack is online.
Last Word
Budget management is the core element of happy casino gaming and it is easier to do at an online casino than at a land-based casino.