Everything You Always Wanted to Know about Mobile Gaming and Weren't Afraid to Ask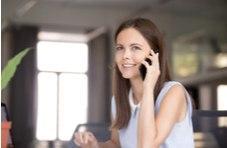 More and more players are playing Springbok casino games on our mobile platform.  This is a trend that began relatively recently as the quality of the graphics on mobile devices improved beyond the critical point at which gamers were comfortable switching to mobile.
Even though so many players now play almost exclusively on their mobile devices, we still hear from our players—especially new ones and also veteran players—a number of questions about playing on mobile at Springbok, the top online casino for Kiwis.
The Value of 24/7 Customer Service
The many queries we receive come to us through our customer service office which never closes.  Gamers use the chat service, the email option, or simply place a call.  And if a player calls our customer service desk, they are almost always calling from their smartphone! 
It is so obviously true that we are living in the digital age and mobile casinos are a big part of that.  Here are some of the more pertinent questions we often receive:
Does it Matter if I Play at Springbok Mobile or Any Other Mobile Casino?
We know that there is a lot of competition in the online casino gaming business.  The big differences between Springbok and other mobile casinos is the choice of games, the quality of those games, and all of the ancillary options Springbok Casino gives.
We need to hear another question in order to fully understand the answer to this first question.  The second question is:
Will I Get a Second Account when I Join the Mobile Casino at Springbok?
At Springbok, you have one account for the desktop and the mobile platforms together.  That is important for many reasons:
You can take one of our many bonus offers on one platform and use it on the other platform.
You will work off your wagering requirement whilst playing at either platform.
You will grow your comp points total in the same way whether you are playing at the desktop or the mobile platform.
You can join a tournament whilst on one platform and continue competing in that tournament if you switch to the other platform.
You are eligible for every promotion equally at both platforms.  This includes all bonus offers, cashback, and every promotional offer Springbok will make in the future.
You can bank with the same deposit and withdrawal methods as on the desktop casino.  The same encryption software that protects your money at the desktop casino also protects your money at Springbok mobile casino.
The mobile casino is regulated and certified under the same auspices as the desktop casino.
These are what we meant earlier by ancillary options: bonuses, wagering requirement, comp points, tournaments, and promotions.
Are There Mobile Casinos that Don't Have a Desktop Platform?
Yes, there are.  We feel that these mobile casinos have two weaknesses but, of course, it is up to every individual player to decide for himself or herself.   The first weakness is that many of these so-called stand-alone mobile casinos are very new to the business and don't have a lot of experience.  The second weakness is simply that having two platforms doubles every gamer's flexibility whilst having only a mobile platform reduces gamers' flexibility.
Which Games are Available on the Mobile Platform?
When mobile casinos first came online they were all subsidiaries of big desktop casinos.  The game providers had to reformat their top games for mobile.  Many mobile platforms were not compatible with many of these reformatted games.
Today, all of our games are developed primarily for mobile but we also develop the same game for the desktop casino.  We expand the number of games we offer on both platforms every month.  The reason that we develop games with mobile as the primary destination is because so many gamers have switched to mobile.
Why Do Players Prefer Mobile
In short, convenience, comfort, and graphics.
The convenience of mobile needs no further explanation.  Online casino gamers like to be able to access the mobile casino quickly and play even if they are free to play for five minutes or less.
Mobile casino gaming is the perfect platform for seeing online casino gaming as a fun and entertaining pastime above all else. 
The comfort of mobile gaming comes into play mostly when we play at home.  Instead of sitting mostly upright in front of our desktop terminal, we can lounge on our favourite chair or sofa.  We can play with our special friend or spouse.
Finally, all this would not be taking place were it not for the massive improvements in mobile graphics in the last few years.  Graphics have been the lifeblood of online casinos since the beginning which was only about twenty years ago.  The graphics on desktop casinos improved so much that people who love online games, including casino games but not exclusively, upgraded their computers fairly often.
The great improvements in graphics are also taking place on desktop platforms.  That's why Springbok now offers instant play directly on your server at the desktop casino.  In the past, players had to download the casino to their hard drive.  Now, with instant play, that isn't necessary.
You access the Springbok mobile casino through a simple mobile application.
A Final Word
The mobile casino is a great adjunct to the Springbok desktop casino.  If you are already registered at Springbok, we invite you to check out the mobile casino.  If you are new to Springbok, we invite to sign up and begin to receive our superb welcome bonuses.
When you join on one platform, you will automatically join on the other platform as well.  Then you'll be able to access everything that is great at Springbok mobile and desktop casinos!