Avoid Common Errors so Gaming Becomes All Fun
Details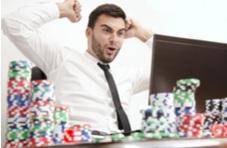 Springbok Casino's series of tips for online games and online gaming have reached a wide audience.  We have received the same question from many gamers.  They say that our articles are always so positive that we actually aren't warning players about some fundamental mistakes that many online casino gamers make.
So, here are some of the most major errors in judgment online gamers sometimes make.  We will turn these mistakes into their opposite, namely the positive things gamers should keep in mind or do to make their gaming more fun.
Decide What Type of Online Casino Gamer You Are
This is not as simple as it seems.  If you prefer to play at Springbok mobile casino, you also should decide if you like to play in short bursts whilst in a queue somewhere or in a relaxed position on a soft sofa or chair at home.
The difference is critical for the size of your bankroll, your method of funding your bankroll, and the games you are likely to play most often.
On the subject of defining who you are, Robert Townshend said in his great book "Up the Organization" that every company has to define itself precisely in order to fully understand its place in the business world.  As the new president of the Avis car rental company, he led the team that defined Avis as being in the business of renting cars without a driver.  That led the company to sell off a limousine service so it could concentrate 100% of its energy on becoming a better car rental company.
Study Every Game You Play
Many players understand the need to study games of skill such as video poker and blackjack but many don't feel the need to study games of chance such as slots, roulette, or craps.
Studying roulette and craps will help you learn which are the best bets to ensure long-term play and which bets are the most risky ones.  By studying the games, you might discover that you either like roulette or craps more than you thought or you would prefer finding a more interesting game. 
The error in judgment here is having the feeling that there are few choices at an online casino.  In fact, there are many choices and studying the games will help you not only see the choices but make the choices that are best for you.
Study Slots, Too
We have to include slots in the discussion on studying games.  In addition to the many themes from which the game providers create their slots games, each game has special features.  You might find a slots theme that you never would have thought would interest you actually does interest you because of the way our game provider, Real Time Gaming, has developed the concept.
Slots have many extra features that add to your winning chances.  This makes some slots more volatile, which means that you get fewer winning spins but win more at each winning spin. 
Studying slots is not book study; it involves playing as many slots as you can in order to find the ones you really like the most.
The error in judgment regarding slots is that many online gamers don't realize yet that they can play any game without losing their "seat" at any other game they might want to return to.  In other words, an online casino is much different than a land-based casino and gamers who are so used to playing at a brick and mortar casino have to make an adjustment when they start to play online.
This is one of the easiest adjustments to make!
Play for Free
Online casinos such as Springbok offer unlimited free play in all their games.  This is not the case at land-based casinos.  So, just as in the above example, many players who have long played at a land based casino need some time to get acclimated to the benefits of playing online.
You can discover a wealth of gaming fun by starting out playing for fun.  The error in judgment here is thinking that you have to bet on every game especially on a game that you are trying out for the first time.
Decide How Many Bonuses to Take
Many players never define their need for deposit bonuses.  There are gamers who take far too many bonuses and can never withdraw money because they are always working through their wagering requirements.  On the other hand are gamers who never take any bonuses and are always playing with 100% of their own money?  For every gamer, there is a happy medium here. 
Springbok offers excellent bonuses that suit many gamers' needs.  It is very important to decide which bonus offers to accept.
Use Casino Tips
We publish many articles with playing tips and advice so you can have more fun playing.  Many players feel that the tips an online casino gives are for the casino's own benefit.  As far as Springbok casino is concerned this is a big error in judgment on the players'' part.
We provide gaming tips to help you win.  We know fully well that there's a house edge in almost every game.  We are happy to be able to stay in business but it doesn't bother us in the least to help our gamers close the gap between the house's edge which is about 1-3% in most games and the break-even point.
Play When You Feel Good
There are two conditions that we always say to avoid real money gaming when either of these conditions occurs.  The first is when you are physically unable to make good decisions.  You might be ill and too tired to make good decisions.  You might simply be tired from working late, insomnia, or taking care of the baby.
In any of these cases, we recommend as strongly as new can to play only in free play mode.
You might not feel good because you have had too much to drink.  Land based casinos try to get their players a little drunk.  That's why they ply them with free alcohol.  We suggest the exact opposite: play sober and drink after you finish a gaming session.
Finally, many players continue playing even after they have fully entered "tilt".  This happens when luck turns away and you lose games you feel you should have won.  Tilt occurs most often in the games of skill but can hit you any time.
When you're on tilt, stop playing and do something else enjoyable to clear your mind.