The Personal Computer Generation is Like No Other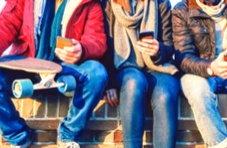 Online casinos face many great challenges as we strive mightily every day to make your gaming experience the best it can be.  One of the big questions we at Springbok, the top online casino for Kiwis, is who are the "you" in the previous question?
The fact is that we have to appeal to a wide range of players with different expectations and different gaming preferences.  In this article, we'll focus on the demographic group called millennials.  We'll show you just how much online gaming is a lot more than offering great online casino games.
Who are the Millennials?
This demographic has long been defined as people born between 1980 and 2000.  This definition no longer works for online casinos since people born in 2001 can also legally play at online casinos.  Every year the number of players who can legally play will go up.  So we define millennials as roughly anyone born during the era of the personal computer.  The exact year that the millennial demographic begins is less important than the culture they grew up in and expect in every aspect of their daily life.
There is a story, possibly apocryphal, about a small child, perhaps a year old being held by his or her grandparent who had a mobile phone from a previous "generation".  The small child swiped across and tapped the screen and became utterly confused when NOTHING HAPPENED!
Mobile
It is the millennial generation that is moving the great switch from desktop casino gaming to mobile gaming.  Millennials love gaming but enjoy many other activities that they can do with their smartphones.  We know that millennials overwhelm all other groups in texting.
So, we know that we have to maintain the absolute best graphics on our mobile casino app.  We have to be at the forefront of every new mobile technological development.
Millennials understand the immense convenience of mobile phones and tablets far more than older people.  Millennials do so much more than play games on their mobile devices.  They read, keep their daily agenda, communicate with hundreds if not thousands of contacts, make appointments, and so on. 
Everyone else does the same things but many older people cannot read from a tablet, cannot keep a digital daily planner, and .cannot keep running texting going for large chunks of time.
Promotions
Millennials expect every online company to offer more than just a product or a service.  Millennials are more willing to shop online as so many land based retailers have discovered to their dismay.  However, this puts a lot of pressure on online retailers.
Online casinos are no different than any other online business in the way they try to appeal to millennials.  We offer many excellent promotions including a top of the line welcome package of bonuses that begins with a no deposit bonus, comp points, cash back, the Lucky 7 promotion that rolls around once a month, and many deposit bonus offers.
Springbok also runs many daily and weekly slots tournaments, which appeal especially to fast moving millennials.  The slots tournaments have very low to no entry fee and the possible winnings are also modest in the extreme.  This appeals to many gamers, especially the youngest cohort of gamers, because they make playing slots a purely fun pastime.
Selection of Games
This area has two aspects.  First, the general range of games we at Springbok offer runs from about 100 slots to table games, video poker, and casual games such as bingo and keno.  Second, we have to make sure that the range of games offered at the mobile casino is as broad as the range offered at the desktop casino.  As you may have already perceived, we spend a great deal of time maintaining the mobile casino since the demographic that is pushing business all over the world demands mobile access in every area, not merely gaming.
Real Time gaming, our games provider, understands that every new game they develop has to run smoothly on our mobile platform.  Modern slots, for example, have to have well developed themes and characters.  The symbols have to be drawn in the most realistic manner possible.  The realistic nature if the characters adds to the storytelling side of modern video slots.
Online gaming these days is a lot more than slots.  Players want to be able to relax with blackjack, casino poker, or video poker.  They want many variations and playing options as well.  We offer many different blackjack and video poker and, in the case of video poker, we offer a multi-player option up to 100 hands per game.
Tutorials
We also carry tutorials for almost every game we offer.  We are trying to complete the package of tutorials so we can say that we have a tutorial for every game!
In addition to the tutorials, we run many informative articles of especial interest to gamers from our southern hemisphere top three countries, South Africa, New Zealand, and Australia.
Bitcoin
Millennials have driven the move to use bitcoin as a deposit method.  Bitcoin addresses two primary desires of millennials.  First, this currency exists exclusively on the internet thus appealing to millennials who are more internet savvy than their parents or grandparents.  Second, it refers to an inchoate concern of millennials that governments are ruining their own currencies so it might be best to hold some currencies that are independent of governments.
Global Reach
We are fully aware that the global "village" is getting smaller by the year as communications become faster and more accessible to more and more people.  We know that a Kiwi today may be a resident of a different country tomorrow for many diverse reasons.  We want our loyal New Zealand gamers to be able to "take the casino with them".
To this end, we reach out to the entire world as a great online casino that is fully regulated and certified, where banking is totally safe behind the most sophisticated encryption software available, and the games keep coming every month. In addition, the random number generator guarantees that every spin of a slots game or every hand in casino poker, blackjack, or video poker are 100% random.
The Next Generation
We might come to say in a few years time that there is a new generation that has its own unique expectations from an online casino.  We cannot foretell new developments in technology and personal activities.  But, for now, the millennial generation has awesome influence on the business world, in general, and on the online gaming niche, in particular.