Get Clinical: Play Casino Games like a Pro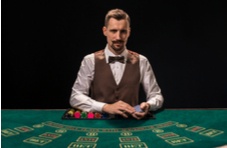 We all know next generation online casino games are special.  They're slick, sassy and appealing.  Cards are dealt with effortless ease and bingo balls float, bounce and bubble across the screen.  Slots symbols spin and gyrate onscreen disguised in all sorts of thematic iterations… witches, warlocks, glamour girls, zombies and warriors of times long passed.
Select Games Based on Win Rate
At the star rated Springbok online casino for Kiwis, it's easy to get side tracked by the fluff, flamboyance, dazzle and dare of RTG developed casino games.  There's always the temptation to dip into titles that are defined by creativity, imaginative imagery and celebrity characters like David Hasselhoff, Marilyn Monroe or Jackie Chan.
As Kiwis it's kind of easy to lose the head and operate from the heart instead.  We are, after all, a soft and cuddly bunch.  That's all good and well but in the cut and thrust of gambling on real money casino games, it pays to be clinical.
Search for the Best Odds and In-Game Bonus Features
What do we mean by that?  Well instead of being lured to the pretty part of gaming online, think like a pro. That means looking for the casino games - genres and titles - that have the best odds, potentially lucrative in-game features, a high payout percentage and the possibility of a random progressive jackpot thrown in.
As an example, Triger Happy slot is a 30 fixed payline game that pays out up to 250,000 coins. There are two random progressive jackpots in play, along with standard wilds, stacked wilds and a free spins feature with sticky wilds to pump up the win rate.
Focus on Freerolls and Cashback on Deposits  
If you're really smart, you'll leverage the Springbok online casino bonuses with the same cool-headed intent. You'll focus on freeroll tournaments, cashback on deposits and exclusive freebies with lower than usual wagering requirements.  The idea is to slowly but surely build your casino gaming account into a micro-empire that's based on liquidity rather than bling.
Exploit Double Comp Points Opportunities  
When you gamble like a pro, you'll maximise your comp points earning ability.  The trick is not to blow your bankroll all in one go.  Rather capitalize on the double comp points that are up for grabs in the featured game of the week or month.
When you're clinical about how and when you spend your money at the best online casino for Kiwis, you'll naturally improve your comp points balance.  That means you'll have the opportunity to convert more points into hard cash.
Construct a Bank Roll
At Springbok instant play or download casino there's really no need to hurry up and spend, spend, spend. Rather be patient, take the time to find red hot casino games in terms of payability – over playability – and construct a good cash innings over time.  Think test cricket rather than All Black rugby and the odds are you'll accumulate cash like Daniel Vettori rather than Jonah Lomu!
Skill Up with Strategies  
How do you find the casino games that have a genuine penchant for paying out?  Your first stop should be the tables where blackjack wagers and the outside bets in roulette can supplement your online casino account.  
You can further enhance your chances by familiarising yourself with basic blackjack strategy in tabular form or by brushing up on the Martingale, a simple strategy that ensures you get the best return playing roulette.
Leverage the Real Series of Slots
You can opt to redeem casino bonus coupons and use the free moola on games that belong to the Real Series of Slots - Mister Money, Penguin Power, Cleopatra's Gold, Rain Dance and Ronin slots.  
These casino games have the full quotient of in-game features designed to drive up the win rate.  Moreover, there's an added incentive in the form of a random jackpot that can pop up and pay out plenty of cash after any spin session online.
Don't Swing It
Getting the best return on your investment at Springbok casino means you have to have a multifaceted gaming strategy firmly in place.  
Don't just swing it.  Learn the game rules, play in the fun mode until you know what you're doing and always be prepared when you unleash Texas Hold'em, Caribbean Stud or Bonus video poker on your device.
With a fair bit of know-how and the gambler's touch, you can easily convert a few rand into an opulent night out for two in Auckland, Hamilton, Christchurch or Rotorua.
Get Clinical in Six Easy Steps and Win ZAR
A quick recap:
Play casino games that have the best odds of winning, multiple in-game features and a higher than average return to player (RTP) – which to the uninitiated is above 96%.
Don't redeem casino bonus codes unless you've read the terms and conditions of use.  Some bonuses have steep playthroughs and harsh withdrawal limits.
Play like a pro - prepare, practice and be patient and always quit while you're ahead.
Capitalize on games and bonuses that offer double or treble comp points.
Read casino games reviews, search for RTPs or payout percentages online and wager on the real money casino games that provide genuine chances of winning more frequently than most.
Have fun gaming like any good Kiwi, who demands full blown, cash saturated, epic entertainment on the PC or phone, should!