Oh Wow - Best-Ever Casino Records in the World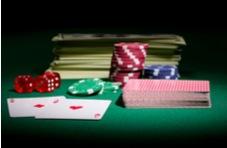 Whether you prefer the chilled-out head space and wonderful win rate of Springbok Kiwi online casino or the razzle, dazzle and loud sounds of a B&M gambling den, we're certain of one thing.  We know you'll appreciate the effort it's taken to get these record-breaking casino-related feats into the Guinness Book of World Records.
Some achievements have taken more than tenacity; they've taken sheer will power. Others have involved the perfect merging of serious smarts and a smattering of luck. If that's not enough to pique the interest, perhaps the pretty awesome re-creations in terms of space and scale will.
Biggest Ever Blackjack Table
In 2012 the Viejas Casino in San Diego went big, real big. They custom built a massive blackjack table with a surface area of more than 206 square metres.  The occasion was the property's 21 years of supplying super cool casino games and live entertainment to cash-rich Californians.
In real terms it was a bit like Alice Through the Looking Glass. Six guests were invited to sit around the behemoth of a blackjack table and play one hand using playing cards and casino chips that were 10 times the normal size. The table was so large, the dealer was not only dwarfed in size he had to recruit the help of two assistants.
These two average sized adults had to heave up the enormous playing cards, walk across the table and flop them face up on the table before touting each player's chips to the designated area on the large layout – phew!
What they were playing for was also pretty large… a share of a $21,000 cash prize! Viejas clearly loves to do things properly as along with their unique anniversary celebration, they have thousands of slot machines lining the casino floor.
What's even more notable is our Kiwi online casino also has a large selection of RTG slots and you don't have to travel to San Diego to get your real money thrill!
Longest Ever Live Poker Game
A professional poker player, Phil Laak played no limit Hold'em continuously over four consecutive days in 2010.  His 115-hour marathon at the Bellagio in Las Vegas was a new world record for an individual.
The man known as Unabomber by his peers bought into the cash game at $4,000, loaded up by an additional $100K and finished the real money epic with $6,766 in profit.
Laak smashed the previous record by 37 hours. He claimed his nutritious pre-arranged meals and lifelong battle with insomnia had done the trick. If you're worrying about how he handled bathroom breaks, the rules stated he had five minutes every hour allotted to 'relief'. He was also allowed to accumulate unused minutes to satisfy more pressing needs!
The rangy American is no slouch at poker.  He has a WSOP bracelet, a WPT title, six final tables and 21 money finishes. He's also got the focus and tenacity of a pit bull on steroids.
If you believe you can beat Laak's record, there's bonus Texas Hold'em available at the Kiwi online casino with a leaping Springbok logo!  Remember you do have to video your entire gaming session and get a few witnesses to back your claim if you want your poker playing record to stand!
Largest Ever Slots Tournament
In 2016 the Muckleshoot casino hosted the largest slots tournament in the world. The freeroll attracted 3 173 participants who fought it out for a $21,000 cash prize. The cherry on the top was the opportunity to travel to Las Vegas to compete in the $1 million main event.
All in all, there was more than $100K in cash and prizes up for grabs. Muckleshoot isn't known for doing things in small doses. The record-setting casino is the largest gaming establishment in the Pacific Northwest.
Along with all the popular tables games and betting limits of up to $500, it boasts the largest selection of slot machines under one roof… that's a mind blowing 3,000 machines to play neatly arranged on one casino floor. Imagine how long it takes to get from end of the hall to the other, let alone find the casino games you really love to play?
Richest Ever Winnings in Tournament Baccarat
At the 2015 World Series Baccarat Championship, one man scooped up the equivalent of almost $12,900 million in prize money.  A baccarat whale from Hong Kong, Lin Haisan walked away with HKD100 million and a new individual world record.
The event took place at the Sheraton Hotel in Macau and despite stiff competition Haisan was in the proverbial pink. Baccarat is one of the most popular casino games in Asia. In 2017, Macau's gambling destinations made almost 85 percent of their $33 billion take from baccarat!
If you are one of the multitude of gamers in New Zealand who have a penchant for playing baccarat, you can launch a flash game right now at Springbok Kiwi online casino.  The only decision you'll have to make is whether it's the Player's or Banker's bet that will pay out the most.
How to Smash and Set Records All of Your Own
Advances in technology mean you don't have to wing your way to California, Las Vegas, Washington state or Macau to set a few gambling records of your own.  You literally have hundreds of real money casino games available at your fingertips when you register an account at Springbok casino.
We don't offer the largest blackjack tables, the biggest online slots tournaments or multi-million dollar winnings in baccarat but we do guarantee you'll enjoy a multi-layered remote gambling experience that's fun, functional and fair.
Go on… dip into endless RTG entertainment that has the protentional to pay out in hard cash. Become a paid-up member of the best Kiwi online casino now and put a smile on your face!