What are the Best Bonus Features in Slots?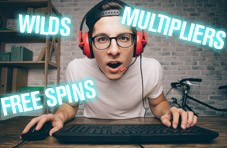 We all know new generation online slots involve a lot more than matching symbols on the reels.  These days there are so many bonus features integrated into games… it can blow the mind.  Visit a quality New Zealand online casino like ours, and the choices can be overwhelming - and we're not only talking about the sheer volume of RTG titles featured on the casino games menu!
Besides having to decide whether you want to play a 3-reel, 5-reel or 6-reel slot, you have to choose a game theme from literally hundreds of awesomely creative options.
You also have to choose a payline structure.  Should you go for one, three or 15 paylines or opt for 243 or 1024 Pay Ways?  What about coin activated or fixed paylines?  The choices are seemingly endless and that's before we even start to delve into the lucrative little feature mechanics embedded in the games.
What is evident is that if you want to win real money playing slots at an online casino, you have to be adequately informed.  Here's your chance to brush up on the bonus features so that you can find the best of the best in terms of payout potential.
Go Wild and Win Plenty
Any good slot game has at least one type of wild symbol built into the game play.  As you're probably aware the wild is exactly the same as the joker in a pack of cards - it can represent almost all the other game symbols in order to complete payout permutations.
In real terms that means when a wild lands on the gaming interface and there are two or more matching symbols on any of the adjacent reels, you've in the money.  The one exception to the all-symbol-match rule is the scatter symbol… but that little beauty has a neat surprise all of its own.
The really big money that's up for grabs on the pay table is usually paid out for the simultaneous appearance of two, three, four or five wild symbols on the reels.  In games like Texan Tycoon, Mystic Dragon and Paydirt! slots you can bank 15 000, 20 000 and a whopping 30 000 x your stake respectively when you hit a wild five-for on the reels!
Choose to play a progressive slot, bet the permitted maximum and achieve a perfect five symbol hit with the wild and your pay day has just gotten a whole lot better.  In fact, you could be sitting on a small - or incredibly large - fortune as the constantly increasing jackpot is all yours!
Along with the standard items, you'll discover wilds imbued with extra powers.  There are stacked wilds that usually appear on defined reels to deliver bigger and better payouts and expanding wilds that huff and puff and inflate sufficiently to cover an entire reel.  
Then there are wilds that generate winnings that are automatically doubled or trebled to deliver some serious coinage on the reels.  In my humble opinion these are the wilds you should be hunting for when choosing your RTG slots online.
Exploit the Free Spins Feature
Free slots spins are like gold.  They're an authentic dollop of free game time that's usually generated by three or more scatter symbols on the reels.  You literally don't have to spend a cent to be eligible for all the payouts listed on the pay table for the entire duration of the free spins bonus feature.
You'll find the number of free spins you can win varies wildly from slot to slot.  At the best-ever online casino you can capitalise on games that offer anything from three free spins to 100 and more.  To add to the excitement, this feature frequently has wilds and magical multipliers in play.
Capitalise on Magical Multipliers
In my estimation the free spins feature with built-in multipliers is by far the best-ever slots bonus feature currently available online.  What's even more gratifying is that RTG is unusually generous in this regard.  Check out the options right here and right now and you'll find some really jaw dropping prospects as far as free spins and multipliers go.
Here's a selection of RTG slots that have a lavish supply of free spins with multipliers.  Unleash these games on your PC or mobile phone and you can win up to:
Big Shot - 20 free spins, 20x multipliers
Cash Bandits - 90 free spins, 12 x multipliers
Cash Bandits 2 - 190 free spins, 17 x multipliers
Fu Chi - 60 free spins, 3x multipliers
Gods of Nature - 33 free spins, 15 x multipliers
Ocean Dreams - 100 free spins, 2 x multipliers
Ocean Oddities - 10 free spins, 16 x multipliers
Santa Strikes Back - 133 free spins, 20 x multipliers
Swindle All the Way - 60 free spins, 33 x multipliers
It's worth mentioning that the free spins and multipliers are only one of several bonus features that are integrated into these sizzling-hot RTG slots!
Grab Guaranteed Payouts with the Win-Win Feature
One of the reasons why we, at Springbok, chose the RTG gaming platform for our online casino is because the software supplier offers above and beyond what gamers want in terms of bonus features.
Aside from the conventional features we've mentioned above, RTG has come up with a player boon in the form of the guaranteed win feature.  This bonus only kicks in when all paylines have been activated with a maximum bet.
Here's how it works; when you trigger the free spins feature but come away with a nominal payout - or nothing at all - you'll be in line for the Win-Win feature.  It's really a consolation prize that's usually in the form of a bet multiplier.  The value of the multiplier correlates with how little you've won during free spins.
In the Basketbull slot, for instance, you'll get 100 x your bet if you've won zero during the free game time. Thereafter the multiplier value becomes progressively lower based on the free spins payouts.
If you're wondering which RTG slots offer the Win-Win feature, you can fire up the game engines of any of these games on your device - Fruit Bowl XXV, Goblin's Treasure, Hockey Hero, It's A Mystery, Lucky 8, Mice Dice, Ocean Dreams, Triple Twister and The Three Stooges!
Random Jackpots, Anyone?
To top it all, RTG has developed slots that have one or more random jackpots in-play.  What makes these jackpots so interesting is they can be activated after any spin.  Games like Rain Dance, Aztec's Treasure, Outta This World, Mister Money and Penguin Power slots have the potential to reward you when you least expect it.
Now that you know exactly what's what in terms of slots bonus features, it's time to try your luck in real-time.  We've given you all the information you'll need to turn your next gambling session at the #1 New Zealand online casino into a financially profitable one.  All that's left to say is Good Luck!