Tales of the Casino: Blackjack Players Who Broke the Bank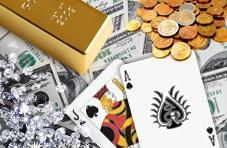 Blackjack is a gaming staple at all online and B&M casinos.  It's a quick-play card game that turns over hands faster than you can say 'gimme'.  It's also one of those low edge casino games that can spew out cash to players who've perfected a basic blackjack strategy.  The only caveat to winning at blackjack is the strategy employed at the tables has to be legal.  This wasn't always the case.
Not too long ago, tycoons, princes and penniless mathematicians used all sorts of techniques to skim the casinos.  Card counters, shuffle trackers and team players plundered the tables in Vegas, Atlantic City and London.  Ordinary guys - like you and I - became blackjack whales and struck fear into the hearts of the swanky gambling operators.
Even now you can play blackjack at an Aussie online casino and pack in the payouts.  What you can bank over a day, week or month in 21st century cyberspace can be a significant bankroll booster.  However, the cash returns playing online blackjack won't be anywhere near what the notorious 'gangsters of gambling' managed to scam, steal and squeeze out of the cages.
Let's take a look at three legendary blackjack players who walked away with millions of dollars in crisp bank notes… and in so doing, stifled the rules of the game:
Ken Uston - Blackjack Team Player with Attitude
New Yorker Ken Uston devised a brilliant strategy that involved a team of like-minded individuals.  He and his gang would spread out, play blackjack at different tables in the same casino… and count the cards.
As soon as the count at a particular table had all the signs of a prospective pay day, the card counter would cash in and leave the table.  The results of the count would discretely be whispered to a more skilled member of the blackjack 'dream team', who would then take the counter's place at the table.  Thereafter, finding the winning card combinations was like shooting fish in a barrel!
Despite its simplicity, the Uston system of blackjack team-play worked like a treat.  The really big money started to roll in as Uston and his band of merry bettors grew progressively more confident.
Betting stakes leapt from a few dollars a hand to as high as $12K a pop.  According to folk in the know, the smart and sassy Harvard graduate banked more than $4.5 million playing blackjack with 'friends'.
In an effort to neutralise the free-for-all at the tables, Uston was summarily banned from playing at all Las Vegas and Atlantic City casinos.  The damage however was done… for the casinos and all the smart asses who thought counting cards was OK.
The Uston effect had a permanent impact on the card game.  In a bid to scupper the prospects of dodgy blackjack players who had numbers flitting around in their heads, the casinos made a few changes.  Along with introducing more decks of cards into the dealers' shoes, the rules of the game were amended to bump up the house edge!
If you're thinking of implementing Uston's strategy online…  think again.  At an Aussie online casino - and all other remote gambling destinations - card counting doesn't work.  Results are not only determined by random number generator software that's impossible to predict, there are usually at least six decks of cards in-play.  Not even Uston would have been able to keep track of all that!
Don Johnson - the Big Blackjack Rules Negotiator
Don Johnson was always a gambling man.  He loved the horses and was the head honcho of a company that developed predictive computer programs for horse racing.  He was also a well-known high roller who liked to drop money on the blackjack tables.
Johnson's big spender status got him the nod from the casino operators who offered him high stakes blackjack in exchange for his patronage.  As all good businessmen would do, he negotiated a 'whale' of a deal.  He agreed to splash the cash provided the casinos tweaked a few rules in his favour.
Whether drunk on the prospects of fleecing Johnson of his wad or just downright foolish, the casinos committed to a 20 percent refund on all losses over $500k.  They also agreed to a re-split of aces, dealer stands on soft 17 and six decks in-play.
What transpired was a money massacre.  Johnson scooped up a cool $4.23 million at Caesars, $5.8 million at the Tropicana and in three separate sweeps at the Borgata, he pocketed $998,00, $1.8 million and $2.25 million respectively.
In just five months the Wyoming whale sliced more than $15 million off the bottom line at three Atlantic City casinos.  When asked how he pulled off one of the biggest real money raids in living memory, Johnson coolly replied he'd capitalised on the rule changes – and that he most certainly did!
Kerry Packer - King of the High Stakes Tables
Media tycoon, Kerry Packer was the richest man in Australia.  He was born with a silver spoon in his mouth and he died with more than AUD$6.5 billion in the bank.  That made him a dangerous prospect indeed as no matter how much he gambled away at the tables, it made no material difference to his life style.
Casinos all over the world both revered and feared him.  He was the kind of guy who would leave a couple of million dollars of his winnings as a dealer tip.  He was also the kind of guy who always played blackjack at the highest available stakes.
For Packer it was easy come and easy go.  To casino operators it was duck and dive… especially when Packer was on one of his extended winning streaks.  Quite how much Packer won playing blackjack over his colourful life, no-one really knows.
What we do know is he once won $30 million at the MGM Grand in Vegas in a single session.  His modus operandi was simple - play up to eight hands simultaneously at multiple tables - and it paid off big time.  He played ridiculous stakes of up to $250k per hand and when he eventually retired for the night, he left a gigantic $1 million dealer tip.
Packer also banked $7 million in one night playing high stakes blackjack at the Las Vegas Hilton.  He apparently started off wagering around $500 a hand but the moment he started winning, the stakes soared to $500 000 or more.
The man who terrorised the casinos with his sizzling hot winning streaks also filled the coffers more than once. In one three-week blackjack binge in London, Packer lost AUD$28 million.  Estimates are that he squandered at least $20 million on the Strip… but that's probably on the conservative side.  Legend has it, he blew more than $33 million at the Bellagio playing high stakes blackjack!
You too can coin it by playing one of six RTG blackjack games at Springbok Aussie online casino.  We may not agree to change the rules or elevate the stakes but we will pay out winnings with a smile on our face!