What the Futuristic Mobile Casino South Africa Will Look Like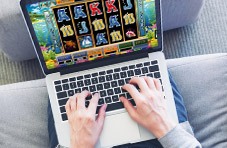 Not too long ago the concept of a mobile casino seemed like a distant dream.  Now there are more people playing casino games on their smartphones and tablets than ever before.  The digital gaming platform is no longer a novelty.  For top gambling brands like Springbok, it's a necessity.
With new and disruptive technologies evolving all the time, the question now is how will the mobile casino for South Africa adapt to a smart new world?
The Personalisation of the Mobile Casino South Africa is Underway
In some cases, the future is already here.  Artificial Intelligence, big data and machine learning is being integrated into the gaming experience at a rapid rate.  The next step in the process is expected to be the emergence of cognitive platforms and intuitive systems that are intelligent and adaptable enough to power the personalisation of the mobile casino.
Casino Currencies on the Blockchain
Cryptocurrencies custom engineered for the digital gaming channels are well advanced.  Players and operators benefit from transactions conducted at the speed of light.  Not only are these blockchain-based casino currencies accessible and secure, they are addressing many of the regulatory hurdles that slowed down the transfer of funds, in economical ways.
Along with the futuristic trends that are already being integrated into the mobile casino South Africa, there are a host of ground breaking technologies and ideas that are still in the developmental stage – Virtual Reality, robotics, Augmented Reality and casino games built on the blockchain.
Let's take a look at how two tech-infused developments are expected to shake up the online and mobile casino sector:
The Customisation of Real Money Gaming
At this moment in time we're on the cusp of the customisation of real money gaming.  What that means is players at a mobile casino South Africa will soon be able to tap into a highly personalised gaming experience premised on his or her individual preferences.
Existing gaming systems, software and platforms are already being used to capture big data sets relating to player-based information.  The next step is to develop the capacity to store, analyse and act on player data in real-time.
Curated Content and Targeted Casino Bonuses  
Through data analysis, machine learning and AI, the casino will soon be able to deliver curated content based on the betting stakes, feature mechanics, house edge and payout rate the player has selected in the past - thereby setting the benchmark for the future.
Along with providing a predictive service as regards games, the futuristic mobile casino will deliver individually targeted casino bonuses, loyalty programs and promotional campaigns.
At the heart of personalised gaming is the concept of deep learning, a process that relies on cognitive platforms and intuitive systems that do not require human intervention in order to analyse and action the games, features and incentives a player actually wants.
The Rise of CasinoCoin
Anybody who frequents Springbok casino will know we're supportive of cryptocurrencies as funding mechanisms.  We even offer bonuses as incentives to players who use bitcoin as their preferred banking method.
Now in a smart and savvy development, a foundation based in the Isle of Man has launched the first-ever cryptocurrency that's specifically designed for the online gaming industry.  Enter CasinoCoin, a blockchain-based funding system that facilitates and confirms transactions within five seconds.
Along with enabling deposits with incomparable speed, CasinoCoin transactions cost less than one penny – that's around 18 South African cents.  It uses Ripple blockchain technology to facilitate the transfer of funds and there's a suite of applications tailormade for both players and casino operators - a Basic Wallet, iOS and Android compatible Mobile Wallet and a Bankroll Manager.
One of the advantages of using CasinoCoin to transfer cash in and out of a casino account is the foundation's commitment to regulated and approved gambling.  That means you'll always be spending your money in a secure and legitimate space when you use the casino currency as a transaction method.
Another key benefit is that the process of verifying and validating the identity of players is already built-in to the Bankroll Managers in the form of integrated Know Your Customer (KYC) checks.  So too are responsible gaming limits and anti-money laundering measures, elements that have, in the past, caused major headaches for online and mobile casino operators.
Automated Croupiers
Another high-tech development that may soon be integral to the online and mobile casino South Africa is that of automated dealers or robotic croupiers.  We've already experienced the live streaming of table games to desktop and mobile devices.  Now the emphasis is on creating a fully automated live dealer casino experience with a team of robots at its core!
The idea of automated dealers and croupiers has been floated around for quite some time.  In fact, a prototype of a robot capable of dealing cards has already shown up in B&M casinos in the United States and Macau.
The benefits to the casino are obvious.  Operators will have the services of a team of tireless workhorses that are not only incapable of being dishonest, late or rude to the customers but will never need wages, sick leave or even a bathroom break!
A Future Packed with Possibilities
Now that we've explored a few of the more innovative ideas that are fuelling the remote gambling industry - now and into the future - we've got a better idea of what a futuristic mobile casino will look like in the next decade or so.
If our predictions are accurate, in the not too distant future you'll be able to instantly, securely and totally anonymously fund your gaming account.
You'll also be able to dip into your very own personalised casino packed with the AR-enhanced games, promotions and loyalty perks that your heart really desires.  
Moreover, when you click on the live dealer tab in 2025 it'll be more 'Hi Siri' than 'Hi Scarlett, Steve, Pamela or Pete' and all along you'll be gambling at a mobile casino South Africa that's licensed, regulated and fully above board.  Is that the future you envisage?  
I know it more than satisfies my yearning for a conveniently accessible and sleekly functional mobile casino experience that's intentionally tailored to meet my gambling expectations!