What Happens When You Have a Dispute with an Online Casino?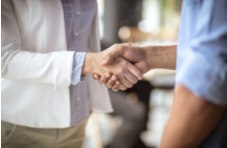 Gambling at an online casino can be fun, rewarding and entertaining.  It can also be stressful and frustrating.  Problems arise when you have a gripe with a casino but there's no-one to turn to for help.
As with all successful industries, the remote gambling sector is a popular niche market for businesses that want to make a quick buck.  That means there are plenty of online casino operators out there that are more intent on taking your money than offering an excellent and sustainable gambling service.
Springbok Casino is not one of these rogue operators.  We have an attentive customer support team and a dispute resolution program in place that are mandated to sort out the occasional issue quickly and efficiently - but more about that a little further down the page. 
However, as we've already mentioned there are dodgy operators online, so beware.  In the meantime, we suggest you continue reading our article so that you know exactly what to do if and when you hit a snag.
Issues Can and Do Arise at an Online Casino
When things go wrong with the gaming software or your playthrough towards the bonus wagering requirements is miscalculated or misrepresented or your winnings disappear out of your casino account, you want to be able to contact a live representative from the casino and find an immediate solution.
If there is no easy way of getting hold of the customer support team, or there are no contact details at all apart from an email address, you may be in a bit of a pickle.  To avoid this kind of hassle it's essential to do your homework long before you register an account at any online or mobile casino simply because it offers the biggest or best welcome bonus.  These types of gambling destinations are usually all talk and no action in any event.
An Attentive Customer Support Team is Key to Happy Gambling
A much better solution is to find an online casino that has representatives available around the clock.  Bona fide operators will always have an active chat facility embedded in the website.  They will also have free call or share call telephone numbers that are armed during offices hours or in the best case scenario, 24/7.  Direct lines of communication such as these allow you to lodge a verbal complaint or request help from a real person in real time.  
Heads up everyone, at Springbok casino we know how important our clients are, that's why we provide the very best support to players… night and day!
However, if you don't have the benefit of a trained and attentive customer support team of the same calibre as what you'll find at Springbok casino, the odds of your blood pressure rising are pretty steep.  The same can't be said about your prospects of getting a quick resolution to your problem… that's if you manage to sort it out at all.
In an ideal world, chatting with a consultant from the casino should be sufficient to iron out issues - whether it's around the time the casino takes to process your withdrawals or why you are not entitled to a specific casino bonus coupon or promotion.
Unfortunately, we don't live in an ideal world.  The question then is how does one resolve an issue that can't be ironed through the usual support channels?  Well if you've opted to join an online casino that isn't properly licensed or regulated, your quest for justice stops there.
The Benefit of Gaming at a Licensed Casino Online
If you're smart and have heeded the advice shared on all good affiliate and reference sites, you're in luck.  That advice is, of course, that gambling at a licensed casino, such as Springbok casino, is the only way to go.  Why?  You may ask.  Well, a key mandate of the licensing authorities is to offer independent dispute resolution for those thorny issues that can arise between players and operators.
The Best Casinos Have Agreements with Independent Dispute Resolution Agencies 
Some online casino operators have taken their responsibilities one step further.  Aside from registering with a gaming authority - which in the case of Springbok Casino is the government of Curacao - the best gambling destinations have agreements in place with third party dispute resolution agencies.
These agencies specialise in finding amicable solutions to all manner of issues, disputes and complaints.  All the player has to do is lodge the complaint via an online application form.  At Springbok Casino, you can find the relevant form by clicking on the blue and yellow CDS logo on our home page.
Agencies like CDS will investigate a complaint, contact the player and try their level best to mediate a workable solution that falls within the ambit of the online casino's terms and conditions of use.
If that doesn't quite cut it, or your particular online casino does not have a dedicated dispute resolution channel, you can always relate your story at one of several affiliate sites and allow them to take up the baton on your behalf. 
The Importance of Online Casino Reviews
Now that you have an idea of how to deal with your particular gripe, you'll have a fuller understanding of the importance of online casino reviews.  They are an independent snapshot of what you can expect in terms of games, software performance, banking methods, bonuses and more critically the customer support services and incumbent licensing authority.
If your chosen gambling platform does not have a live team of people who are willing to help you out - night and day - we suggest you refine your search for a better, more reputable online or mobile casino… just like ours.
How to Resolve a Dispute at Springbok Casino
Be aware of the Terms and Conditions - read the T&Cs carefully.  They outline exactly what players can and can't do as a member of Springbok Casino.


Contact the casino - If you're think you've been short changed or you need help redeeming a particular bonus, opening a game in your browser or activating a deposit, you can contact the Springbok Casino support team via several active points of contact - a live chat facility, a toll-free telephone number in South Africa, a regular telephone number and an email address.


Make use of the Central Dispute System - If your issue cannot be resolved with the help of the customer support team and it revolves around the payment of winnings, we advise you to make use of the onsite Central Dispute System (CDS).  It's a player-oriented payout investigation program unique to all Real Time Gaming casinos.  Provided you submit your claim through the online application form within 60 days of the dispute taking place, CDS will investigate the claim on your behalf.