What's Best: Big or Small Bets on Online Casino Games?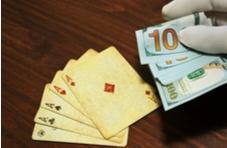 Many of us play online casino games for a variety of reasons.  It could be to waste time between business meetings, get away from the humdrum of everyday life or to enjoy the high-class entertainment RTG developed online casino games always provide.
Whatever's prompting you to open a game in your browser, the possibility of winning real money is undoubtedly a key motivator.
Betting Strategies for Everyone
The question is; which betting strategy is the best in terms of big bets versus small bets.  In other words, is it better to blow your bankroll all in one go on two or three high stakes wagers?  Or should you place a whole heap of smaller bets instead?
There's no easy answer when it comes to the merits and risks of placing big bets versus small bets at Springbok Casino.  Both betting strategies have their pros and cons.  What we can say for certain is bet size cannot influence the odds, payout rate or house edge of online casino games - either negatively or positively. 
These elements are fixed and statistically attributed to games based on the mathematical probability of achieving certain outcomes - such as a full house or straight flush in video poker or an odd or even number in roulette. 
The only way you can influence the house edge is by applying an optimal strategy to your game play.  The basic blackjack strategy, for instance, outlines exactly when to 'hit' and when to 'stand' based on the cards you are dealt.  
By precisely following this strategy you can lower the house edge and improve your chances of beating the dealer on a more frequent basis.
Small Bets on Online Casino Games with Big Payouts
Having said that, there are times when betting low and betting high have distinct advantages.  Right now, there are more and more players at Springbok Casino who win ZAR on a regular basis.  Their strategy is to wager low value stakes on the online casino games with the highest payouts. 
Which casino games typically offer nice juicy winnings?  Online slots of course, together with the table games and video poker variations that have side bets and bonus wins - like Blackjack Perfect Pairs, Suit 'Em Up, Bonus Poker and Aces and Eights. 
At Springbok Casino the best online casino games in terms of payout value are the progressive jackpot games. Aztec's Millions, Spirit of the Inca, Megasaur and Caribbean Hold'em and Stud Poker are examples of RTG progressives that have the potential to reward players with five or even six-figure sums in ZAR.
When playing progressives, it's mandatory to bet the maximum number of coins to qualify for the progressive jackpot prize.  You can however limit the amount you spend by choosing the lowest available coin value.  
This is when small bets can really pay off… but it's important to remember that the higher the payout, the lower the probability of achieving a win.
Big Bets on Games with the Highest Probability of Winning
On the other side of the spectrum are the players who bet high on online casino games that offer comparatively low payouts but a better than average probability of success.  These are the games that provide even money on some bets or payouts of 2:1 or 3:1 on certain outcomes.
By placing significant amounts of money on bets like the Banker in baccarat, the outside bets in roulette and the Pass bet in craps you've got about a 50/50 chance of winning. 
With this betting strategy you may not win huge lump sums as you would if you hit the big paying combination in progressive jackpot game.  But even if you win the equivalent of what you bet, you stand a good chance of banking significant amounts of money… and on a comparatively frequent basis!
Always Consider the House Edge 
Regardless of what betting strategy you feel more comfortable with, the most important factor to consider when playing online casino games is the payout rate and its saucy sibling, the house edge.
Ideally you want to play games that have a high average return to player of around 98 to 99 percent or more.  In effect that means that the house edge, or the portion of the wagers the casino retains as pure profit, is 2 percent or less.
Blimey… Bergstrom and the Big Bet
Now that you know the pros and cons of betting high versus betting low let's take a look at the biggest single bet ever made at a casino.
One guy who clearly backed the big bet strategy was William Lee Bergstrom, a real estate agent from Texas.  Bergstrom had a long and rather sad history that included parental neglect and abuse.
One day in the early eighties Bergstrom turned up at Binion's Horseshoe Casino in Vegas with exactly $777,000 in cash tightly packed into a suitcase - that's the equivalent of around $2,6 million in today's money.
Binion, who was the casino king of Vegas at the time, had a policy of honouring any size bet provided it was the first bet the punter ever made at his casino.
Bergstrom apparently had a policy of his own - splash all the cash on one bet - and if he won, he'd travel the world.  If not, he'd kill himself.  He duly placed the entire amount on the Don't Pass Line bet in craps… and guess what?  He won even money. 
That my friends is how the high rollers roll - and some win and others don't as Bergstrom himself found out four years later when he went big and lost!  Sometime later Bergstrom followed through with his 'hit and run' policy and committed suicide in Las Vegas.
What is the best betting strategy for online casino games at Springbok Casino?  It's entirely up to you - but whatever you do, make sure you have FUN doing it!