Top 5 Craft Beers for the Best Online Casino Games sessions
Details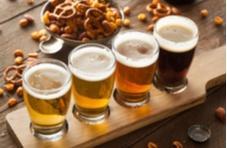 As South Africans we love our beer.  We also love playing online casino games, especially at South Africa facing gambling destinations like Springbok Casino. 
As big-hearted beer swilling gamblers the next step is an obvious one - and that is to combine our two favourite past times into one explosive real money jamboree.  With a little help from the hops we can transform tame gaming into belch and bet RTG-infused gambling sessions with attitude!
At Springbok Casino you will find reams of information about our wide selection of online casino games.  You will also have fingertip access to all sorts of helpful gambling tips and tricks that can boost your overall win rate in ZAR.
What you won't find - until now - is a short synopsis of the best craft beers to buy in South Africa so that you can pair pale ale with poker and pontoon, stout with 3 reel and 5 reel slots and doppelbock with blackjack, baccarat and Double Double Bonus Poker!
If you want to give the online casino games the attention they rightfully deserve, here are 5 full flavoured craft beers that are quite simply kick-ass:
Pixie Dust by the Darling Brew
The delightfully named Pixie Dust is a rich gold in colour and a taste sensation on the tongue.  It is one of several fabled tribute beers from the continent's first ever carbon neutral brewery.
The sensually smooth Weissbier honours the Cape honey bee, a busy little critter which, like so many creatures one earth, is critically endangered due to the spread and sprawl of urbanisation and the unfettered use of insecticides.
With an exotic aroma of spice, bananas and fynbos-infused floral notes and offering a smooth, light and lascivious marriage in the mouth, Pixie Dust is a yummy, yeasty and citrusy kind of beer that is just perfect for hot summer days.
This Darling of a beer has an ABV of 6 percent - which is pretty average these days.  Provided you down just one or two bottles at the virtual tables, there is no real risk of irresponsible or erratic gambling behaviour at all!
As for the prefect pairing when it comes to online casino games, how about Pixie Dust and Pai Gow poker?
If that doesn't quite match your expectations perhaps the light and fruity German Weiss is best accompanied by one of our progressive jackpot games instead?
Roadhog Porter by the Hoghouse Brewing Company
With a delicious dark brown finish liberally tinged with ruby red, Roadhog Porter is a classic London-style porter direct from the Hoghouse Brewing Co in Cape Town.  It is the perfect blend of tempered bitterness and full roasted maltiness.
When you roll the dark and dusky beer over your tongue, you will enjoy a symphony of berries, liquorice and a hint of red wine.  It is a smoky, full bodied dark style of beer with a light beige head and an ABV of just 4,6 percent.
The Roadhog Porter may be dark and robust in colour but it is comparatively light in terms of alcohol volume. 
That means it is safe to drink with all our online casino games - whether they are luck-based like keno, scratch cards or slots or the kind of games that require skill and strategizing to win!
Shangaan Stout by the Sabie Brewing Company
Shangaan Stout is the quintessential dark beer thar always surprises when it comes to sweetness of flavour.  In this artisan masterpiece handcrafted by the Sabie microbrewery, chocolate is the overriding melody that coats the tongue and lips.
It has a deep brown colour, an off-white head and an evocative aroma that is smoky, slightly burnt and overwhelmingly malty.  It too has an average ABV of 4,7 percent making it an easy drinking beer that has no major downer at the end.
Aside from its roasted full-bodied flavour and deep dark colour, Shangaan Stout is a uniquely South African stout with a fun label to match.  As for the online casino games that go with this stout; it is really a cross-category match made in heaven… and a fine beer too!
Doppelbock by the Cape Brewing Company 
The Cape Brewing Company has created a feisty Doppelbock that has all the attributes of its German origin.  A crusty, toasty taste with a hint of toffee and caramel is enough to excite the most jaded of palate.
For those of you who don't know the origin of Doppelbock beer, it was first brewed by the Franciscan monks in the 14th century as a kind of liquid bread that could merrily be imbibed during times of fasting. 
It is traditionally a sweet beer high in alcohol and with 8 percent ABV the local version has remained true to 'breed'. 
With a rich copper brown colour, small brown head and smooth rounded mouth feel, the Doppelbock by the Cape Brewing Company is an award-winning beer guaranteed to blur the eyes and befuddle the head.
We all know what that means of course - it is the kind of beer that is best enjoyed with automated online casino games that effectively play themselves… like slots with their inimitable auto spin feature!
Born Free Pale Ale by the Stellenbosch Brewing Company
The Stellenbosch Brewing Company aka Stellies has produced a true American pale ale in its appropriately named Born Free Pale Ale.  It is a fabulously drinkable beer and the perfect blend of malt and hops.
The local version has incorporated tantalising fruit flavours into the experience - litchi, citrus and gooseberry.  Despite its unique taste Born Free is a typical pale ale that is light in colour.  A frothy white head and a strong hops aroma is offset by a crisp dry taste that has just the right level of bitterness.
With an ABV of 5,5 percent Born Free Pale Ale is the ideal beer to accompany a bit of craps, roulette or Caribbean Stud Poker.  In other words, it is the type of tipple to enjoy with the online casino games that are more tactical in nature!