Sports Betting or Playing Real Money Casino Games – Which is Better?
Details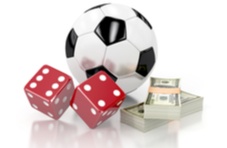 There is something about winning money that really gets the adrenalin flowing.  Now in South Africa you can buy a lottery ticket, bet on the horses or your favourite sports teams or play classic casino games on your PC or phone.
With so many real money options freely available the question is; which form of gambling is the best in terms of rands and cents?
Before we get into the pros and cons of RTG casino games versus wagering on the outcome of football, cricket, boxing or rugby matches, here is a brief overview of sports betting.
Sports Betting
Sports betting is a hugely popular past time right across the world.  It basically involves the punter - which is you - predicting the outcome of a match, game, race or bout and then putting money on that outcome in the form of a bet.
If the bet wins you are paid out at the odds defined by the bookmaker.  If you lose the bookie keeps your cash and grins like a Cheshire cat. 
Odds and Probability 
In this form of gambling the odds determine the value of the bet.  This by the way applies equally to the RTG casino games you will find right here at Springbok Casino.
In other words, if your team or player is the favourite to win, the odds will naturally be on the low side.  That in turn means there is not much value in that particular bet.
As we all know the odds reflect the probability - or likelihood - of something occurring.  When there is a high probability that a team or individual will win a particular match or encounter, the odds are low and the winnings are meagre at best.
Find the Value Bets
The trick with sports betting is to find wagers that offer the best value - the bets that have reasonable odds and a fair probability of winning.   That means finding a balance between the odds and probability.
In real terms, value means going for 9 to 1 odds on the player or team that is not the favourite but has a reasonable chance of winning, rather than backing a 50 to 1 rank outsider.
How to Enhance the Win Rate Betting on Sports
To many of us sports betting is simply another way of adding to the inherent excitement level of watching our favourite team win… or lose.  The bets we make are emotional rather than strategic or tactical.
South Africans who only wager on sports once in a while will always bet on the Springboks, Proteas or Bafana Bafana winning regardless of their opponents, current form or pre-match injury tally.
Professional punters on the other hand will assess and analyse every bit of information they can get hold of and only wager on the team with the statistical advantage on the day.
If you want to be more than a recreational sports bettor you have to become a part-time sleuth, mathematician and data analyst. 
When you treat betting like a business and use all the aids, apps and tools available online there is a good chance you will win more money betting on sports than you will lose.
Casino Games 
Although the concept of casino games may be markedly different to sports betting, much of what we have referred to above applies to games like blackjack, craps and video poker.  With these games an optimal strategy can play a major role in whether you win or lose.
In essence gambling at the casino is exactly the same as sports betting.  You and I put money on the likelihood of a certain outcome occurring - like hitting a winning poker hand in Jacks or Better video poker or making 21 in blackjack.  
Low Probability Equates to High Odds
As with betting on sports, the lower the probability something has of occurring, the higher the associated odds and the more money you will bank when your bet wins.
Take for example RTG Blackjack at Springbok Online Casino.  When your hand beats that of the dealer's without going bust, you are paid out at odds of 1:1.  However when you hit a natural two-card blackjack the odds increase to 3:2.
Similarly, with Jacks of Better.  Hands that are comparatively easy to achieve like a pair, two pair and three of a kind have odds of 1:1, 2:1 and 3:1 respectively.  Combinations like four of a kind, straight flush and the exceedingly rare royal flush are low probability poker hands that pay out at jaw dropping odds of 25:1, 50:1 and 250:1!
Even with casino games like slots, roulette and baccarat - where luck and luck alone determines the outcome of a spin or hand - probability is still the key determinant when it comes to the value of payouts. 
As we all know by now the winnings for matching two symbols on a payline or hitting red or black in roulette are much lower than low probability bets like hitting the five matching symbols required to unlock a progressive jackpot.  Got it?
Maximise Your Win Rate Playing Casino Games
With skill-based real money games - as with sports betting - you can maximise your win rate by doing your homework.  By that we mean leaning how to play the game in the theoretically perfect manner.
In many respects betting on sports and gambling at the casino is exactly the same.  The challenge is to find the bets and the games with the best value.
At Springbok Casino South Africa - and all other gambling destinations for that matter - the best value casino games are those with the lowest house edge.  
When you learn to play these games in the mathematically perfect way it is possible to lower the edge even further… and that means more money flowing into your casino account on a more frequent basis!
Betting on Sports vs Gambling at the Casino?
That leaves us with the original question.  Sports betting or casino games - which is better?
In my humble opinion neither one is better than the other.  They are simply different sides of the same coin - and that my dear is an even money bet in its purest form!
Psst… at Springbok Casino you will find plenty of low edge RTG casino games online with really attractive odds.  Sign up now to see how much value you can generate in ZAR!