How Halloween Inspires Online Casino Games That Rock!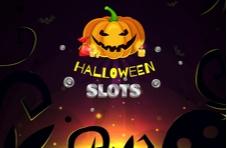 Scary season is upon us and it is time to haul out the cadavers, carve up the pumpkins and stock up on sweets.  If Halloween is your thing, you will be delighted to know the annual spook fest has inspired a coven of online casino games by the maestros at Real Time Gaming. 
Along with the big paying gambling propositions at Springbok Casino - and by that we mean the real money online casino games of course - there is all sorts of entertainment that is just the thing when you and your BFFs get together to celebrate All Hallows Eve.  Think board games and movies and you have got the right idea!
Halloween - From Pagan Ritual to Pious Christian Festival to a Sugar-Infused Free for All
The interesting bit about Halloween is it's a pious Christian Festival that honours the saints, martyrs and faithful dead.  Quite what happens to the 'un-faithful' dead is anyone's guess. 
Maybe they represent the churlish children who dress up as ghouls, goblins and flesh-eating zombies and fling rotten eggs at the neighbours' front door?
Halloween may have morphed into a righteous kind of thing that's got heavily side tracked by ogres and monsters over the years but it apparently has links with some sort of pagan ritual.  Long before the birth of Christ Halloween was an annual 'horrorday' celebrated by ancient Celts.
In more recent years it has become a sugar-infused free for all where suitably attired fairies, gnomes, witches and wizards - on a constantly accumulating glucose high - knock-knock and demand, cajole and threaten the rest of us for more and more sweet stuff.  On modern-day Earth Halloween is a self-sustaining cycle of parental abuse.
It's not all bad on the 31st of October.  In fact, one of the best things about Halloween is it gives gambling buffs like you and I a chance to get really comfy and play online casino games… without sticky fingers smearing our screens and the constant refrain of 'I want' and 'why?' ringing in our ears.
What are the best Halloween themed online casino games?  Well here is the latest in a line of super duper slots that you can play at Springbok Casino when the little werewolves and warlocks are out and about yelling "Boo ek se" at the tops of their voices:
Halloween Treasures Slot: Hot Off the RTG Press 
RTG has delivered a showstopper in its latest and arguably greatest addition to Halloween themed online casino games.  Halloween Treasures is an All Ways Pays slot with 243 pay ways and payouts, bonus features and random jackpots that exponentially grow in value according to the size of your betting stake.
You can win up to 600 x the line bet in the base game and there are two wilds to sweeten the deal - one of which pays wins at multipliers up to 5 x!  Hit the scatter multiple times anywhere on the reels and wins are multiplied by your total betting stake.
What's more the scatter triggers a grand total of 12 free games where the lowly playing card icons from 9 to ace are stripped out of the action.  That means there is only mid to big paying symbols left to match on the reels.
Get a Stab at Four Progressive Jackpots 
Trigger the Halloween Jackpot feature and you will be whisked away to a second screen where you have to pick coins in an effort to reveal three identical characters.  Each character represents one of four jaw dropping jackpots - Mini, Minor, Major and Grand! 
If you are lucky enough to find a match, you will win the cash prize corresponding to that particular jackpot.  When all the pay ways are active, all four progressive jackpots are up for grabs.  In this prince of online casino games, it really does pay to bet max.
Chillingly Entertaining Online Casino Games  
What are the other online casino games that are just perfect for Halloween?  Well when you fire up the game engines of any of these wonderfully creative slots at Springbok Casino, you will create the perfect ambience required for a scary night in:
Bubble Bubble 1 and 2 - humorously bewitching
Count Spectacular - a Disney-fied version of Count Dracula
Eternal Love - a sensual tribute to love-struck vampires
Voodoo Magic - an icon-rich homage to Voodoo with an appropriately creepy soundtrack
Board Games Rather than Online Casino Games?
How else can you ramp up the atmosphere on Halloween to make it petrifying, terrifying and downright bloodcurdling?  Well how about an eerie and unnerving board game to kill time between playing our big paying online casino games?
Madness 
By all accounts Deep Madness is a mind-bender.  You really do have to be on top of your game if you want to combat the bizarre killer creatures that wander the board. 
You also have to be a bit of a magician to survive the flooded rooms that have the potential to knock you right out of contention.
Slaughter 
If that doesn't sufficiently scare you, how about Monster Slaughter?  In this beast of a board game you can play one of a cacophony of characters from the best loved horror movies. 
Your task is to slaughter the poor folk hiding away in the quaint little cabin in the woods.  The trick is to slice, dice and quarter before anyone else has a chance!
Stealth  
Or maybe Zombicide: Green Horde will suit you?  You'll be facing off against a horde of green skinned goblins, orcs and ugly things that always approach unexpectedly and en masse... but you do have the use of a catapult that is capable of smattering slathering baddies in big groups!
Whatever method you choose to hail in Halloween, make sure you have a good one!