6 Delicious Snacks to Complement Mobile Casino South Africa Gambling!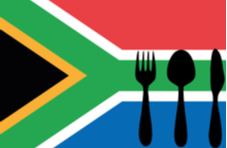 South Africa's melting pot of cultures means there is a delightful array of cross-cultural cuisine to beef up the gambling experience.  As a population that is always on the move, the best snacks are good to go… directly from the spaza shop, food vendor or township trader and into the mouth.
With a little help from your smartphone and our top 6 favourite snacks you can literally bet, eat and win money strolling in the park, hunkering down on the beach or sauntering your way home… provided sticky fingers don't make a mess of the screen!
If you feel the need for sustenance as you play slots, craps, roulette and blackjack at the top ranked mobile casino South Africa here are our recommended foodie picks to settle the rumbling tum:
Vetkoek
Whether you call it vetkoek or amagwinya this proudly South African delicacy is mind blowing in its simplicity. It is a traditional pastry that is made from flour, water, salt and sugar, rolled into a ball and popped into boiling oil until a deep golden brown.
In the Zulu tradition amagwinya is served hot and naked along with a host of yummy piquant side dishes like chakalaka, smoor snoek and ooh la la atchar.
In Afrikaans culture vetkoek is cut in half and filled with savoury mince, smothered in honey or coated with moskonfyt and other sensationally sweet homemade jams.
It is – as the name so succinctly suggests – a 'fat cake' of Dutch colonial origins.  Here at Springbok, it is a flavourful hip-spreading snack that is enthusiastically embraced by all!
Springbok Biltong… or Kudu, Ostrich or Beef
Biltong is any kind of red meat that has been cured and dried.  It is as quintessentially South African as the springbok, Table Mountain and the Kruger National Park.  
Put biltong, a digital device and the springbok together and what have you got?  A mobile casino South Africa that serves game (s) on the side.  Get it?
Biltong has been made for time immemorial but the one group of locals who arguably perfected the fine art of biltong-making was the Voortrekkers -those long-bearded fellas who left the British occupied Cape colony to start a few colonies of their own!
It can be served sliced, cut into strips or as a hefty chunk of meat that requires a fair bit of ripping and tearing with a sharp set of incisors.  What gives biltong its unique flavour?
Well apart from the gamey origin flavour - be it springbok, impala, kudu, zebra, ostrich or beef - the meat is marinated in vinegar and then rolled into a blend of salt, sugar, crushed coriander seeds and black pepper.  Yum!
Walkie Talkies
A delectable South African delicacy that you can enjoy on the run is chicken feet, lightly sautéed and saturated in gravy.  The colloquial name for the dish is walkie talkies or runaways.  LOL.
Although it may not have an aesthetic appeal, walkie talkies are classic township fare that is highly nutritious and incredibly rich in collagen and chondroitin - the stuff that makes your joints strong and your skin radiant and healthy!
It is the kind of food that perfectly complements the gaming experience at our star rated mobile casino South Africa as it is available on the streets as a ready-made takeaway!
Koeksisters 
Where walkies talkies are hot, zesty and spicy, koeksisters are soft on the inside and sweet and crispy on the outside.  They are made from the same kind of dough as vetkoek and like vetkoek are borrowed from the Dutch baking tradition… with a smattering of Cape Malay influence added in!
With koeksisters the dough is divided into thin strips of equal length that are braided together, deep fried to a golden brown and then saturated with syrup while still hot.
They provide a sweet, sticky and tantalising taste sensation that is so moreish, it is downright wicked. Koeksisters are just the thing to revive flagging spirits - at Springbok Mobile Casino South Africa and anywhere else for that matter!
Melktert 
Melktert is a Mzansi classic that can be served hot or cold.  It features the most deliciously creamy custard filling that is liberally dusted with cinnamon.
Depending on which recipe you use the sweet pastry crust can be baked or left unbaked but whatever method you choose, the filling is always a dreamy blend of full cream milk, flour, sugar and eggs.
Once you have tasted home baked melktert it is the benchmark for the best ever dessert!  You can eat it delicately with a fork – piece by piece – as you play baccarat or blackjack at our mobile casino South Africa or you can gobble it down in one go… and not regret a thing!
Mashonzha… or Mopane Worms to Some! 
Melktert to mashonzha really is taking things to extreme.  One is a mouth-watering sweet tart the other is a traditional delicacy consisting of dried mopane worms.  It is popular as padkos and sold by the handful at markets and road-side stores in Limpopo, Botswana and in the northern parts of Namibia.
Despite its unappetising appearance, mashonzha is tasty, high in protein and rich in phosphorus, calcium, iron and unsaturated fats.  It is the kind of snack that is as easy to eat as peanuts or crisps but has a nutritional value that far exceeds the junk food stats.
If you need a nibble as you line up the symbols playing slots, why not fill a bowl with mopane worms and keep it close at hand as you load Springbok Mobile Casino South Africa onto your phone!