Best of PC Gaming 2019: From Online Casino Games to RPG's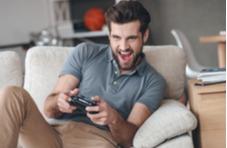 For gamers on a quest for entertainment, 2019 has been quite an eventful year.  Developers have been hard at work designing and innovating exciting new characters, worlds and modes that have the propensity to light up the screen.  That is the lead story with the video games this year – impressive all around. 
Across in the real money ecosystem where online casino games are king, there have been some interesting developments in the time travel and classic slots scenarios too.  What you'll find is a range of immersive games with themes that are comparable to some of the best RPG's.
Developments in the Action Adventure Arena 
For starters, let's look back at the progress in the sci-fi and action adventure arenas.  In a nutshell, there has been a fairish split between all-new games – and fresh additions to popular gaming series.
Perhaps stating the more obvious, on the brand-new games front, titles like The Outer Worlds – a beautifully rendered sci-fi RPG and Sekiro: Shadows Die Twice, where swordplay and immortality reign supreme – have made a massive impact.  So too has a delightfully designed indie-inspired goose game that has yet to be officially named!
There have also been long awaited sequels and prequels to tried and tested series.  The likes of Trine 4: The Nightmare Prince; Sniper Ghost Warrior: Contracts and Resident Evil 2 lead the new/old player pack.
Brilliant New Online Casino Games Hot Off the RTG Press 
On the remote gambling front there have been plenty of fresh and exciting additions to the RTG online casino games suite.  As always, the slots keep rolling in and take top billing – and we've seen some pretty flashy new titles added to the list.
Click on the game's menu at Springbok Casino and you will discover a plethora of new titles that vary from Fire Dragon – a Jackie Chan money-spinner with a 50,000 x top prize – to The Mariachi 5, a suitably ghoulish tribute to the Mexican Day of the Dead.
Halloween Treasures is a 243 pay all ways scary slot with a few progressive jackpots scripted in.  If you feel the need for a festive season fling, there is a new addition to the awesomely rewarding Rudolph and Santa slots series that is appropriately dubbed Rudolph Awakens.
That is a brief synopsis of what's what on the video and online casino games front…  Now for one or two titles that deserve a more in-depth review so that you can hone in on the very best of PC gaming in 2019!
Star Wars Jedi: Fallen Order
In this chapter of the Star Wars adventure you will play the imminently charming Cal Kastis – a Jedi padawan that is tasked with restoring the Jedi Order.  He is also expected to finish his Jedi training and escape the unwelcome attentions of the Darth Vader-coached evil Inquisitor, Second Sister.
As usual, you can anticipate an epic galactic adventure that touches down in brave new worlds and familiar territory like the planets of Dathomir and Kashyyyk.  In the course of the game you will make new friends like the nuggety Saw Gerrera – a rebel extremist with a bad attitude – and you will reacquaint yourself with the likes of Eno Cordova, your unforgiving Jedi Master. 
In Fallen Order you'll find all the ingredients for a sensational space-age spat… ingredients that include Clone Troopers, a cute little droid called BD-1 and a lightsabre that has plenty of heft in the hands.
Cubee: Time Travel Adventure 
Cubee: Time Travel Adventure is one of those brave online casino games that have tried to be out of the box.  In most instances it has successfully achieved that mandate… and without losing its central allure of being a paying slot – that's despite having no discernible reels or paylines!
This little gem takes you on a time travel adventure from the stone age through the age of the pirates and Vikings and on to the fantasy world of Cubeeland.  In your fight with your archnemesis Rocco you will become increasingly powerful with each blow.
Rather than the conventional wilds that grace the reels of most online casino games in the slots category, power balls pick up the slack.  Scatters remain scatters in the traditional sense but they are represented by an arsenal of weapons that change as your travel through time.
Cubee: Time Travel Adventure is one of those thoroughly enjoyable concept online casino games that are worth their weight in gold.  Psst… you can win up to 50,000 x your stake playing Cubee right here at Springbok Casino!
Call of Duty: Modern Warfare
The 16th instalment of the Call of Duty Series is centred on Urzikstan – a troubled country that is not only a refuge for lethal international terrorist group but has recently been invaded by Russia.
Your mission is to recover a shipment of deadly gas that has been intercepted by a group of hostile terrorists. It is a combined effort between the CIA and the SAS and features more tactical gameplay, new modes and a brand-new game engine to ramp up performance.
COD: Modern Warfare features all the elements of a heart stopping first person shooter – suicide bombers, terrorist attacks in London, clandestine meetings with rebel leaders and plans to overthrow Russian forces.
Key characters vary from Omar 'The Wolf' Sulaman and Jamal 'The Butcher' Rahar to SAS Captain John Price and his band of not so merry men.
777 3 Reel Slot with a Super RTP!
777 may look like one of those boring pub-type online casino games but in reality, it is packed with payout potential.  As a classic 3 reel slot it not only has a nice low edge, it has got a wild multiplier and a heavenly hold feature that can deliver the big bucks… if you dare.
Those of you brave enough to go for the Super Bet will have a progressive jackpot in-play.  We are not talking about a few rands and cents here – we are talking about more than R50k and ticking.
This new addition to the online casino games menu has an estimated RTP of 97 percent, which is a decent payout rate for any slot and ain't too shabby if you intend to win more money than you lose!  Give it a spin at Springbok Casino online now.