Are Scratch Cards the Perfect Partners for Springbok Casino No Deposit Bonus Codes?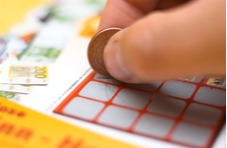 You are probably all familiar with scratch cards.  They may be one of the latest gaming categories to make the great leap to the online gambling platform but they have been the go-to guys for many a national and charity lottery over the years.
The concept of the traditional scratch card is a simple one – scratch and win!  In the digital rendition of the loved classic pastime, all you have to do is click on multiple images on the gaming interface in an effort to reveal matching prizes.
It is the kind of real money game that can deliver excellent rewards.  It is also a game that you can use to exhaust the wagering requirements of juicy Springbok Casino no deposit bonus codes!
Bet, Play and Scratch Using No Deposit Free Cash 
What that in effect means is you can bet, hit play and virtually scratch – which in reality means 'match' in the online gaming world – with the free cash gifted to you by Springbok Casino!
What does that mean in real terms?  Well, at the number one online casino in South Africa free bonuses are an integral part of the overall remote gambling experience.
Before you even make a firm commitment to the wider gambling fraternity at the star-rated ZA gambling platform, you are eligible for one of many Springbok Casino no deposit bonus codes.  It is in the form of R250 in complimentary cash that you can use to test the functionality of the gaming software.
Translate that into individual scratch card sessions and you have got up to 250 shots at the big time.  With that volume of free games available at your fingertips, the odds of winning instant prizes in the form of mouth-watering bet multipliers or loads of free game rounds is skewed in your favour. 

Best Scratch Card Strategy Tips
That brings us to the next point.  Despite the fact that scratch cards are very obviously pure games of chance, seasoned punters have adopted a strategy where more really is more.  In layman's terms that simply means playing as many games as you can in order to maximise the win rate.
The good news is that most scratch cards have a multi-games feature that allows you to play just one game, or five up to 500 games without having to go through the whole betting process each time.
Benefit from Bonus Bet Multipliers
Yet another point to remember is the best scratch cards online offer bonus prizes as occasional sweeteners when you fail to register a successful prize match.  In other words, even when you lose you can bank bet multipliers as compensation.
These totally free bonus giveaways may seem frugal at first glance.  When you tally them together at the end of the gaming session, however, they can change your financial fortunes by ensuring your betting account is in positive territory.
Right, you have redeemed one of the eye-popping Springbok casino no deposit bonus codes and your obvious intention is to use the free betting stakes to generate cash winnings in ZAR.  Your game of choice is one of the Real Time Gaming Developed scratch cards available at the instant play Flash casino.
Adopt Smart Scratch Card Tactics  
We've already discussed the bulk games strategy that many successful scratch cards fundis adopt… but there is another equally rewarding tactic that you can integrate into your play.
This tactic basically relates to the bet size and how modifying the value of the wager under certain circumstances can work in your favour.  It's a versatile kind of tactic that is often used in casino games like roulette, blackjack and video poker.
Before we get into how the tactic actually works it is important to mention that the instant prizes you are vying for when you play scratch cards usually increase or decrease in value depending on the bet size.  A low stake is linked to comparatively meagre rewards… and vice versa. 

The Best Betting Mechanics 

Right, now to the mechanics of our smart betting tactic.  If you find that you are on a protracted losing streak the optimal strategy is to increase the bet size.  Don't be confused…  There is method to this seeming madness!
Although it may seem counterintuitive, it does give you the opportunity to rake in the kinds of prizes that really do turn heads… like 500 x bet multipliers and 50 or more free games!  Hit just a few winning prize matches and you can recoup most or all of the session's losses.
Conversely, when you are banking money hand over fist on a maximum wager, there should come a time when you drop the stake before your luck runs out.  The difficulty is assessing exactly when it is the right time to change your modus operandi.  The cardinal rule is to not let greed cloud your judgement!
Tackle the T&Cs Relating to Springbok Casino No Deposit Bonus Codes  

Are scratch cards the ideal match for our Springbok Casino no deposit bonus codes?  Well, along with 3-reel and 5-reel slots and a few other games, scratch cards adhere to the bonus terms and conditions in that they automatically add qualifying credits to the wagering requirements.
In other words, every time you hit the play button of games like Treasure Tree, Magic 7's, 5 Diamond Blackjack and Hot Dice, the bets count towards the bonus playthrough.  We all know what that means – you are one step closer to releasing those bonus-generated winnings!
If you are feeling lucky, playing RTG scratch cards is a quick and easy way of getting instant gratification in the form of jaw dropping cash prizes.  That is over and above the endless selection of Springbok Casino no deposit bonus codes that could be heading your way. 
What are you waiting for?  Sign up at the best online casino South Africa and convert good fortune into cash… right here and right now!