Post-Covid-19 Positives - Best Bush Breaks at Rock Bottom Rates?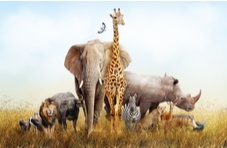 Covid-19 has had a major impact on the tourism industry.  Airlines – including our very own SA Express – have gone up in smoke, travel companies are retrenching staff by the dozen – and hotels, hostels and guesthouses have closed their doors for the foreseeable future.
All that is left for potential holiday makers to do is play online casino games at Springbok Casino – and that's not a bad bet in anyone's books!  Fortunately, the current status quo is not permanent.  There will be a post-covid-19 era.  The question, however, is when?
Low Rates to Mitigate Economic Carnage
With financial losses running at all-time highs, airlines, car rental companies, accommodation establishments and safari camps will have to get creative when it comes to attracting the clients they need to survive the economic carnage.
An obvious solution is a drop in rates – and that's a silver lining for lockdown-weary South Africans.  Let's face it, even when the virus is no longer an imminent threat, the legions of international visitors that usually flock to the continent's safari destinations are not going to materialise… not in the immediate future in any event.
Catering for Locals the New Imperative 
That leaves operators with only one option; cater for locals or be damned.  Now with the rand at all-time lows and South Africans feeling the pinch after a protracted pause in business activities, the rates will have to be rock bottom if there is to be any hope of a recovery.
Aside from actually surviving the virus, and the record low interest rates that allow us to pay off our home loans in double-quick time, cut-rate bush breaks in dazzling wildlife conservation areas are undeniably a positive when it comes to weighing up the pros and cons of the viral onslaught.
Four Dazzling Safari Destinations 
Before you power up the RTG software for your umpteenth online casino games session at Springbok Casino, take a look at four post-covid-19 bush breaks that you can add to your (potentially low budget) bucket list: 
Mana Pools National Park - Zimbabwe 
Zimbabwe was in the process of rebuilding a shattered economy when the coronavirus reared its head.  Now more than ever before, the erstwhile land of Robert Mugabe is one of the cheapest safari destinations on earth.
One outstanding conservation area and UNESCO World Heritage Site is the Mana Pools National Park.  It consists of almost 220,000 hectares of pristine wilderness straddling the lower Zambezi River.
The river, pools and flood plain are a magnet for large numbers of wildlife that flock to the area in the dry season.  Along the river banks are thick forests of ebony, wild fig, mahogany and baobab trees that add a different dimension to the typical savannah of the African plains.
Besides a mix of self-catered and full-board lodge accommodation, Mana Pools offers guided game walks and game drives for guests who are not keen to do their own thing.  The game viewing is excellent and varied and includes spotting lion, leopard, cheetah, elephant, buffalo, brown hyena and several antelope species in their natural habitat.
There is one antelope missing in action at Mana Pools and that's the springbok.  The only springbok you are likely to see is the one on the Springbok Casino logo when you play the best online casino games on your iOS or Android phone!
Madikwe Game Reserve - South Africa
Sandwiched between the Botswana border and the Dwarsberg Mountains is the fifth largest game reserve in South Africa.  Madikwe Game Reserve is a vast malaria-free conservation area renowned for its diverse ecosystems that vary from woodlands and grasslands to the semi-desert on the fringes of the great Kalahari.
It is one of the hidden tourist gems of South Africa and features a wide range of accommodation that varies from eco lodges and bush camps to five-star luxury safari lodges.
As a big five destination home to endangered species like the pangolin, Cape wild dog and black and white rhino, Madikwe is a must visit safari destination that, due to the ravages of Covid-19, is now affordable to the average South African.
Once you have watched a quintessential African sunset over a gin and tonic, you can while away a few hours before dinner playing online casino games stamped with the Springbok Casino brand!
The Okavango Delta - Botswana 
The Okavango Delta is one of those rare spots that have remained remote and relatively untouched deep into the 21st century.  It is a spectacularly beautiful area in northern Botswana featuring waterways, grasslands, and palm-infested islands.
Venture out in a mokoro and you'll discover more wild animal and bird species than you can even begin to imagine… all gathered in one dreamy destination.  As the delta covers a vast area, there are several safari camps to pick and choose from – some luxurious and high end and others in the modestly priced and more financially accessible range.
Now with the coronavirus decimating international arrivals, it is a good time for ordinary South Africans like you and I to get an eyeful of this awesome UNESCO World Heritage Site and its vast selection of wild inhabitants… quickly, before the rates skyrocket upwards again!
Pongola Game Reserve - South Africa
Nestled along the foothills of the Lebombo Mountain range in Kwa-Zulu Natal, the Pongola Game Reserve is a slice of heaven on earth.  It comprises 30,000 hectares of bushveld that is home to four of the big five, 350 bird species and a range of antelope species.
With the Pongola River and Lake Jozini on the property, the reserve is a fishing and birding paradise.  You can enjoy a full gamut of safari activities that vary from boat safaris, guided day and night drives, rhino tracking and tiger fishing.
There's a choice of self-catering accommodation and well-appointed safari lodges with all the creature comforts and best of all, the reserve is malaria-free! 
Springbok Casino - Online Casino Games for Africa!
Springbok Casino may not be a wildlife destination but it does offer online casino games for Africa!  As stakes vary from a few cents to hundreds of rands, there really is A-class entertainment on tap for all budget-conscious South Africans.
If you want to experience sizzling entertainment that pays out in hard cash, sign up at Springbok, hit the online casino games tab and play, play and play. 
Who knows what kind of good fortune is in store for you?  Perhaps the winnings that whizz your way via the online casino games can go towards the best ever bush break – reduced rates for South Africans and all!