Are Virtual Sporting Events the New Normal in 2020?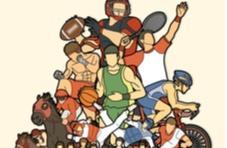 Fixed odds, millions of viewers and global sponsorship deals are key ingredients that make sports a multi-billion-dollar industry.  Now, players, jockeys and prize fighters are either simulating the action… or not involved in the action at all!
Having taken a leaf out of the online gambling book, virtual sports has come of age.  NASCAR, Formula One, the NFL and the NBA have all excised the 'live' from the respective codes and created sizzling hot simulations of real players competing in real showdowns.
Virtual Sports - Open to Everyone 
What was once the exclusive domain of top ranked players finely tuned to their chosen sport has evolved into a no holds barred free for all.  There are cricket all-rounders competing in virtual Grand Prix, F1 racing car drivers hitting the Indianapolis Motor Speedway and rank amateurs facing down the superstars… with surprising results.
From La Liga to the Grand National at Aintree it is big data, machine learning, algorithms and the all-powerful random number generator (RNG) that are deciding who wins – not only in terms of the competition itself but in terms of the odds in the bookmakers' book!
Tap in to RNG-Generated Big Wins
As a faithful 'umhlobo' of Springbok Casino you will be more than familiar with the dazzling attributes of online gambling.  From the jaw dropping animations of the casino games to the sleek functionality of the RNG-generated big wins, it is an experience that is so like Vegas you'd be forgiven for adopting a bit of a Nevadan drawl!
In more recent years, online gambling has been given a further explosive boost with the real-time streaming of live dealer casino games directly to the players' devices.  What that means is you can join a real blackjack, poker or roulette table while remaining seated in your easy chair… hundreds of thousands of kilometres away!
A Sweet Combo of Streaming and Online Gambling 
Not to be outdone, sport has effectively corralled the best of both animated action and online and TV streaming.  Events like the MotoGP virtual races, ePremier League Invitationals and virtual F1 GP are now hitting paydirt in a big way by streaming sports-infused computer simulations on free-to-air TV!
Floyd Mayweather has partnered with streaming platform FuboTV to create simulated bouts of some of his most awesome fights.  The Spanish La Liga has swopped the Balaidos and Camp Nou for the comparatively calm confines of the blockbuster Fifa20 video game.
World's richest Betting Race Goes Virtual 
Now with social distancing playing its part, the most celebrated horse racing event on the planet – and the world's richest betting race – the inimitable Grand National has, for the first time in its 173-year history, gone virtual… and with amazing results!
According to media reports more than 4,8 million viewers tuned in to watch the 18-1 outsider Pott's Corner cross the finish line first.  What is even more remarkable is around £26 million – that is the current equivalent of a little over R560 million – was bet on the race, all of which was donated to charity.
That may be a tiny fraction of the £300 million plus that was wagered on last year's event – which by the way was watched by 600 million people worldwide – but it was common knowledge that this edition of the Grand National was primarily run to raise funds for the NHS.
Is There a Rosy Future for Virtual Sports? Or is Online Gambling King?
Do virtual sports really have a rosy future when it comes to betting?  Well, we already know that the 3D horse racing games purpose-developed for online gambling portals have a firm fan base – especially Down Under where Aussies are renowned for literally betting on anything!
When it comes to major streamed events like Premier League football, WBC heavyweight boxing, Formula One racing or MotoGP, however, will fans really wager the big bucks on the outcome of a computer program?  Are people really ready to embrace fixed odds fantasy over real-life performances on the field, in the ring or on the track?
A Great Way to Appease the Immediate Gratification Inherent in Gen Z
According to some commentators out there, it is going to be the younger generation that is going to determine the future of virtual sport – both as a betting opportunity to make wads of cash from and a spectacle for pure visual entertainment.  
As we all know by now, immediate gratification is an attribute that many of the younger population from the Generation Z era possesses.  If developers can limit events to a few high action clips, then the smart money is probably on virtual sports. 
Right now, it is still the real deal that gets the adrenalin roaring, the blood pumping and the wagers flooding in!
An Industry Worth $2 Billion in 2023
If forecasts are anything to go by, the purely pixelated version of sports is set to be worth around $2 billion in around three years' time.  The big question is; will the sponsors get a cut of the action and will players be satisfied with their performance fees?  If not, then virtual as a long-term proposition is dead in the water!
How do you see virtual sports developing as a streaming and betting event?  We are more than satisfied with the blood, sweat and tears of real rugby, cricket, football and boxing and the flutters it presents… but there is always room for change! 
Sign-Up at Springbok Casino for the Best of Make-Believe!
When it comes to the virtual over full-blown reality, the online gambling available right here at Springbok Casino is all the make-believe action I'm likely to ever want… although this is only one voice in a very noisy sporting universe!  The great thing is that you can fulfil your sport-fix by playing games with sporty titles!
While you decide where you stand on the 'virtual versus reality' debate, why not sign up at Springbok Casino and get a taste of the spectacular… It is the place where real money payouts really are part of the action – and loads of sports-themed slots await!