Why an Individualised Online Casino UX is Coming Soon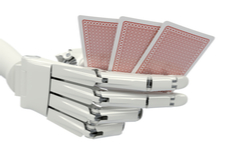 Thanks to the rapid development and deployment of smart technologies, the future is now!  Online casinos are swept up in a frenzy of adaptability, with AI and machine learning driving change.  How will smart tech enhance the player experience at Springbok Casino?  By delivering highly individualised gambling sessions all round!
The Technologically Advanced Gambling Platform Online 
If you are a frequent visitor to Springbok Casino, you will be aware of our technologically astute online gambling platforms.  Our players have intuitive access to hundreds of optimally functional online casino games via our download casino and our responsive HTML5-based mobile and instant play platforms.
At Springbok Casino, on-demand access to remote real money gambling is a reality on any device – from the personal computer to the mobile phone.  The only element that needs a high-tech makeover is the generic nature of our remote gambling services, from our games to our bonuses and promotions.
Generic Casino Games and Bonuses  
What do we mean by 'generic'?  Anybody who is a signed-up member of Springbok Casino has equal access to our three-part welcome bonus, our cashback bonus and our Springbok Casino no deposit bonus codes.  
All the bonuses are standard, not in terms of the value of the player rewards, but rather in terms of the fact that exactly the same incentives are offered to all players.  This is regardless of how often our players visit the casino, how long they play the RTG developed online casino games – and how much money they win or lose over a week, a month or a single gaming session.
Data Collection and Analysis at Scale
Now with artificial intelligence (AI) and machine learning enabling precise data collection and interpretation at scale, online casino operators have to opportunity to change the way they do business… and it results in a profitable experience for all parties at the same time.
Look Out for Tailored Springbok Casino No Deposit Bonus Codes… One Day  
How can the capture and analysis of big data provide smarter insights into player behaviour?  That's easy.  By pinpointing the players who lose the most money and those who are most likely to beat the house, the casino can tailor bonuses and recommend specific casino games to the players who fall into the respective categories.
A personalised cashback bonus, for example, may hit the spot with the players who lose frequently at an online casino.  Springbok Casino no deposit bonus codes, which are only redeemable for play on skill-based table games, may be more suitable for the experienced punters.
If a player only visits the casino on a sporadic basis, a deposit bonus with relaxed playthrough rules may encourage more activity.  The big reveal here is in the future, Springbok Casino no deposit bonus codes will be customised according to analysed player behaviour.
Big Data Analysis Creates In-Depth Player Profiles  
AI and machine learning are dynamic and powerful technologies that have applications across all global industries.  In the context of the casino, AI has the capabilities to pull key bits of information together to create more comprehensive and in-depth player profiles.
By analysing individual gaming histories, along with demographic data and social media content on platforms – like Facebook, Twitter and Instagram – the casino can recommend casino games to players in the same way that Showmax suggests movies, documentaries and soaps based on individual viewing history.
How Deep Data Mining Works
Here's an example.  Stats reveal that women generally prefer to play online slots over video poker or table games.  By deep mining player data, AI can go one step further.  It can identify the best online slots for a particular player based on personality and preferences, as well as elements like betting range, paylines, top payouts and the type and number of bonus features in-play.
Similarly, data suggests that men are more adept at playing table games like online blackjack, Caribbean Hold'em, Jacks or Better and Caribbean Stud.  What the use of AI can do is analyse the stakes, odds and side bets available across all the casino games in the skill-based genres.  
It can also identify the player's key personality traits and characteristics, including aversion to risk, aggression and competitiveness.  That way, AI can refine and accelerate the search for the perfect gaming match for a particular player at Springbok Casino.
How Does Machine Learning Fit In?
If AI is so efficient, how does machine learning fit into the equation?  AI initially relies on the physical input of complex algorithms and statistical models to follow programmed instructions. 
Over time, however, the best artificial intelligence technology is able to learn retrospectively and carry out repetitive tasks better than before, without the need for processing instructions.  This is termed machine learning. 
By using machine learning, AI can be taught to recognise certain features and predict human behaviour.  In turn, the casino can use the data to create customised game suggestions and deliver enhanced and personalised Springbok Casino no deposit bonus codes.
What is more, casinos can use predictive AI and machine learning algorithms to identify problem gamblers and intervene long before the situation gets out of hand.  Cutting edge tech is set to transform gambling online in the foreseeable future.
Personalised Gambling Online is the First Step into the Future 
Players like you and I are destined to be the beneficiaries of a unique and highly individualised online casino experience that permeates through the casino games, to the Springbok Casino no deposit bonus codes.  That is just the first step into the future.  The way things are going, there are sure to be many more steps that we cannot even begin to conceive.
If you want to be first in line for one-of-a-kind gambling sessions online, register an account at Springbok Casino now.  We may not have made the great full-fledged leap into the AI-enhanced future – but you will find our Springbok Casino no deposit bonus codes are most definitely attractive… whether they are custom designed or not!