Dogecoin – Crypto Crusader or Comic Relief?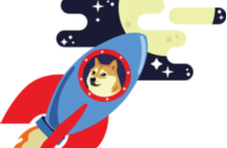 You have heard of Bitcoin, Litecoin and Ethereum but how about Dogecoin?  The Canis-based cryptocurrency may be more meme than money but celebrities are backing it to the hilt.  Is the altcoin going to become a serious digital asset like our Springbok Casino no deposit bonus codes?  Read on to find out!
What is Dogecoin?
Dogecoin is a virtual money system that was originally created to mock the rise of Bitcoin and the cryptocurrency sector as a whole.  It was based on a series of memes featuring a dog called Doge – hence the name Dogecoin – and launched in 2013.
Now, seven years later the 'joke' has become one of the top 25 cryptocurrencies to watch in 2021 – and that is according to none other than the NASDAQ, the New York stock exchange.  With a market capitalisation of more $10bn, Dogecoin is now the tenth most valuable cryptocurrency in circulation.
Springbok Casino is Following a Similar Upward Trajectory to Dogecoin
Dogecoin has a remarkably similar trajectory to Springbok Casino.  Our download and instant play platforms were launched in 2012 and today our online casino games, support services and Springbok Casino no deposit bonus codes are ranked the best in Africa!
We may not have a Shiba Inu dog as our brand icon and we most certainly were not developed to offer comic relief.  Our online and mobile Springbok Casino platforms are however attracting as much attention as Dogecoin on social medial sites like Tik Tok, Twitter, Facebook and YouTube!
How Has Dogecoin Become a Heavyweight Contender?
How has a 'concoin' become a heavyweight contender on the murky world of digital currencies?  That is the million-dollar question.  Dogecoin is not widely accepted as a unit of currency.  In fact, it is hard to think of any credible retail businesses that take Doge as a method of payment, other than a populat X-rated site… and a few web-based poker sites.
It is hardly an institutional grade asset in any form and flavour and unlike Bitcoin and many other top performing cryptocurrencies, Dogecoin is an inflationary digital asset.  Why is it inflationary?
New Dogecoin is issued at a rate of 5 billion per year.  That means the overall supply of Doge will continue to rise but the growth rate of its cash supply will decrease over time… or that is what some crypto analysts believe!
With negative indicators like that, similar assets would fail to take off, yet that has not been the case with Dogecoin.  Having said that, there are a few positives when it comes to Doge versus the rest of the bunch, particularly Bitcoin.
Dogecoin – User Friendly with All the Trappings of Conventional Crypto
Where Bitcoin is massively complex, Dogecoin is designed to be user friendly for no other reason but to show the king of crypto up.  Trading in Dogecoin is as simple as signing up at Springbok Casino, funding the account and claiming one or two Springbok Casino no deposit bonus codes to boost liquidity.  The only difference is you would sign up at a crypto exchange like Luno, Gemini or Kraken.
The ease of transacting is one major plus.  The second has to do with the volume of transactions.  As Dogecoin more closely emulates real-world currency – we now know that new Doge is issued every year – users are more inclined to trade and use their coins rather than hoard them as an investment.
The end result is a high level of liquidity and that means there is always a ready buyer for Dogecoin if and when you decide to sell… and rake in the profits.
Mining for Dogecoin
Dogecoin may be more dog than virtual dollar but it was developed using the same code as Litecoin.  As with Bitcoin, crypto mining is part of the Dogecoin package.  What is crypto mining?  It is essentially a process of decoding algorithms in return for cryptocurrency as payment.
Miners have to solve complex mathematical equations on their computers.  The process basically involves validating data blocks and adding Dogecoin transactions to the blockchain, which we all know is an immutable public ledger that is not controlled by any organisation or individual.
Not everyone can be a crypto miner.  You need to be a bit of genius in IT and coding in order to succeed.  You also have to have access to a powerful and costly computer.  That said, anyone who has a couple of spare rand lying around can buy Dogecoin at a cryptocurrency exchange.
The good news is mining for money is actively encouraged at Springbok Casino.  All you have to do is play our online casino games, beat the edge and you are duly rewarded in ZAR.  We even offer Springbok Casino no deposit bonus codes as incentives to drill for gold playing online slots, video poker and table games!
How Has Dogecoin Performed So Far?
The key question is how much does Dogecoin cost?  You will be delighted to know it is nowhere near the current Bitcoin rates.  In fact, Dogecoin is currently trading at $0.052 per coin and that is just R0.78.
The next question is how has Dogecoin performed recently?  The altcoin reached an all-time high of $0.084 in February 2021, gaining more than 50%, after several celebs including Elon Musk, Gene Simmons and Snoop Dogg gave it the thumbs up.
Even that converts to R1.27 a coin – a sum which is wholly affordable when compared to the other top performing cryptocurrencies like Ethereum, Stellar, XRP and Cardano.
Is Dogecoin a Good Investment?
At that kind of price, you really have nothing to lose.  The key driver of Dogecoin is a passionate community and the keen interest of influencers and celebrities, some of whom have invested a whack in what is really a spinoff of a meme!
Dogecoin is a low-cost gateway into the cryptocurrency sector and one that may just pay off.  Having said that, our Springbok Casino no deposit bonus codes are completely free and enable access to world class entertainment where real money rewards are a distinct possibility.