What is Rewilding and Why is it Crucial to Our Survival?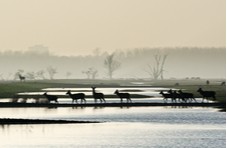 The sixth mass extinction of species is looming on the horizon.  Without incisive intervention, millions of plants, birds and animals will disappear… forever.  You can bury your head in the sand and play online casino games or you can contribute towards a global conservation effort known as rewilding.
Rewilding – The Reintroduction of Keystone Species
Rewilding is essentially the reclamation and rehabilitation of degraded land.  The aim is to actively encourage the animal and plant life that was originally there aeons ago to grow, propagate or return.  What lies at the heart of successful rewilding projects is the reintroduction of keystone species – the animals right at the top of the food chain.
Play Online Casino Games Featuring Keystone Animals
At Springbok Casino we feature several keystone species under the slots tab.  Online casino games like Lucky Tiger, Lion's Lair and Panda's Gold slots remind us of what we stand to lose if we do not take a more serious approach to conservation.
We want you to give rewilding a thought every time you hit the spin button.  Better still, you can donate a percentage of your winnings to a worthy cause involved in conservation and rewilding like the WWF, ReWild Africa, The Aspinall Foundation or Helping Rhinos.  That way you can still enjoy our online casino games but in a more conscionable way!
Creating Healthy Self-Sustainable Habitats
When keystone species and apex predators return to their natural habitat, everything else prospers and thrives.  Healthy environments brimming with biodiversity are self-sustainable.  More importantly, they mitigate climate change by gobbling carbon emissions and generating fresh air and clean water.
Over the millennia humans have corralled nature.  We have decimated predator populations, cut down woodlands and forests and dammed rivers.  As a result, there has been an explosion in the number of ungulates, such as elk, moose, red deer, impala and springbok – which as you know is the 'face' of Springbok Casino!
What is more, air quality has been compromised and drought and flooding are increasingly frequent events, the world over.  Interference has led to overgrazing which in turn creates environments that are no longer able to support wildlife.
Rewilding involves allowing habitats to rest and recover before restocking them with the species that are key to perfect environmental synergy.
What Rewilding Looks Like
What does rewilding look like?  The reintroduction of lion into the Karoo is an example of rewilding in South Africa.  The planned formation of the Transfrontier National Park, a vast conservation area designed to span borders, is another.
Ideally, we want to create habitat webs or corridors that link conservation areas so that animals are free to roam and migrate in search of food and to mate and procreate.
Vast Conservation Corridors
An ambitious plan is being hatched in North America which, when executed, will create a vast wilderness area spanning more than 130 million hectares.  That is around eight million hectares larger than the total surface area of South Africa.
The Yellowstone to Yukon Conservation Initiative (Y2Y) will stretch from Wyoming in the USA to the Yukon Territory in Canada.  Imagine the sheer diversity of life an area that size can support!
The Wolves of Yellowstone
Yellowstone has already been the beneficiary of a wildly successfully rewilding project.  It entailed the reintroduction of 14 grey wolves in 1995, 70 years after the last pack was hunted down and killed.
Now, 26 years later, the wolf population has grown to more than 130.  Since the wolves were re-introduced, the entire ecosystem has changed.  The number of elk and coyote has dramatically reduced, woodlands containing aspen and willow have increased and smaller animals are thriving.  That is what rewilding looks like!
Coyotes may be a bit of pest in Yellowstone National Park but at Springbok Casino they are a central character in one of our high hit rate online casino games.  When you play Coyote Cash, a 25 payline RTG slot, there is a randomly activated progressive jackpot as the main prize!
Rewilding Tops the Agenda in the UK
In the UK, where more than 15% of species are on the cusp of extinction, rewilding is right at the top of the conservation agenda.  Beavers have been reintroduced into rivers and waterways and it is having a positive spin-off for the human inhabitants.  The dams they build regulate the water systems, prevent flooding and enhance the quality of the soil.
Bison Return After 6,000 Years
In the next few years, bison will be reintroduced to Britain after a hiatus of more than 6,000 years.  European bison from the Netherlands and Poland are due to be released in an area in Kent.  Although they are not the original steppe bison that once roamed the island, they are close enough in DNA.
Bison are considered keystone animals as they graze on invasive species and help regenerate the original environment that consisted of a blend of glades, woodland and scrub.
Once that happens, insects and birds will return and plant life flourish.  Over time, wild boar, moose, lynx and wolves will slowly be reintroduced in wilderness areas across the British Isles.
Samara – the Poster Child of Rewilding in South Africa
Samara is a private game reserve in the Karoo that was created on rehabilitated farmland.  Once the domain of sheep, goats and cattle – the 70,000-acre wilderness area is now home to rhino, elephant, cheetah and a wide range of antelope that were reintroduced by the new owners.
What is even more exciting is Samara is a building block in a much larger project that aims to create a three-million-acre conservation area, which is second only to the Kruger National Park!
Springbok Casino Supports Rewilding… You Should Too!
At Springbok Casino we firmly support all the efforts that go into creating a healthy and more sustainable planet.  That is why you will find a host of online casino games that not only feature keystone animals, but use negligible amounts of electricity, battery life and data to activate on your computer or digital device.
Why not show your support by signing up at Springbok Casino, dipping into our awesome selection of bonuses, promotions and online casino games and taking an active interest in local rewilding projects that are vital to our survival as a species?