6 Exotic Auction Items Fetching Super-High Prices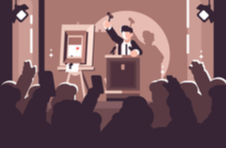 Break the bank at the best online casino South Africa and you too could be bidding for… a lot!  From 120-year-old chocolate to celebrity jackets – that is what clever collectors are snapping up at auction.  Here are 6 of the pricier items to go under the hammer.
1.  Cadburys from the Cache of Doomed Polar Explorers – R10,300
When you think of Cadburys Chocolate, images of deliciousness probably spring to mind.  Well, that is not really appropriate for one particular chocolate bar.  Unlike Springbok Casino, which is under a decade old, the sweet stuff is estimated to be twelve times that.  The question is – why the fuss… and a R10,300 auction price?
Among 1,500 kg Cargo of Chocolate
Anybody who knows their polar explorers, has heard of Captain Robert Falcon Scott – he of Scott versus Amundsen fame.  While preparing for his second, and sadly ill-fated expedition to Antarctica in 1910, Scott added 1,500 kg of cacao and chocolate to provisions.
Sold in Pristine Condition
The chocolate bar sold at auction was unopened and untouched, as Scott and his five companions succumbed to minus 40-degree Celsius temperatures while traversing the treacherous Ross Ice Shelf.  They were just 20 km away from the next support depot at the time.
Would you pay R10k for a decidedly dated chocolate… whether it contained a 'glass and a half of milk' or not?  How about bankrolling the best RTG slots at the number one online casino South Africa instead?
2.  Leather Jockstrap from Cinderella Man – R91,000
The next lot is a jockstrap.  Say what?  Yup, that tight piece of underwear designed to protect and support the 'crown jewels.'  In this context, the said article of clothing was worn by Australian actor Russell Crowe.
Crowe played the role of the Irish American boxer, James J Braddock, in Cinderella Man.  Although the movie did not break box office records, it was a fair success and even got nominated for three Academy Awards.
A Lot in the Crowe Divorce Auction
Crowe managed to hang on to the slinky apparel piece, made solely from whole grain leather, until an acrimonious – and expensive – divorce forced him to auction it off.  He included the breastplate he wore in Gladiator in the lot.
His total takings for the day?  How about a cool R1,7 million – with the breastplate ultimately being the big-ticket item!
How to Wear a Virtual Breastplate of Your Own
If you can't afford a breastplate of your own, why not sign up at Springbok Casino, the top ranked online casino South Africa?  Along with Achilles and Achilles Deluxe online slots, Caesar's Empire slot is guaranteed to satisfy the yearning for ancient armour… and at a fraction of the price of a Hollywood prop!
3.  The Original Map of Winnie The Pooh – R8.5 Million
A beautifully illustrated piece of literary memorabilia, which undoubtedly catapults us all back to our respective childhoods, is the original Winnie The Pooh map.  It was sketched in 1926 by renowned illustrator, E H Shepard and sold for a small fortune in 2018.
Exotic Locations of Pooh's Adventures
Apart from providing a snapshot of the wonderful world created by AA Milne, The Hundred Acre Wood Map features exotic locations connected to Pooh's adventures – 'Sandy Pit where Roo Plays', 'Where the Woozle Wasn't' and 'Pooh Trap for Heffalumps'.
Play with a Panda Instead!
We don't have Pooh Bear under wraps at our online casino South Africa but our Panda's Gold slot is a high volatility humdinger!  The slot offers 88 paylines, the cuddly Panda as a wild symbol, free spins with re-spins and loads of free bonus games!  Why not give it a spin right now at Springbok Casino?
4.  Thriller Jacket Worn by The King of Pop – R25 Million
Controversial, sublimely talented and a Twentieth Century cultural icon, Michael Jackson is one of the most celebrated performance artists in history.  His sixth album 'Thriller' sold more than 65 million copies and is the best-selling album of all-time.
Red, Black and Fabulously Futuristic
The futuristic jacket he wore during the Thriller video became the epitome of eighties cool.  It is red with black stripes, has large angular shoulders and lots and lots of zips.  What do you think a totally unique clothing item, emblazoned with an iconic M logo, would fetch at auction?
Got R30 Million to Spare?
Does R25 million smackeroos sound about right?  Bear in mind, the transaction took place ten years ago.  When taking inflation into account, the Thriller jacket has a sales value of around R30 million today!  How is that for cool?
Best RTG Slots Featuring the Stars of Chicano Rock
Did you know Springbok Casino features iconic musicians of the fifties?  Turn up the volume of The Big Bopper and Richie Valens La Bamba online slots and you will be shaking it up to Chicano Rock.  Hitting payline wins is an added attraction – and a potentially lucrative one at that!
The Day the Music Died
Richie Valens, The Big Bopper Richardson and Buddy Holly all died in the same plane crash on 3 February 1959, on a tragic day that has long been referred to as 'the day the music died'.  That is a free snippet of rock and roll history, compliments of the best online casino South Africa!
5.  Beep-Beep – R38,5 Million for R2D2 is a Steal!
As a Star Wars droid, R2D2 is much more than sophisticated gadgetry.  He is everybody's friend, from Luke Skywalker and Obi-Wan Kenobi to Leia Organa and C-3PO.  The little guy was introduced in the first ever Star Wars movie and has starred in 10 of the 11 releases to date.
R2D2 Smashes Star Wars Memorabilia Records
Although only 110 cm tall, the original astromech robot sold for R38,5 million a couple of years ago.  Besides setting a record price for Star Wars memorabilia sold at auction, the bot was appropriately inducted into the Robot Hall of Fame.  The charismatic mini-machine also hosted the 50th Academy Awards, together with best bud, C-3PO.
What is next for Artoo?  The title role in a progressive jackpot slot at our popular online casino South Africa, perchance?  We will have to wait and see what George Lucas and company have up their sleeves!
6.  Harry Potter Chair – R5,4 Million
We are all aware of the wizardry associated with Harry Potter and his minions… but did you know JK Rowling has the magic touch?  We are not referring to her awesome literary achievements, but rather an inspired re-decoration of a well-worn oak chair.
A Million-Rand Makeover
The 1930s era dining room chair, one of four mismatched chairs in a set, was Rowling's seat of choice as she wrote her first two Harry Potter books.  Prior to auctioning it off for charity, the multi-award-winning author added her own dab touch to proceedings.
With the liberal use of green, rose and gold paint, and a few choice words like 'Harry Potter', 'Gryffindor' and 'You may not find me pretty but don't judge on what you see', the chair was transformed into a bestseller all of its own!
A Final Bid Eight and a Half Times More Than Expected
After changing hands several times, the Harry Potter chair most recently went under the hammer for more than R5,4 million – a full R4,8 million higher than what was expected.  Talk about the Midas touch… and the darn thing can't even fly!
Register an Account at the Leading Online Casino South Africa
We can't promise payouts even remotely like record auction prices but we can provide the best online gambling around.  Besides our comprehensive selection of RTG online slots, there are table games and video poker variants to keep you well entertained.
All it takes is to sign up at Springbok Casino, fund your account and claim a welcome bonus.  Thereafter our multi-channel online casino South Africa is yours to explore at your own pace!