Are Flash Floods and Storm Surges Causing Human Displacement?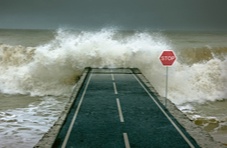 A flood of wins is obviously a positive factor in online gambling.  In every other context, floods spell disaster, and in the worst-case scenarios, temporary or permanent displacement.  Have we reached that point yet?  Or are rising sea levels and storm surges simply alarmist concepts?
With controversial subjects like climate change, it is facts that should inform us.  Right now, there are millions of people living in vulnerable communities.  Shorelines are being measurably eroded and low-lying areas drowned by relentless rain, mega waves and burst rivers and dams.
Sea- and River-Side Communities are Most at Risk
Around the world, villagers in Alaska, the South Pacific, Australia and the USA have had to move lock, stock and barrel to higher ground.  Sea- and river-side communities, which have existed for hundreds of years, have had to make the painful decision to leave their homes, businesses, infrastructure… and their dead.
It is not only faraway places that are at risk of disappearing under surging ocean waves or collapsing into swollen rivers or angry, riled up seas.  Cape Town, our beloved Mother City, is in the direct firing line – and dramatic changes are happening right before of our eyes.
The only positive for online gambling Capetonians is the remote nature of Springbok Casino.  Our promotions bonuses, support services and RTG online casino games are available anywhere.  The only proviso is gaming devices must be connected via data or Wi-Fi.
A Number of Climate-Induced Displaced Communities All Over the World
How many communities have already been displaced by rampant climate change?  Many more than you can imagine.  From the Choctaw and Houma tribes residing near the Gulf of Mexico, to the inhabitants of Isle de Jean Charles off the coast of Louisiana, home is no longer where it has always been.
People living the 'idyllic' island lifestyle on Kiribati, and in Vunidogoloa in Fiji, have abandoned all they have ever known and relocated to new neighbourhoods to start all over again.  Hundreds of households in Queensland, Australia, were laid waste by the powerful El Nino effect, necessitating a permanent move.
Climate-induced relocation is not only destined to grow.  It has the very real potential to turn millions of ordinary people into desperate, dislocated refugees – an event that will turn into a global catastrophe.
Flood-Prone Mega Cities May Disappear by 2100
Mega cities like Mumbai, Ho Chi Min City, Shanghai and Bangkok, with an estimated total population of more than 31 million people, may soon all but disappear.  That is if scientific modelling is anything to go by.
Any community, big or small, built along the seashore, delta or riverbank is going to be impacted, in a big way.  Evidence of this can already be seen in the devastating floods in Germany, Belgium, the Netherlands, the Czech Republic, the city of Zhengzhou in China and in London in the United Kingdom.
Two-Metre Rise in Sea Level Will Put 630 Million People in Peril
Take into account recent estimates of a two-metre rise in sea level by 2100 and around 630 million people will be living below the high tide mark or projected flood-line.  Think about it this way…
Cities like New Orleans, Amsterdam, Miami, Lagos, New York City and Kolkata will be drowned by an incrementally increasing wall of water the equivalent height of Pieter Steph Du Toit, Lungisani Ndlela or Shaquille O'Neal!  Now for a tall story of a different kind…
When you sign up at Springbok Casino, there is a R11,5k welcome bonus available to fund your online gambling activity.  What is more, floods, fires, extreme heat and storm surges have no impact whatsoever on the functionality of our gaming platform.  You are, as it were, free to gamble… notwithstanding the outdoor conditions!
Can Engineered Flood and Surge Defences Work?
Can building sea walls or levees, erecting barriers or elevating buildings adequately deal with climate-induced flooding?  A more pertinent question is – can man-made structures withstand five-metre or more storm surges?  That is precisely what killed more than 300 people and caused widespread flooding in the UK – and that was almost 70 years ago!
The reality is extreme weather events are becoming the norm, triggering a host of natural disasters.  In the UK, flooding events are expected to increase by as much as 35% by 2080.  Even today, flooding costs the UK economy approximately £1.1 billion per year.  That is the equivalent of R22.6 billion at current conversion rates!
A Toss-Up Between Relocating and Rebuilding
Erecting engineered defences in high flood risk areas is one solution.  Retreating and finding more habitable places to live is another – but can this be achieved on scale, especially in poorer countries?
At the end of the day, it will be a toss-up between the one-off cost of relocating entire communities against the recurring costs of rebuilding infrastructure damaged by floods and storm surges.
A much more important long-term objective is to tackle the climate crisis head-on.  For that, we need the buy-in of the most powerful industrialised countries in the world... and that has not happened yet!
How Cape Town is Being Impacted by Climate Change
How is climate change reshaping Cape Town's coastline?  Storm surges and rising tides are already engulfing and eroding infrastructure and beaches.  Monwabisi beach, Sea Point promenade and the Strandfontein coastal road are key casualties of relentless incursions by sand and sea.  So too are businesses operating along the False Bay shoreline.
Mitigating measures are already in place and include flood protection infrastructure, early warning systems and the roll out of sandbags on beaches.  Despite the best efforts, popular bathing sites like Clifton 4th, Camps Bay, Fish Hoek and Bikini beaches are expected to be eroded away into oblivion.
In the Helderberg, the beautiful beach and ocean view you could once appreciate whilst enjoying breakfast or lunch at one of the cafés is no more.  Instead, the view is now obscured by concrete walls – all in an effort to protect housing and businesses.  It was projected that just a slight rise in sea levels would effectively wipe away the first 6 blocks of the Strand neighbourhood!
Beaches and Key Tourist Attractions Under Threat
Key tourist attractions are also under the climate change cosh and include the V&A Waterfront, Robben Island and Cape Point.  Violent storm activity is expected to result in massive waves and tides which will be exacerbated by rising sea levels.
The good news is the median rise in sea level is pegged at just 0.76 metres in Cape Town by 2100.  That is way below the two-metre mark expected in flood-prone cities like Guangzhou, Rangoon and Abidjan.  On the downside, the only high-lying land is protected by Table Mountain National Park status… but, for how long?
Sign Up for Online Gambling Resilient to Displacement, Relocation and Climate Change!
We all know online gambling is impervious to climate change.  Why not register an account at Springbok Casino and get your wagers away before you make the long trek from a dampened Cape Town to the water-deprived Karoo!