The Modern Farm – A Mix of Tech and Sustainability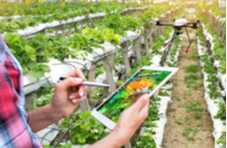 We all know the impact technology has had on casino games.  Now, farmers are turning to automation, analytics, satellites and sensors to ramp up production.  The model farm is the modern farm – and it couples tech with sustainable farming methods.
How is the world going to meet rapidly increasing food demands?  By adopting a smart approach to food production.  The challenge facing agriculturalists is to produce more with less – less water, less land and poorer quality soil.
What is Smart Farming?
'Smart' means using high-tech tools, devices and equipment to monitor crops and provide carefully targeted interventions.  It means taking a unique approach to ancient practices in a similar way Springbok Casino has adapted traditional casino games for the software-enabled gaming platform.
At the heart of the 4.0 agricultural revolution is the industry's role in climate change.  Fully mechanised farms are energy intensive, use water carelessly and over-work the soil.  The latter becomes an issue when soil is no longer fertile and either needs to be 'rejuvenated' with nutrients at a great cost – or it is left barren… and abandoned.
How Does Over-Tilled Soil Enhance Global Warming?
In its natural state, soil is a key carbon sequester, capable of holding three times the amount of carbon currently in the atmosphere.  The widespread degradation of soils, due to unsustainable cultivation, has lowered innate carbon storage capabilities, and resulted in the release of billions of tons of sequestered carbon.
What is now required is precision agriculture coupled with sustainability – and that is precisely what is happening around the world.
South Africa Leads in Innovation…
What is interesting is that South Africa is emerging as a leader, in terms of both the adoption of precision farming techniques, and the development of innovative and intelligent data-driven solutions.  Notwithstanding which industry referred to, South Africa is always at the cutting edge of innovation.
Semi-autonomous mining operations, remote medical surgeries, app-based payment processors and crypto-currency trading platforms are a few examples of locally developed solutions that have been adopted world-wide.
…and Springbok Casino Games Attest to That!
In the gaming sector, Springbok Casino is an award-winning platform recognised for the functionality of the web-based and mobile channels and RTG-developed online casino games.  We are, as it were, at the forefront of developing 'smart' entertainment… with the real capabilities to pay out in ZAR!
Precision Farming – Intelligent and Integrated
Now, local companies are developing intelligent tools, devices and software apps to enable an integrated approach to crop production and farm management.  The idea is to provide farmers with actionable insights on the health of the crops and quality of the soil in real-time.
Real-time monitoring, data analytics and automated alerts and notifications allow farmers to intervene quickly and appropriately in the right place, at the tight time… right down to a particular zone of the farm or even an individual plant or tree!
By identifying issues like irrigation malfunctions, localised outbreaks of fungi or parasites and rain or hail damage early on, the issues can be dealt with immediately, before they become problematic and widespread.
How are Smart Tools Driving Precision Farming?
The key to precision farming is quick and targeted interventions.  To achieve precision requires a gamut of smart tools to capture information, analyse data and communicate with people or machines on the ground.
In the world of real money gaming, it is functionality rather than precision that counts.  On that score, both our online casino games and Springbok Casino itself, are first class.
Here is a round-up of the technology and tools backing precision farming…
Sensors and Drones Provide Instant Information
Sensors, connected to the Internet of Things (IoT), are strategically placed in the field to provide the farmer with up-to-the-second information on the temperature, humidity and moisture of the soil.  Drones stream live images and video footage to devices, which can easily be monitored from any location, on- and off-site.
Satellite Imagery for Large Commercial Farms
High resolution satellite imagery is a highly sophisticated wide-spectrum monitoring solution ideal for large commercial farms.  Captured data is analysed using multispectral imagery analysis to reveal information relating to the health and vegetative development of crops and soils.
Data Capture and Analysis Enables Differentiated Interventions
By knowing precisely where the soil is dry; pests or parasites are active or plants are not as healthy and productive as they should be, farmers can implement a variable rate of irrigation, spraying pesticides, or spreading fertiliser.  This differentiated approach, to targeting only the areas that require interventions, saves time, money and valuable resources.
Digital Zone-By-Zone Field Maps for Maximised Productivity
Prescription maps are one of the latest advancements in precision farming.  They contain information about the amount of seed, fertiliser, pesticide and water that should be applied to each area or zone of a farm in order to obtain optimal results.
Semi-Automated Intelligent Farm Machines
Zone-by-zone imagery systems, containing detailed instructions, are then sent to the machine operators on the ground.  Over time, machines can be semi-automated and capable of interacting with and responding to digital field maps via GPS navigation, machine learning and AI.
Precision farming is a high-tech, data-driven agricultural process that reduces wastage and maximises food production.  For it to really work – now and into the future – it has to be married with sustainable techniques that are not harmful to humans or animals and use less water, electricity and space.
Sustainable Farming Methods Paramount to Long-Term Success
Farming methods achieving optimal sustainability in respect of aforementioned criteria include vertical farming, cruelty-free vegan farms and organic farming which only use organic fertilisers, animal manures and natural pest control measures.
Ancient Agricultural Techniques are Again On-Trend
Ancient techniques like crop rotation and soil regeneration are now integral to the modern farm.  So, too, is the use of renewable energy and the harvesting and channelling of rainwater for irrigation.
Aquaponics, the integration of hydroponic crop production with fish farming, is another sustainable process that uses fish waste to nourish plants and vice versa.
The planting of trees and shrubs amongst food crops – a process known as agroforestry – is now a popular practice in arid areas.  When fully-grown, the trees and shrubs shade and protect the crops, create microclimates more favourable to food production and enhance the quality of soils.
With a perfect blend of old and new, farmers are best equipped to meet food production targets…  now and into the future.
Get Classic Casino Games Repurposed for Digital Gaming at Springbok Casino
At Springbok Casino, we have successfully repurposed traditional casino games for the online and mobile channels.  What that means is you can play all-time classics like online blackjack, online baccarat, online craps and online roulette on your desktop, laptop or digital device.
You can also access hundreds of creatively designed online slots featuring 3D graphics, entertaining game themes and real money prizes.  Sign up at Springbok Casino now and get the best casino games, bonuses, banking methods and support services.  All are available in real-time… and on-demand!