Disney's Metaverse – An Immersive Personalised Playground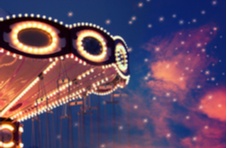 How do you scale up entertainment for millennials?  For one, you provide mobile-optimised online gambling on user-friendly platforms like Springbok Casino.  Furthermore, deep fake technology is introduced into video games to create deeply individualised gameplay… and Disney develops a metaverse befitting the maestros of illusion.
Re-Imagining the Theme Park UX for Generation Z
The demands of generation Z have accelerated the transition from the ordinary into the extraordinary.  Sports, news, online gambling, entertainment and storytelling are digitalised and sophisticated.  People want to be part of the action – as it unfolds...
Now, the most revered entertainment company on the planet, Disney, is enhancing the theme park experience.  Fun rides and physical characters from iconic Disney films are being reimagined for the 21st Century.
In the metaverse, even Mickey Mouse needs a makeover.  That is if he is to fit in with the futuristic personalised playground envisaged by the innovators at Disney.
What Will the Disney Metaverse Look Like?
In its best understood context, the metaverse is essentially an extension of the internet.  Users, like you and I, will put on our headsets and experience the vast reams of content on the World Wide Web in immersive technicolour.
In its most basic form, the metaverse threatens to become an exclusionary – rather than shared – journey into the knowledge economy.  There is a danger we will all sit in our individual silos doing what we love doing best.  In the metaverse, that could be playing cash games at Springbok Casino or visiting a virtual clothing boutique in London, New York or Milan!
One of the essential building blocks of the metaverse is augmented reality (AR).  That said, the challenge is to enable access to elements of a virtual world without the use of 'blinkers', like Oculus Quest or Hololens.
The Era of Data-Driven Interactive Displays
According to recent news reports, Disney has apparently achieved the impossible.  They have patented a virtual world simulator that seamlessly connects the physical and digital worlds.  Get this – no headset or wearable tech is required to access the magic.
Although the technology is still at the early stages of development, it will use computing power, positional tracking and larger than life AR displays to create a 3D interactive virtual world.  What is more, by tracking visitors' mobile phones, unique, data-driven personalised visual displays will be projected onto real world objects, as they pass.
Disney is aiming at delivering connected theme park experiences that transcend physical and digital obstacles. In the metaverse, there are no limitations of physical space.  Visitor experiences can evolve from the finite of the real world, to the constantly changing infinite of the virtual world.
Quick, Frequent and Low-Cost Entertainment Upgrades
In essence, Disney has the key to a cache of endless entertainment.  In this all-new iteration, the theme park experience is basically interactive software that can be upgraded quickly, frequently and at a minimal cost.
Rather than developing physical worlds, like the ground breaking 'Toy Story Land' and the Star Wars themed universe, 'Star Wars: Galaxy Edge', coders can simply integrate new algorithms into the software package.  What that, of course, means is future Disney theme parks will be able to update content on-demand.
Popular rides like 'Avatar Flight of Passage', 'The Twilight Zone Tower of Terror' and 'Star Wars: Rise of the Resistance' will obviously still take pride of place – for the immediate future, in any event.
That said, physical characters like the 'Chip 'n Dale Rescue Rangers', 'Mickey and Friends', 'Rafiki' and 'Peter Pan' will not be so lucky.  They are destined to all but disappear, with virtual representations appearing in their stead.
According to the folks at Disney, that won't affect the visitor experience.  Thanks to the virtual world simulator, you will still be able to interact with your favourite Disney characters as you normally would, albeit virtually.
A big plus of the futuristic Disney metaverse is the agility of the platform.  Brand-new characters can instantly be added to the repertoire with each new Disney or Pixar film release.  Thanks to the able assistance of AR, the theme park experience is about to become fresher and more exciting and immersive than ever before!
How Online Gambling is Driving the Adoption of the Metaverse
With the launch of cutting-edge gaming platforms on the internet, the casino was transported from downtown Vegas and into the home.  As a result, online gambling experienced a renaissance, especially among younger, digitally savvy players.
As software technology has advanced, real money games at Springbok Casino have become increasingly sophisticated.  Online slots feature rich and immersive graphics and dynamic animations.  Table games are smooth and functional.  More importantly, due to wide reach of online gambling, bonuses, payouts and progressive jackpots are higher in value than ever before.
Online gambling is the coupling of the best elements of the physical and virtual worlds.  It has successfully taken a timeless activity and re-invented it for a new generation of players.  In reality, online gambling is the keystone in the metaverse architecture.  It is the foundation of a fabulously entertaining new world, where the real and virtual are almost indistinguishable from one another.
Without gaming platforms like Springbok Casino leading the way, it may have taken a lot longer for entertainment to adapt to the demands of Generation Z.  Can you imagine a world without streaming services like Netflix, Showmax or Brit Box?  Or video sharing or social media sites like YouTube, Instagram or Tik Tok?
Thanks to the enthusiastic adoption of online gambling – be it at web-based sports betting sites, poker rooms or casinos – it won't be too long before you will be able to visit the Disney metaverse… at a branded theme park near you.
In the meantime, we encourage you to sign up and login to Springbok Casino.  We are independently rated the best online gambling site for high rollers… and everyone else in between!