Are Hydrogen Gas Cars the Next Major Transportation Trend?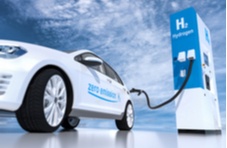 Hydrogen cars are not as popular as EVs… and we doubt they'll ever be as sought after as our Springbok Casino no deposit bonuses.  There is, however, a great possibility of hydrogen cars overtaking electric vehicles.  When one considers the benefits, which include zero emissions and the infinite availability of clean fuel, what's not to like?
What is a Hydrogen Gas Car?
As you have no doubt guessed, this ground-breaking automotive technology relies on hydrogen in gas form to power the ride.  Rather than featuring gigantic battery packs, Hydrogen gas (H2) cars are kitted out with hydrogen fuel cells.  What these cells do is generate electrical energy by converting hydrogen and oxygen into water.
Here is how the process works.  Each cell is equipped with three core components – an anode, cathode and electrolyte membrane – and a liquid.  The hydrogen pumped into the car's fuel tank is directed into the cell at the anode.  Oxygen, sourced from the surrounding the air, enters the cell via the cathode.
A catalyst in the anode, which is typically made from platinum, splits the hydrogen into protons and electrons. The electrons are diverted to an onboard circuit, which generates electrical current.  The protons pass through the electrolyte membrane into the cathode.  Here, they combine with oxygen (O2) to form water (H20).
The electrical current can be used immediately to propel the car on its onward journey – or it can be stored as back-up power.  As the entire process is a chemical reaction, there are no exhaust fumes or toxic emissions.  All Hydrogen gas cars do discharge is the water created by the 'big bang' in the cathode!  How is that for clean fuel?
When it comes to mitigating the effects of climate change, Springbok Casino no deposit bonus codes are on a par with H2 cars.  Unlike the casino comps at land-based gaming halls, the player perks at Springbok Online Casino have no carbon footprint at all.
Where Does Hydrogen Fuel Come From?
Just as Springbok Casino no deposit coupon codes are ubiquitous to Springbok online casino, hydrogen is in everything.  As we have already seen, it is one of two elements in water.  It is also a basic nutrient in soil and a major constituent of nearly all organic matter on Earth.  Even the stars are largely composed of hydrogen.
Sourcing hydrogen is not the issue.  It is the harvesting and processing of hydrogen gas that is a major environmental sticking point.  These processes require lots of energy, which is mainly generated from oil and coal.
Getting hydrogen 'fuel-ready' is also a water intensive process.  Together, these issues have damaged the reputation of hydrogen as a clean fuel alternative.  If H2 cars are going to leapfrog electrical vehicles as the eco-friendly substitute of combustion engine cars, two things have to happen:
Renewable sources of energy must be used in processing.
An alternative to potable water must be found.
Mad Max and Waterworld Coming to Your Ocean Soon
Thankfully, a group of scientists and engineers have come up with the answer.  They have developed floating rigs, powered by solar or wind, which extract hydrogen from sea water.  We must admit, this type of innovation might just outshine our Springbok Casino no deposit bonus!
These platforms have the capabilities to harness renewable energy via photovoltaic panels or wind turbines.  They also have the capacity to split the hydrogen atom from the oxygen.  The very same process of electrolysis is used, only on a much larger scale.
When rolled out on mass, these clean green hydrogen harvesting rigs will have the efficiencies required to keep millions of hydrogen gas cars on the road.  The only downside is our oceans are likely to look like scenes out of Mad Max and Waterworld.  That said, anything is better than a planet choking in carbon emissions and redundant battery packs.
If you enjoy sci-fi movies, you will simply love the fantasy themed online slots at Springbok online casino.  Games like Enchanted Garden, Storm Lords and Ancient Gods online slots are immersive, graphically rich and offer real money payouts too.  When you use our Springbok Casino no deposit bonus, you can enjoy loads of quality gaming action for free!
Benefits of Hydrogen Gas Cars
The first and most obvious benefit of hydrogen cars is that they have an unlimited fuel supply.  Adding to that – if all goes according to plan – processing the gas will be 100% environmentally friendly. The actual generation of power is carbon neutral, and the only emission is water.
Unlike the battery packs in EVs that take hours to recharge, it only takes a few minutes to refuel a hydrogen car.  What is more, when the hydrogen infrastructure is rolled out, the fuel will be readily available at filling stations worldwide.  It will be like visiting a petrol station… but filling up with hydrogen gas instead.
Benefits of Springbok Casino No Deposit Bonuses
Springbok Casino no deposit coupon codes are linked to free to use bonuses.  That essentially means you do not have to fund your account before claiming the cash.  Provided you have signed up at Springbok online casino, you can use the bonus to bankroll your gaming activity… on the house.
That is not the only reason why so many players redeem the free cash Springbok Casino no deposit bonus.  Besides enjoying complimentary access to our RTG developed online casino games, you can keep the winnings, up to a specified amount.
You can also visit our site and access to games to play for fun with our 'try me' free-play option.  If you want to see real money rolling in, however, we recommend registering an account with Springbok Casino.  Claim your free Springbok Casino no deposit bonus and see your gaming sessions deliver actual ZAR returns – it's an eco-friendly activity!