The Decentralised Casino vs the Online Casino South Africa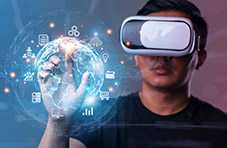 How does an online casino South Africa make the leap from the web to the metaverse? By buying a plot of virtual land and building a decentralised version of itself. That way, the likes of Springbok Casino are adapting to the demands of the next generation of gamers!
What is Next for the Online Casino South Africa?
Not so long ago, the online casino South Africa was considered revolutionary. For the first time ever, players could enjoy the thrills of real money gambling from remote locations. Now, it is the metaverse that is about to disrupt every facet of our lives.
How and where we choose to play online slots, online blackjack, online video poker and online roulette is about to undergo a major change. Not only is the gaming locale guaranteed to be different. Our bankrolls will no longer be rand- or dollar-based.
To integrate with the simulated world, the online casino South Africa has to be re-invented, virtual brick by virtual brick. In the place of an existing Springbok Casino will rise a decentralised casino. This all-new gaming platform is built on and powered by the blockchain.
Rather than relying on random number generator (RNG) software to determine gaming outcomes, our decentralised online casino South Africa will do things differently. All the computing functions – from the banking transactions to the gaming results – are placed on the blockchain for all to see.
Let's take a look at each step on our online casino South Africa's journey to the metaverse in a bit more detail, starting with:
What is the metaverse?
How to buy land in the metaverse?
Key elements of a decentralised casino.
What is the Metaverse?
In essence, the metaverse is a 3D representation of the internet. It is a cutting-edge user interface resembling a simulated version of the physical world. It is a place where your avatar can interact with other people's avatars in virtual environments.
When you visit the metaverse, you can do many of the things you already do on the internet. You can buy and sell things, collaborate in virtual workspaces and enjoy live entertainment. You can also play your favourite casino games as you would at Springbok Casino.
How do you gain entry to the metaverse? All you need is a virtual headset. Once you have your Oculus Quest, HoloLens, Magic Leap or Valve Index firmly in place, you are good to go! With wearable tech, you can access multiple VR, AR and extended reality platforms – collectively termed the metaverse.
As you have probably gathered, the metaverse is a generic term – like online casino South Africa. It refers to several platforms currently being developed by tech, social media and entertainment giants like RealTime Gaming, Microsoft, Google, Facebook and Disney.
Now, retailers and celebrities are teaming up to create their versions of the metaverse. Roblox, Sandbox and Decentraland are examples of these unique and interactive VR platforms. These are all-new virtual worlds, where anything is possible.
In the metaverse, you can buy and sell assets and digital goods, such as land and wearables to customise player avatars. You can even trade brand names within the respective marketplaces using crypto or dedicated tokens as currency.
Within some of these worlds, there are fully functional VR casinos. What that means is you can saunter into the virtual lobbies and engage with the other players – as you would at the Bellagio, Caesar's Palace or the Palms.
At the gaming platforms in the metaverse, you can make your way to the banks of slot machines. Or you can join a low or high-stakes roulette, Texas Hold'em or blackjack table. Chips or credits are available to purchase using in-world currencies. Gameplay continues as it does at our online casino South Africa!
How to Buy Land in the Metaverse
How does an online casino South Africa create a presence in the metaverse? By buying a piece of virtual real estate. That way, a modern version of Springbok Casino can be constructed with the new audience in mind.
Buying land in the metaverse is pretty much like investing in property in the real world. You can purchase real estate directly from the platforms themselves. Alternatively, you can use the services of a third-party realtor and pay the associated fee. You read right – digital real estate agents are set to become a real thing too!
Purchases are typically made in Ethereum or currencies like the MANA of Decentraland and the SAND of the Sandbox. The purchase and ownership of your slice of the metaverse is recorded through the transfer of non-fungible tokens (NFTs).
Once the transaction is complete, the next step is to build an online casino South Africa for the metaverse – and to do that, it has to be a decentralised casino.
Decentralised Casino vs Springbok Online Casino South Africa
The most noticeable difference between an online casino and a decentralised casino is the currency used in transactions. At Springbok Casino, bets and winnings are rand-based. In its future iteration as a decentralised casino, a unique token – perhaps called a Bokbet or SpringCoin – would be in circulation.
At a decentralised casino, players can purchase these tokens using cryptocurrencies, such as Bitcoin or Ethereum. Each transaction is recorded and stored on a public ledger, otherwise known as the blockchain. In this way, transactions are not only anonymous, they are virtually free. How come? That's because digital transactions circumvent the banking system altogether.
Another key element of the decentralised casino pertains to the games. In these futuristic gaming platforms, real money games are purposely designed for the virtual environment. They are also typically unique to that specific casino.
What that means is a decentralised gaming platform – like the future online casino South Africa – would have an exclusive suite of propriety casino games. What is arguably more appealing about gaming in the metaverse is the versatility of the payouts accumulated at the casino.
In the metaverse, you can use your winnings to buy the goods and services offered on that particular platform. Purchases can include stuff you use in the virtual world… or it can be real-life items you would normally buy at a store in Rosebank Mall or Cavendish Square!
Springbok Casino and Our Future in the Metaverse
Springbok Casino is not, as yet, based in the metaverse. Our download, instant play and mobile gaming platforms are currently exclusive to the World Wide Web. Does our future include an acquired piece of digital land and an online casino South Africa in the Metaverse? Well, we move with the times… and only time will tell!
As things stand, if you want to experience our gaming software, RTG-developed casino games and generous online casino bonuses, register an account at our top-ranked online casino South Africa now! Just so you know, Springbok Casino supports transactions in ZAR and BTC!