Our Proudly South African Big 5 at Springbok Online Casino!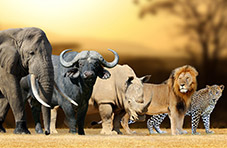 What does our online casino and the Big 5 have in common? Well, first off, they're all national treasures! Springbok Casino is as proudly South African as the majestic beasts that feature on our R10, R20, R50, R100 and R200 banknotes.
Springbok Casino – Tailor-Made for Saffers
When you take your first glance at our online casino platform, you'll notice that it is designed in the colours that represent all things proudly South African. The green and gold trim is reminiscent of the traditional attire of our favourite rugby team, The Springboks, who have served our country well by bringing home that grand Rugby World Cup trophy time and again!
The green and gold that graces the screen of your mobile, PC or tablet when you access Springbok Casino is also a reference to our beautiful country. From our lush green destinations filled with forestry, such as what you'd see when you take a trip down the Garden Route, to the golden landscapes of the Karoo. Even the Golden Gate Highlands National Park is renowned for its sunlit sandstone cliffs and outcrops that give off a golden aura.
As you can see, the decision for designing our online casino in green and gold is as South African as it gets! These two colours boldly represent some of the finest things our country has to offer – which includes Springbok Casino.
As for how our platform is tailor-made for Saffers… Well, that is in terms of how easy we've made it for fellow South Africans to sign up, deposit, play, and win in South African Rands. Not only that, we know that South Africa prides itself on diversity. In that sense, you'll find a diverse game menu that comprises everything from slots, to table games, roulette, poker, video poker, progressive jackpots and more!
Let's take a look at the world-famous Big 5 that globetrotters from all around the world spend some serious stash on to come and see for themselves on expensive safari holidays. If you're one of these tourists, we invite you to check our online casino when you happen to have a break in-between game drives!
What is the Big 5?
If it so happens that you don't know which animals make up the Big 5, you'll be forgiven. Although it is assumed that this is common knowledge, you could even catch a Saffer 'umming and ahing' if you were to ask to name them on the spot. Perhaps it is because we are all but too spoiled to have these charismatic megafaunas right on our doorstep, so to say.
Below we are going to list each of the Big 5, and some of the key attributes of each animal.
Rhinoceros
A white rhino is represented on the South African R10 banknote. At Springbok online casino, you earn 1 Comp Point for every R10 you wager. These Comp Points can be converted to crisp hard cash at a rate of R1 for every 100 Comp Points.
As for the majestic animal that graces the green R10 banknote, the white rhino is one of only five species left in the family of Rhinocerotidae. South Africa happens to be home to two species, which include the white and black rhino – the latter of which is listed as 'critically endangered' by the IUCN.
Notwithstanding the aforementioned, white rhino numbers are only in the ten thousands and they are listed as 'near endangered'. Sadly, the Northern white rhino is on the brink of total extinction, with only two females left in the world!
That said, all rhinos are under constant threat as their horns are highly prized on the black market. The reality is that rhino horns have no medicinal properties – as believed in some cultures – which is driving the illegal trade and tragic slaughter of these beauts.
Conservation efforts are in full force to protect these giant vegans. At Springbok Casino, we are all about protecting our wildlife and you'll often find online casino bonuses and promotions aimed at raising conservation awareness.
The African Bush Elephant
The stately African elephant adorns our golden brown R20 note. Top up your online casino account and you can enjoy many spins at a minimum bet on one of our RTG slots. Alternatively, you can join a Daily Small Stack Action R50 Guaranteed tournament at R20 a pop.
These animals are the biggest land mammals in the world, with males capable of reaching 4 metres in height and up to 7 tonnes in weight! As with rhinos, these gentle giants are also poached for their tusks and they are listed as 'endangered', with the IUCN stating, "continuing decline of mature animals".
Although South Africa is home to the largest population of African bush elephants, the exact population number is unknown. What is known is the number of online casino games we offer at Springbok Casino! Login and access our ever-growing menu of 450+ games, on-demand!
African Lion
Embellished on our pinkish-red R50 note is the ever-so-royal African lion with a fabulously lush mane. Now, R50 can get you far, very far at Springbok online casino! With 50 big ones you can have your pick of the litter – our game menu, that is – and even enter our R250 Added Roaring Lion Fun tournament!
Known as the "King of the Jungle", the African lion has been memorialised in film and television. To mention but a few, this includes the likes of Disney's "The Lion King", the 2003 film "Second Hand Lions" and the beautiful but sad documentary, "Born Free".
Lions enjoy extended daytime naps under the shade in shelter from the blistering African sun. At night, it is time to hunt, and… the females do most of the work as a team! Lions are apex predators at the top of the food chain, but that doesn't mean they don't face the occasional challenge…
Cape Buffalo
Boldy featuring on our R100 note in blue is the Cape buffalo, also known as the African buffalo. At our online casino, a hundred bucks can buy you 4 entries into our Daily Winner takes it all R500 Guaranteed tournament or even 2 entries into the R5000 Winner TAKES is ALL tournament! Couple this with plenty of gaming action!
The Cape buffalo is the largest of all South African wild bovine (Bovidae) species, and also the most formidable. They kill more of their natural predators than any other species – yep, they are known to kill lions! They also happen to be exceptional swimmers. The Cape buffalo is the sole member of the buffalo and cattle tribe (Bovini).
Leopard
The beautiful yet elusive leopard graces our orange R200 note. Pair the leopard with the lion and you'll get the cash equivalent of our R250 FREE bonus that is our gift for you to test our online casino, totally on the house! We also have our R11,500 3-part welcome bonus – the spoils of which you can choose to reap in toasty 200 ZAR bills.
Why do we say that the leopard is elusive? Well, if you have ever been to the Kruger National Park, or any other game reserve that homes the Big 5, you'll know that leopards are, ironically, the hardest to spot. It is common to not see them once during your entire adventure… so, if you do, count yourself lucky! As with lions, these apex predators are skilled hunters, yet unlike lions, leopards are solitary animals and don't hang, or hunt, in packs.
There you have it! A brief lowdown of the beautiful creatures that make up the Big 5 and happen to feature on our currency! Flip the banknote over, and the legendary Madiba is there with his warm smile, forever remembered.
Join Springbok online casino and enjoy a truly South African experience as we take you on a virtual adventure with the propensity to pay out in BIG cash! You might even bag enough to sponsor an epic safari holiday, or two!