Loyalty Programs and Springbok Casino No Deposit Bonus Codes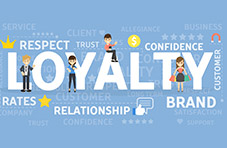 In general, loyalty programs target customer acquisition and retention.  They are the equivalent of our Springbok Casino no deposit bonus codes and comp points rewards, rolled into one.  Here is what you need to know about loyalty programs – and why some work better than others.
Why Do Businesses Have Loyalty Programs?
In the cut-throat world of business, brands have to incentivise consumers to purchase their products and services.  Without a constantly growing customer base, any chances of success are limited.  What is needed is more footfalls through the door.
When consumers are rewarded for their loyalty, they are inclined to spend more.  The value of transactions is also typically much higher if there is 'something' in it for them.  In reality, it is a case of 'you get what you give' – and this in this particular case, you give a lot more than you get.
Even these small incentives are a key driving force behind businesses.  What is arguably even more important is that satisfied customers get the word out.  They 'boast the brand', so to speak.  When it comes to marketing, that is the best possible affirmation a business can get.  We are all looking to save a penny here and there, after all, as it adds up in the end.
From Springbok Casino No Deposit Bonus Codes to Cashbacks
How does Springbok Online Casino enlarge its player base?  We give prospective customers, just like you, a free preview of the online casino games.  We even fund your first-ever forays into real money gaming.  That is fundamentally what the Springbok Casino no deposit bonus codes are designed to do.
These Springbok Casino no deposit bonus codes further enable free access to our Real Time Gaming (RTG) developed gaming products.  This means access to well over 450 top quality casino games across smartphones, PCs and tablets – and with a bit of luck, you may win money too!
The whole point of giving newly registered players a free gaming session or two is simple.  When you are satisfied with the experience, you are likely to register a Springbok Online Casino account… on the spot!  We bet you'll be so satisfied that you'll get your friends and family to join in the fun too.  In the end, it's a win-win for all.
Other businesses do things slightly differently.  They may, for example, offer discounted deals exclusive to first-time customers.  Alternatively, new subscribers to the loyalty program may get a slew of free rewards points.  The idea is to entice consumers to stores, coffee shops and restaurants, in the hopes they will return again and again.
Key Types of Loyalty Programs
The way loyalty programs are structured differs markedly from one business to the next.  Here is a brief description of the four main types of loyalty programs brands use to attract and retain clientele:
1. Paid Loyalty Programs
Paid loyalty programs offer instant rewards and benefits in exchange for a monthly subscription or once-off fee.  As long as you are a paid-up member, you are constant beneficiary of all sorts of cool deals and freebies.  Some rewards are in-house and others are supplied by a network of rewards partners.  Momentum Health's 'Multiply' is an example of this type of loyalty program.
In the real money gaming world, a paid rewards structure is pretty much like the deposit bonuses at Springbok Online Casino.  The value of the funds you deposit into your Springbok Online Casino account determines the size of the percentage match bonus.
As you have probably guessed, this type of player perk is the direct opposite of Springbok Casino no deposit bonus codes.  You have to commit funds in order to get bonus cash in return.
2. Value Loyalty Programs
Value loyalty programs reward customers in a different, more altruistic way.  They donate a percentage of purchases or sales to a charitable organisation or worthy cause.  You may not benefit materially, but you will feel good about your contribution towards making your community, or the world at large, a better place.
The Woolworths MySchool, MyVillage and MyPlanet card is a great example of this type of rewards system.  The program is designed in such a way that you can elect the charity of your choice.  You can also keep track of the impact your purchases are having on a school feeding program, for instance, or the mass sterilisation of cats and dogs.
3. Tier Loyalty Programs
Tier-based loyalty programs offer benefits and incentives based on which level or tier you are on.  The further you progress through the multi-tier program, the bigger and better the rewards become.  The value and frequency of your purchases determines which tier you belong to.
Frequent flyer programs are an example of tier-based loyalty programs.  The more frequently you fly, the higher you climb through the tiers and the more you get off the next air ticket.  First National Bank, or FNB, has their eBucks rewards system – which is another great example.  The higher your eBucks rewards level, the greater the perks!
4. Points Loyalty Programs
Points-based loyalty programs are the most common type of rewards system.  You are allocated points with every purchase you make.  Points can then be redeemed for free products or a host of other perks.
At Springbok Online Casino, we operate a points-based loyalty program.  For every R10 you spend betting on RTG online casino games, you get one free comp point in return.  Once you have accumulated sufficient points, they can be converted into credits.
What are casino credits?  It is basically a term for the in-house currency you can use to play the best Springbok Online Casino games for free.  Together with our Springbok Casino no deposit bonus codes, comp points really are genuine perks… and there are no strings attached, at all!
What are the Signs of a Great Loyalty Program?
When it comes to loyalty programs, it all boils down to what consumers want.  Using that as the benchmark, the best programs offer genuinely enticing rewards.  Gifts, huge markdowns on products and Springbok Casino no deposit bonus codes are examples of the kinds of rewards prospective customers are looking for.
Similarly, consumers want access to exclusive deals.  Limited time only specials, where products are sold at cost to big spenders, fit the bill.  Exclusive access to newly launched online casino games and bonuses are also a good example of how gaming platforms can retain VIPs.
Lastly, the ease at which the loyalty program does what it is meant to do is significant.  The sign-up process should be quick and intuitive – as should accessing the deals.
How Springbok Casino No Deposit Bonus Codes Accelerate the Redemption Process
This is where Springbok Casino no deposit bonus codes are key.  They streamline the redemption process and ensure you get the bonus you want.  Our user-friendly bonus code system is simple yet efficient.  You enter the code onsite – and we give you the free cash, free spins or free bets corresponding to that particular code, instantly!
When a loyalty program meets the basic criteria of enticing rewards, exclusive deals, and ease of access, you know you are onto something worthwhile.  Now, Springbok Online Casino doesn't have a loyalty program, per se...  We do, however, offer a slew of free bonuses, headlined by Springbok Casino no deposit bonus codes.  Plus, you automatically earn comp points on every wager!