Drink Pod Coffee & Play Online Casino Games Responsibly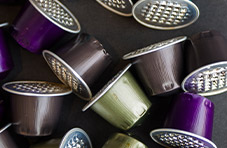 As sure as our online casino is available 24/7, 365 – that is as certain as you can be that the recycling truck will come around like clockwork, once per week.  This gives South Africans the opportunity to reduce, reuse and recycle everything that qualifies.  If you're a coffeeholic, and your Nespresso machine is your best friend, we have some news for you!
Like peanut butter and jam, a cup of freshly brewed coffee goes hand in hand with a Springbok Online Casino session, doesn't it just?  Especially on a cold winter's day.  If you're a Ricoffy or Frisco fan, you're excluded from this equation.  If your caffeinated poison happens to originate from a Nespresso pod, however, there are a few facts you might want to take note of.
Coffee – A Brief Origin Story
Firstly, coffeeholics are nothing new.  People around the globe have been indulging in the caffeinated beverage for hundreds of years, with it first being introduced in the 15th century!  You'll also be forgiven for thinking that coffee originated in Brazil or Columbia.  It was actually modern-day Yemen where seeds were first roasted and brewed in a similar way to what we do today.
Initially consumed in Sufi shrines, Yemenis obtained coffee beans via coastal Somali traders from the Ethiopian Highlands – and consequently began cultivation.  About a century later, the rich aromatic brew had reached the rest of the Middle East and North Africa – and in time, coffee was being consumed in Europe… and soon the global coffee culture began!
What is Nespresso?
There is nothing snooty about our online casino, but let's face it – we live in an age filled with coffee snobs.  Getting your daily fix of java went from scooping soluble instant coffee into your cup, or brewing ground or roast coffee either in a plunger or filter machine – to now popping a pod into your Nespresso machine.
How did this all come about?  Unlike our online casino that has been around for a little over a decade, Nespresso actually has a history that stretches way, way back, to 1975.  It involved a trip to Rome by a young engineer named Eric Favre, who worked for Nestlé in Switzerland at the time.
One of Favre's first projects was to create a machine that offered both the convenience of domestic coffee, and the quality of an Italian espresso bar.  At the time, the espresso bars used expensive and large equipment to deliver the brew.  Kind of like how our online casino offers the convenience of cross-platform remote gaming with all the perks – and more – of a B&M casino!
Favre noticed an endless queue from a coffee bar near the Pantheon.  Since all of these coffee bars used similar machines, it made him wonder what made this venue's brew so special.  Once inside the bustling Sant'Eustachio Il Caffè, a conversation with a barista got his mind ticking.
Simply put, operators at other cafés pumped the piston once, releasing the coffee.  Baristas at Sant'Eustachio Il Caffè on the other hand pumped repeatedly.  This resulted in greater oxidation as more water and air were forced into the ground beans, which produced more flavour, and crema.  Crema is the layer of foam you'll find on a top-quality brewed espresso.
This conversation was Favre's eureka moment, and he returned to Switzerland with the goal to replicate the process in a machine that ordinary consumers could use at home.  He developed the pod system to seal the portioned ground coffee and keep it fresh.  The next year, 1976, Nestlé filed their first patent for the single-serve coffee machine.  It took another 10 years for Nespresso™ to officially launch.
Marco Restelli, head of product and development at Nestlé spoke of Favre's invention, saying "OK, it's not Einstein, but what he achieved within kitchen appliances will stay with us for a long time."  Indeed, it has… and not always in a refreshingly tasty and good way.
What the Pod?
Today, approximately 14 billion Nespresso pods are sold annually in 84 countries, both online and through 810 coffee boutiques.  Wrap your head around this – every second, 400 Nespresso's are drunk!  2013 revenues totalled $10.8 billion – and even with Covid affecting sectors across the board, Nespresso still raked in $6.4 billion in 2021.  Those are a lot of machines, and a lot of Nespresso pods…
Which brings us to the ultimate question – even though mostly made from aluminium, which is 100% recyclable, the pods contain small amounts of plastic.  So, no, you cannot simply chuck your used Nespresso pods in with your weekly recyclables.
After mounting criticism, and mounting pods filling up landfills, huge efforts to ensure upcycling of the pods are underway – and Nespresso is involved.  You can drop off your used pods at Nespresso boutiques in Cape Town, or participating stores like Yuppiechef, with locations in Durban, Cape Town and Johannesburg.
Once dropped off, the pods are transported to Oricol's Spartan facility in Jozi.  There they undergo a customised aluminium separation process, developed by Nespresso themselves.  The aluminium either undergoes further recycling, or they're upcycled into other products.  As a bonus, the leftover coffee grounds are used in high-quality organic fertiliser!
South Africans Are Doing Good – But We Can Do Better!
Famous and ever-so-charming actor, George Clooney, partnered with Nespresso in a corporate capacity in 2006.  He's also been the face of Nespresso in a series of 'What Else' ads over the years.  In a 2016 ad, Clooney states that the pods can be 100% recycled "if you are responsible and want to participate".  Nespresso themselves are driving a sustainability campaign.
Yet, even with all these efforts, Nespresso is reporting that only about 30% of their pods are properly disposed of and recycled.  Kudos to South Africans – as our Nespresso pod recycling rate is 35%!  That still leaves room for massive improvement.
There is also the fact that 10-12 tonnes of waste is produced in the mining of one tonne of aluminium.  This is in addition to 2-3 tonnes of "toxic alkaline red mud".  In this regard, Nespresso is sourcing "sustainable aluminium".  Could the dip in Nespresso's revenue actually be a result of a more sustainability-conscious consumer mindset?
Coffee Capsule Art
As stunningly creative as the games at our online casino, artists are creating original artworks using Nespresso pods to raise awareness.  Local Cape Town-based Zimbabwean-born artist, Godfrey Dambuleni, has been reimagining all recyclable materials for many years.  In the past 5 or 6 years, he started working with coffee pods too.
Godfrey's first project was the 1.5-meter high recreation of Table Bay's mascot, Oscar, the seal, which took him 3,000 coffee pods, and three weeks to complete.  He has since made elephants, rhinos, human beings and more – each creation a marvel to look at.  Yet, the point still being to create awareness surrounding conservation and sustainability.
So Enjoy Your Nespresso & Play at Springbok Online Casino, Responsibly
At Springbok Online Casino, we are committed not only to conservation, but also to the preservation and sustainability of our beautiful planet.  We also understand that it is the simple pleasures, such as playing online casino games and drinking good coffee that make life all the more enjoyable.
We promote responsible gambling at Springbok Online Casino.  In the same way, we are not suggesting that you stop enjoying your freshly brewed coffee from a pod, but we do encourage you to be responsible in the recycling process.  That way, we might very well increase our 35% coffee pod recycling rate to a full 100%... all with a little collective effort!