Perks of Video Games for Kids & Springbok Online Casino for Adults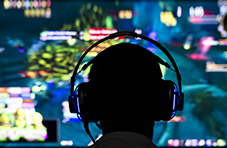 What do video games and the online casino have in common?  They've both been given a raw deal.  Rather than impairing cognitive development and causing depression, a few hours of gaming can do wonders for mental health.  Here is why video games are good for you… and your kids!
Gaming in Moderation is Key
The key to any debate about gaming – at the online casino and via any console – is encapsulated in one word.  That word is 'moderation'.  Provided screen time is kept within acceptable levels, playing the likes of Eden Ring, LEGO StarWars, Horizon Forbidden West and Pokémon Legends is entertainment at its best.
Similarly, if your choice of gaming involves the pursuit of real money prizes, intermittent sessions are A-OK.  Visiting Springbok Casino with a limited bankroll is responsible.  The same can be said of playing the online casino games at low stakes.
Ideally, both types of gaming should be about having fun.  If you become anxious, moody, can't sleep or eat or find yourself in a spiral of debt, it is time to stop.  Fortunately, only a tiny percentage of gamers – video gamers and online casino gamers – truly develop a dependence, and thus, a problem.
The rest of us can quite happily indulge.  Whether that means playing blackjack online at Springbok Casino… or Gran Turismo on PlayStation – we know where the boundaries are.
How Children Benefit from Video Games
Your kids' screen habits can have surprising results – some good and some bad.  One positive correlation is the link between video gaming and enhanced intelligence.  According to a recent Swedish study, children who play video games longer than average, are smarter.  As mind-blowing as that sounds, it's true!
It is widely accepted that video gaming improves problem solving, increases focus, enhances memory and maximizes cognitive flexibility.  We can now finally and safely say that video games can actually boost IQ.  What this suggests is that intelligence is influenced by environmental factors.  Something as enjoyable as Tunic, OlliOlli World and Rune Factory can actually give your kids a head start.
How was this conclusion finally drawn, and how was intelligence measured in the Swedish scientific study?  Firstly, 9,000 participants were involved in the study and they were tested to assess cognitive ability.  They were also questioned about their screen time habits, e.g., how long they spent on social media, watching TV and playing video games.
Two years later and the same children performed the same tests.  Here is where it gets interesting.  The kids who spent more than the average hour a day playing video games, performed significantly better than the rest.  Excess hours watching TV or interacting on social media had no impact on the results, one way or the other!
Video Games Can Support Learning
In addition to making your kids more brainy, video games can be used as educational tools.  By integrating mini games into action video games, for instance, it is possible to teach children just about anything.
Take Ark Survival Evolved, as an example.  Apart from gaining extensive knowledge about dinosaurs and understanding processes behind things like metal forgery and trading goods is learnt.  These are actual skills that can be applied to life.
Minecraft Education Edition is another fantastic concept that that was rolled out with educators and learners in mind.  Through this open world game, teachers are using the immersive worlds to engage with learners, with a curriculum that covers a wide range of subjects, on a platform where students are easily retaining the knowledge.
One criticism levelled at video gaming is the negative impact it has on literacy.  By developing games with enhanced literacy in mind, reading skills can more easily be developed.  Swiss researchers are now working on video games that train kids to acquire the diverse functions that are necessary to read.
Stuff like cognitive flexibility, working memory and inhibition are imparted to kids in the form of entertaining games within games.  Children are learning how to read, without even knowing they are being trained.  What is interesting is the gains made via the video games actually improve over time.
Lower Risk of Depression in Boys
Contrary to what naysayers believe, video gaming is not bad for mental health.  In fact, one study has proven quite the opposite.  It found that boys who played video games regularly, were less likely to develop the symptoms of depression later on.
More than 11,000 adolescents in the UK were questioned about the time they spent on social media, playing video games and using the internet.  They were also asked to complete clinical questionnaires used to assess the symptoms of depression.
They were evaluated again three years later.  The boys who played video games every day had markedly fewer symptoms of depression – as much as 24% less.  Oddly enough, girls who gamed frequently were not impacted positively or negatively.
Active Video Gaming Can Lead to Real Exercise
We have all heard about gateway drugs.  Now, how about the gateway to physical exercise in the real world?  In this context the 'drug' is exergaming or active video games like Ring Fit Adventure, Yoga Master and Beat Saber.
Active video games have removed 'sedentary' from the gaming equation.  They have gamified the art of exercise and brought it right into our living rooms.  Games like Dance Dance Revolution aren't only great for getting rid of the boep, they can teach kids how to have fun exercising.
Not everyone likes to pound the road or sweat it out in the gym.  For those of you who want to take control of your exercise regime and fit it in between day-to-day tasks, exergaming is the way to go.  Technology enhanced exercise gets you and your kids off the couch but without the pain and performance anxiety of conventional forms of working out.
Video games really can improve physical and mental health and wellbeing.  They are known to aid recovery, reduce anxiety and depression and help adults and children cope with ADHD and post-traumatic stress disorder. They encourage social interaction and help all of use come to terms with failure and the importance of trying again.
Why Online Casino Games are the Adult's Equivalent of Video Games!
Online casino games may not have the same all-round potency in terms of health but they are fun to play nonetheless.  At Springbok Casino you'll find the best online casino slots, like Run Rabbit Run, have an element of gamification.
All our RTG online casino slots are splendidly designed and feature animated characters, bonus levels, absorbing game themes and real ways to win ZAR.  They could even boost your cognitive abilities and brighten your mood at the same time!
Why not register an account at Springbok Casino?  It's quick, it's free and it unlocks access to infinite and stimulating entertainment.  Playing real money online casino games is the adult's equivalent of video gaming, after all!