4 Casino Games Online – The Staples at Springbok Casino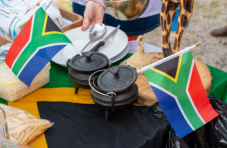 What are those staple casino games online that players keep returning to at Springbok Casino? We're talking the Sasko bread, mieliepap, chakalaka and vetkoek of the online casino world. With a pantry the size of rugby fields full of games here at Springbok, is there a trend?
In this article we're going to look at four casino games online that consistently remain go-to options for players. Even when exploring other titles and gaming genres, these are the fallback games that provide a sense of comfort and familiarity. Let's dig in!
Slots – The Saucy Spinning Sensations
Right. When we refer to 'slots', we're actually referencing the category as a whole. It is the most diverse gaming genre when it comes to themes and game mechanics. Even when dabbling in other, more niche gaming categories, may players enjoy a bit of a break by reverting to slot casino games online.
The lekker thing about online slots is that you can hop from one game to the next as and when the mood strikes you. Yearning for a trip to the Kruger Park? Then play Big Cat Links. Are you in the mood for all things mythological? Then how about Mask of Atlantis. Is Christmas on your mind and you can't wait for the festivities? Why not give Santa's Reel Wheel a spin.
While the game themes, number of reels and paylines, the coins sizes, features and volatility of slots change, the way in which they are played don't. It's a matter of selecting a coin value, placing your bet – and spinning the reels. It's an easy staple to turn to for casino games online that fit any mood.
Classic Blackjack – 21 In Its Purest Form
When it comes to classic blackjack, it's like sipping on a well-brewed cup of rooibos – smooth, classic, and quintessentially South African. Our classic blackjack offers the purest form of 21, without any fancy frills or gimmicks. It's just you against the dealer, mano-a-mano.
So, how do you play it, you ask? Well, it's a battle of wits between you and the dealer. Your goal is simple – get your hand as close to 21 as possible without going bust. Picture yourself in a smoky old-school casino, and you've got the vibe. You'll be dealt two cards, and the dealer has the same. Hit or stand? The choice is yours.
Yet here's the twist, tjommas. In Classic Blackjack, we've got a few tricks up our sleeves. Double down to double the excitement, split pairs to multiply your chances – and if you're feeling particularly daring, take out insurance. It's a game of strategy, nerve, and a sprinkle of luck – a true staple among casino games online.
European Roulette – The Wheel with the Best Edge
European Roulette is like the potjiekos of casino games online – a delightful blend of chance and sophistication. As you step up to the wheel, you'll find yourself immersed in the classic allure of this game. The numbers, the red and black, the suspense of the spinning wheel – it's all part of the experience.
Here's how it rolls… Imagine a beautifully crafted roulette wheel, numbered from 0 to 36, dressed in red and black. You place your bet on a number, a colour, or even an odd or even outcome. Then, the wheel spins, and the silver ball dances around like a zebra dodging lions on the savannah.
When the wheel stops, all eyes are on that little ball. If it lands where you bet, ka-ching! You're a winner. The simplicity of European Roulette, coupled with the thrill of anticipation, makes it one of the must-play casino games online at Springbok Casino. Will the wheel of fortune be kind to you? There's only one way to find out!
Jacks or Better – Draw Poker's Closest Cousin
Now, let's talk poker – Jacks or Better style. This game is the cheeky cousin of draw poker, and it's here to steal the limelight among casino games online. It's a card shark's paradise that is as familiar as a braaivleis on a sunny day.
Here's the lowdown. You're dealt five cards, and the name of the game is to snag a hand with at least a pair of jacks or better. The better the hand, the bigger the win. Feeling like a high roller? You can double your winnings by going for a gamble in the "Double or Nothing" round.
Jacks or Better is the game for those who appreciate the subtle art of strategy mixed with the luck of the draw. It's a bit like trying to outwit a zippy springbok – you'll need skill, precision, and a dash of South African spirit to come out on top. So, are you ready to show those cards and claim your stake in the Jacks or Better action?
What We Consider Staples in South Africa
There are certain things that South Africans can't live without – and yes, although the list includes many food items, it doesn't end there! While pap and wors, biltong, and Bobotie certainly tops the list, what else do our countrymen and woman consider stapes that we can't live without?
How about sunshine, nature and sport… from cricket to rugga! Especially right now during the Rugby World Cup 2023, we stand united as a country, cheering on the Bokke who are all the way in France as they fight to defend their title as the reigning champions.
Luckily, we have plenty of staple comfort foods to keep our nerves in check as the battle continues. Plus, we of course have lots and lots of casino games online, which brings us to South Africa's other staple – and that would be Springbok Casino!
Casino Games Online – Play the Staples at Springbok!
In the realm of casino games online, we've shown you our staples, each with its own unique flavour and charm. From the saucy spinning sensations of slots to the thrill of Classic Blackjack, the edge of European Roulette, and the cunning strategy of Jacks or Better, there are games for everyone in our Springbok Casino pantry.
So, hamba! Dive into the world of casino games online right now where adventure and excitement await at every click. At Springbok Casino, we're not just about games. We're about creating unforgettable experiences that will linger on like that sweet taste of a lekker melktert!