How to Deposit Safely at Springbok Casino
Springbok Casino wouldn't be what it is today if there wasn't a world of options that make your deposits and cashouts of funds as simple and painless as possible. Getting your credits out of your casino account and into your wallet has never been easier.
Springbok Casino offers only the best industry-standard deposit methods that have been proven most effective for South African casino players to get their funds quickly in their casino accounts. Each and every transaction is protected with security measures that the casino has employed such as the best encryption methods. This is on top of the security measures that the biggest money transfer services such as Skrill or Neteller use. Where they would be if they didn't protect the transactions of their customers?
The deposit methods that you can use at Springbok Casino for getting your money in and out of your Springbok Casino account are MasterCard, Visa, EcoPayz, Neteller, Skrill, SID (Secure Instant Deposit) and EasyEFT. You can even deposit by phone or use bitcoins. Anyway, all of the deposit methods include a minimum deposit of R25.
The process of making a deposit is fairly easy. When you are logged in with your Springbok account, you will see two yellow 'Top Up Now' and 'Cashier' buttons on the left of your screen. Clicking either of them will take you to the deposit methods pop-up screen where you can select the method you want to use to get money into your account.
By clicking on any of the offered deposit methods you will be further taken to a screen where you have to enter the value of your deposit as well as other details. For example, if you have clicked on the Visa or MasterCard option, you will have to enter the card details besides the deposit amount. One thing you need to remember about depositing with Visa or MasterCard. You will have to fill out a credit card authorization form, which can be downloaded directly from the screen displaying the deposit methods.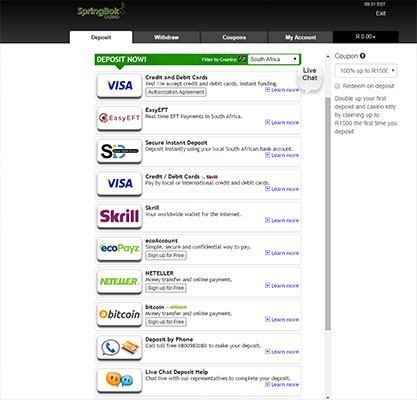 If you select Skrill you will first have to enter the deposit value, and after that by clicking 'Next' you have to log into your Skrill account directly from Springbok Casino in order to confirm the deposit. In the next couple of moments you will see your deposited amount appear in your casino account and ready to be used. It's easy as that!
The same goes for the other two e-wallet methods such as Neteller and EcoPayz. There is a little difference with Neteller where you will have to enter your Neteller ID or the email you have used to register your Neteller account, so you don't have to log into your Neteller account as in the case of Skrill and EcoPayz.
EasyEFT and SID offer instant deposits as well. EasuEFT allows real-time deposits without the need to use a credit card, while SID acts as a bridge between your bank and Springbok Casino by connecting with your bank account. This way you avoid going to the bank and waiting in queue to make the bank deposit. EasyEFT and SID are recommened by sites like FhatsCasino.co.za, for the simplicity.
On the right side of the pop-up screen you can select the bonus you want to claim with your deposit. Just select from the available ones and tick the 'Redeem on deposit' box and continue with the depositing process.