Is Gambling a Viable Career Choice?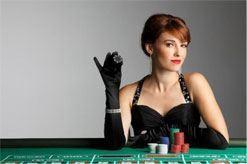 Can you really make a living as a professional gambler? The authors of "How to Make $100,000 a Year Gambling for a Living," say it's all about knowing which games are beatable and how to beat them. David Sklansky and Mason Malmuth give detailed instructions on how to make money at games including sports betting, blackjack and poker. With all these factors spurring people on to quit their day jobs and become full time gamblers, the question is, should you take the hook?
Benefits a professional gambler: 
Be your own boss, work your own hours
Freedom to earn money doing what you love
If you eventually reach high roller status, you'll get lots of rewards, comps and VIP treatment * Possibly attain superstar status if you win in World Series of Poker tournaments.
Endless potential in full-time gambling, with the chance to start your own empire using your winnings.
Casual gambler vs professional gambler
Before deciding if you're a casual gambler or a professional gambler, each player must decide for him/herself:  what is gambling to me?
In general, the key difference between a casual gambler and a professional gambler is that a pro is willing to put down more money towards his gambling cause. According to the American Gaming Association, casual gamers wager less than $300 a day at the casinos but pro gamblers wager far more than that, and only constitutes 1 out of 10 gamblers (approximately 10 percent).
A significant investment is not the only thing that stands between you and a pro gambler career. You'll also need the skill to calculate odds and manage your game, tweaking your actions to optimize positive outcomes as well accumulate practice as well as experience to make it big.
Skills needed to take professional gambling to the next level
High discipline
Strong focus on goals (concentrate on winning, not "taking out" a particular player)
Keep mind clear and free from distractions
Humility
Believe in your skills and experience, not superstitions
Steps to take towards a professional gambling career
Build your bankroll, slowly but steadily. To become a professional gambler, you need to build your bankroll by taking advantage of as many initial deposit bonus offers as possible. It may not be wise to quit your job the same night you have an epiphany that drove you to decide becoming a pro gambler. Continue your day job and play at the casinos at night. Once it's certain that this could be a viable career choice, you can then safely quit your job. Tip: prepare two separate accounts, one for expenses and the other for gambling "work" purposes.
Flexibility comes with a price - acknowledge it. As a full time gambler, you won't be restricted by time clock, employers or co-workers and tiresome commuting traffic. You are your own boss and you can work anywhere and anytime you want. However, you'll need to have a high discipline to maintain this kind of lifestyle. In short, you'll need to constantly push yourself to "work", no matter how tempting it is to just sit back and enjoy your earnings.
Make your ego work for you! Not many know this but there's good ego, and there's bad ego. Good ego gives you the confidence to believe in yourself, so that you won't do anything foolish to let yourself down or mar the self-image of a professional player that you've worked so hard to create.
Gambling burnout?
Once you feel a burnout coming on, it's time to stop. When things get less enjoyable, it's a sign that you should reconsider your gambling career, no matter how viable it is. Consider taking a break from gambling and staying away from casinos for a while, and if you still feel the same way when you return, it's time to say goodbye to the game for good.
Caution
No professional gambler can vouch on their experience and guarantee that your transition from a casual player to a pro gambler will be a smooth one. You won't even know if you'll win enough to make a living, but once you do, you'll stand to make a good sum of money daily. It might be a prudent idea to save extra money and use it on higher limit tables by testing the waters first.
If you tread your path towards professional gambling wisely, you could either make enough just to get by, or win big and earn six figures a year (or more), but there's a risk of you going overboard in the pursuit of big money.
The key here is never to get greedy, and know your limits.

Author bio: Jeremy Henderson is an avid gamer, who also loves writing. He has for years played in poker tournaments around the world and made a living off it. He has also ghost written a number of articles that have been featured in reputed journals.