South Africans Love Online Casino Gaming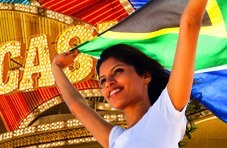 Springbok Casino serves an international clientele.  Still, we are dedicated to making online gaming as good as we possibly can for our South African gamers.  To that end, we accept Rand and offer bonuses and other gifts in Rand.  By doing so, we have satisfied customers in many countries including South Africa.
At this time, we think it would be a good idea to go over the casino gaming scene in South Africa.  There are land based casinos, Springbok is an online casino, and there are laws and regulations that all casinos and players must obey.
Politics and Gamification
Some politicians would like to loosen some of the gambling restrictions that are still in the law in South Africa.  Whilst some of the politicians who want to liberalize gambling laws advocate for more freedom of choice amongst South Africa's citizens, most see liberalized gambling laws as a way of generating tax money for the many services the government must do.
Others are more traditional or conservative.  They would like to keep gambling laws as they now are or even restrict gambling even more.  They see gambling as a vice, tax revenues notwithstanding.  The conservatives held complete sway until 1994 when the government decided to loosen some gambling laws.  The National Gambling Act of 1996 introduced the idea of licensing venues that would offer gambling to South Africans.  It is important to understand that the decision in 1994 to loosen gambling restrictions was ineffectual until the National Gambling Act was passed two years later.
These two acts were very bold for the traditionally extremely conservative South African polity.
The Law and the Board
The National Gambling Act set up the National Gambling Board which had two main functions.  First, it set national rules for casino gambling.  At that time, the rules applied only to land based casinos.  Online casinos anywhere were only just getting started so there was really no market for an online casino in South Africa at that time. 
The National Gambling Board also allowed each South African province to license land based casinos and sportsbooks.  The revised gambling law of 2004 allowed online sportsbooks but continued to consider online casinos as ostensibly illegal. We use the term "ostensibly" because the law that was passed in 2004 was mended in 2008 to allow online casino gambling.  This bears repeating: the law allows online casino gambling.  However, the government has as yet failed to implement the law with the proper regulations and supervision.
Absolute Honesty and Safety
Casinos such as Springbok Casino are all licensed and regulated by outside jurisdictions.  We are fully regulated and provide a totally fair and honest gambling environment to our South African gamers.  It helps South Africans grow confident in the gaming offered here at Springbok Casino since we are an international online casino.
The fairness of the games offered at Springbok Casino comes from the source of every gaming result—the Random Number Generator.  This ingenious bit of computer software determines every spin, every, card, and every number in bingo, keno and the like. 
The second side of the safety of the gaming operation at Springbok Casino is the encryption protocol we use to guard the safety of every unit of money we receive as deposits or that we disburse as withdrawals.  We rely on the good faith of our gamers to report any winnings they may have earned to the proper tax authority wherever the gamers may live, including South Africa.
It is not illegal for South Africans to access an online casino.  Some interpretations of the law make it difficult for the casinos to process financial transactions but you can play as much as you want even as a South African citizen
Gambling in South Africa
Much of the gambling done in South Africa is done on land.  There are several land based casinos, horse racing tracks, and, of course, the national lottery.  Clearly, the government is not opposed to gambling on purely moral grounds.  As many other jurisdictions in the world are discovering how lucrative the online gambling market is, how to regulate it to the benefit of state tax coffers, and how online gambling, especially how online casino gambling works in a complementary fashion with all other forms of gambling, there will not be a concomitant loss of tax revenue from one source even as tax revenue from another source increases.
Sports Betting
This form of betting has been legal in South Africa for many years.  It is also legal online.  The government regulates sports betting so we can expect it to learn how to regulate online casino gambling soon.  Then there will be no grey area as to the legality of online gambling in South Africa.
There is a strange sort of disconnect between the legality of online sports betting and the ostensive, unimplemented legality of online casino gambling.  Sports betting appears on the surface to be far more amenable to the studious gambler.  It is very true that a studious football gambler will have far more information at hand to base his or her decisions on than the slots player.
However, there are so many sporting events going on at the same time around the world and so many factors that go into the outcome of any single match, that sports betting is far more difficult to learn than are video poker or blackjack.  Slots are a pure game of chance with no real strategy for winning.  Blackjack has a few variations which take a bit of time to learn.  This is dwarfed by the complexity of sports.  Many people forget that luck plays a very big part in the outcome of many sports events even as it is the sole part of the outcome of slots games.  Luck, however, is but one element in the long term outcome of blackjack or other more cerebral casino games.
So, it stands to reason that a government that already accepts gambling as a pastime that a very large number of its citizens enjoy, shall continue to leave online casino gaming in the grey area of gambling whereas so many other gambling opportunities are clear as to their acceptability by the government.
Bottom Line
The South African legislature decided to allow online casino gambling almost a decade ago.  The government has yet to implement the law.  Looking at the matter from the broadest possible perspective we can conclude that the South African government will soon begin the long process toward certifying and regulating online casinos for all South Africans.