Players are the Stars at Springbok Casino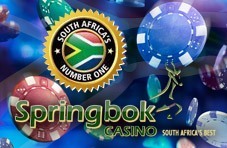 There is a strong tendency in marketing to try to sell the product or service the company offers.  This is the default position of almost all marketing philosophies.  The one big thing this type of marketing misses is that it doesn't address the potential customer directly.
People with money in their pockets want to be told how they will personally benefit from buying this particular product or service.  This is especially true in the online casino market.  There are thousands of online casinos.  Each offers a large selection of games.  If we at Springbok were to try to convince you to join us on the basis of our products alone, you would probably go looking elsewhere because you wouldn't feel the personal touch.
So, we at Springbok Online Casino have adopted a marketing philosophy that has the personal touch in everything we do. We call this our "You Marketing" philosophy.  Our philosophy is that everything we offer has to benefit you in some way and we have to tell you how you will benefit.
Welcome
At the bottom of our home page we welcome you warmly to Springbok Casino.  The emphasis from the outset is how much you can enjoy gaming at Springbok.
Next, we tell you that you might like to know more about South Africa than you already know.  We have an entire section in which we simply enrich your knowledge of our great country.  In this section, there is nothing to buy and we aren't selling anything.  Just enjoy what we have to share with you.
Tips and Strategy
As an online casino, we are also in business but we want to even the playing field as much as we can.  So, for your benefit, we run a full section with tips and strategy advice for many of our games.  As we are adding to this section weekly, you will eventually know as much about all the games we offer as we do!
You Marketing
The marketing philosophy that places you at the forefront is much more a philosophy than a strategy.  In fact, we at Springbok feel that the marketing plan we follow, itself follows directly from the marketing philosophy we have adopted.
One ironic note is that some marketing writers call "you marketing" the approach that places the company at the forefront.  We feel that our approach is that "you marketing" places you at the forefront.
Marketing a Car
Marketing with the customer in the forefront can be applied to any product or service.  Let's give two examples, one from a high ticket item and one from a relatively low priced product.
You go into a showroom to look at new cars.  The salesperson tells you that car x gets excellent kilometrage per liter of petrol.  He or she emphasizes the appearance of the car.   She tells you that the company is offering excellent financing options.  There are many other ways the salesperson can try to sell you the car that don't directly tell you why this particular car meets all your needs.
In short, the salesperson is trying to sell the car rather than giving you the chance to buy the car.  He or she should ask you what your primary needs are.  If you say high fuel efficiency, the salesperson should be drawn to offering one car over another even if the commission for selling the one car is greater than for the fuel efficient car.  This is "you marketing" for cars.
In some cases a customer's needs may be contradictory.  For instance, a customer may want a fuel efficient car with room for six passengers.  The salesperson may be tempted to sell an SUV but he or she will do a better job by offering the most fuel efficient car that satisfies the customer's need for a large car.
Marketing a Supermarket
Maybe you're willing to pay a little more for your groceries in return for the personal touch in every area the supermarket serves you.  Rather than sell you on the low prices, the supermarket might sell you on wide aisles where you can easily pass another cart going in the opposite direction.  The supermarket might emphasize an open door policy in which customers are welcome to speak to the store manager in person.
The store may make it their policy that anyone who needs help getting their heavy shopping cart to their car may ask for and receive help.  The supermarket may make it clear that it employs young people from the neighborhood to stock shelves, work in the stock room, serve at the meat or cheese counters, or do any of the many other small tasks that need to be done in the store.
This type of marketing tells that customer that their comfort is paramount, that they can get help anytime they need it, that the management staff is always open to talk about a product or to personally handle a complaint.
This type of marketing does not say that the store has 50,000 products.  It doesn't even say that the produce is first rate, fresh that morning.  A customer who shops there once will see that immediately.   The emphasis at this type of supermarket is similar to the guiding philosophy at Amazon which has risen from a tiny start up to the great heights it occupies on the strength of a single slogan "Let us help you" and the commitment to live up to that slogan every day.
Getting Back to Your Gaming Experience
At Springbok, we emphasize the fun and enjoyment of gaming at a great customer-centred online casino.
We readily admit that we are not the great geniuses that developed this marketing philosophy.  We follow it because we want you to feel at home whilst you're gaming at Springbok.  We try to do everything we can short of delivering cold drinks to your home to make you feel welcome at Springbok.
And we have an open door policy wherein you can contact us and we will do everything we can to help you.