There is so Much South Africa to Experience!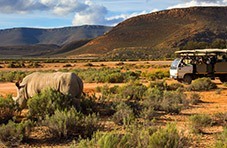 Some people have asked us to explain why we have a "travel" section here at Springbok Online Casino.  The short answer is that we are proud to be an online casino that caters to South African gamers. And we are also proud of South Africa as a travel destination.  As such, we try to encourage all visitors to South Africa to continue to play their online casino games here at Springbok and to use their valuable holiday time experiencing everything that South Africa has to offer.
In this short article, we'll review some of the travel ideas already covered in the travel section and we'll add a few more.
Safari
All over Africa and especially in South Africa, safari is one of those bucket list experiences that everyone should have.  There are five animals that are called the Big Five that every good safari should offer in the wild.  These are lions, elephant, rhinoceros, leopard, and buffalo.
There are safaris where you can see three or four of the Big Five.  Here in South Africa no safari is considered complete without a good long look at each of the Big Five.
Wildlife
There is a lot more to South African wildlife than just the Big Five, as extraordinary as they are.  You can see many species of birds and other large and small animals plus a wide array of wildlife at every national park. 
In the south near Cape Town, you can see whales and penguins.  Whale watching has become a major tourist attraction from the Pacific Northwest in the United States to Southern Africa.  You can often see dolphins swimming along with the whales.
South Africa is home to several private wildlife reserves.  We won't push any one by name but at these wildlife preserves you can usually take a self-guided tour or a professionally guided tour for very reasonable prices and you can see hundreds of species of birds, many big cats other than lions and leopards, monkeys, and many smaller animals.
Sadly, there are also some endangered species of wildlife.  You can join the Endangered Wildlife Trust which strives to save not only elephants which are poached for their tusks but many much smaller animals which are being lost to urban development, coastal development, loss of water as it is diverted to human use, and habitat degradation. 
Amongst the endangered animals are a species of frog, a species of mole, and the Blue Crane which is the country's national bird but which is being decimated by collision with high voltage electric wires.  Other endangered animals includes the painted or wild dog which has suffered greatly from myths about its harmful effects on people, and the Cape Vulture which also has not yet learnt how to maneuver around electric wires and other man-made threats.
Sharks
There are sharks off the coast of South Africa.  Tourists can claim a place on a shark cage where you'll see not only the Great White Shark but also thousands of other fish in their natural habitat.
Surfing
Surfers say that South Africa is a great place to surf both for beginners and for experienced surfers.  There are many bays along the coasts where the surfing is excellent.  Elands Bay, north of Cape Town, is surrounded by mountains.  It features intermediate sized waves in a magnificent setting.
Big Bay is more touristy than other surfing areas.  Trinket shops sell tourists souvenirs of all sorts.  If you like to mix surfing with kitschy touristy stuff, then Big Bay is the perfect place for you.
Hout Bay is the water's edge of the legendary town of Dungeons.  The waves here are strictly for top surfers.
Jeffrey's Bay is considered one of the best surfing locations in the world.  As there are so many tourists, many eclectic shops have set up business there making it both a great sports enthusiast's area and a great, unique tourist area in its own right.
Hiking
Hikers the world over love to venture forth in South Africa's many out of the way places.  Modest hikers have hundreds of kilometers of trails from very easy to challenging.  You can hike inland for days and hike along the coasts.  As long as the local authorities know where you are, you can venture as far afoot as you wish.
Cities
The entire country of South Africa is one giant outdoor tourist attraction in itself.  Still, there are many wonderful cities in South Africa each with its own modern culture and unique, if not always happy, history.
South Africa has much to offer guests in the way of music, art, cuisine, indigenous cultures, and much more. 
Cape Town, Durban, and Johannesburg are generally considered the top three cities in South Africa yet there are many smaller, less familiar cities with much to offer in terms of history, architecture, local cultural flavor, cuisine and the like.
Wine
South Africa is certainly not one of the places most people think of when they think of wine.  Still, wine making has become an international sport of sorts.  If European wines are generally somewhat overrated because of Europe's long wine making history and the genuinely spectacular wines that do come from Europe, other country's wines are generally underrated for the same reasons.
Even if no world class wine comes out of South Africa, that does not mean that all South African wines are poor.  In fact, many rate South African wines quite highly.
South Africa has two distinct wine grape growing climates.  The climate is generally warmer than in Europe.  This produces wines with less bite at the end.  Many wine drinkers prefer a wine without the distinctive bite.
In the Western Cape region, the prevailing winds off the ocean are quite cool.  This allows the grapes to mature more slowly and the wine that results has the bite that European wine aficionados like.
Remember Springbok Online Casino
As you can see, there is so much to do in South Africa both outdoors and indoors that we, as proprietors of a great online casino wish you a wonderful South African holiday and leave all your online casino gaming to us!