Springbok Does it ALL to Keep Players Satisfied - UX101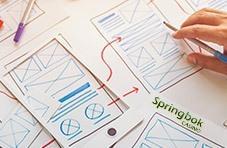 A lot of people look at an online casino and all they see is an online casino.  There are a lot of online casinos—thousands, in fact.  Online casinos try very hard to be excellent in all areas for the comfort and convenience of their players.  In this series we will describe why and how the hard work Springbok Casino does behind the scenes pays off in your overall satisfaction.
User Experience
In modern marketing, there are a few terms that insiders use all the time.  The general public doesn't know these terms so well.  We will try to explain the most important ones to you and to show the Springbok Casino approach for them.
The first term is UX which means user experience.  Our greatest goal here at Springbok is for you to have the very best user experience every time you log in to Springbok Casino.
Smile and the World Smiles with You
We do everything we can to make you smile.  It is a well-known fact in the world of marketing that when people smile they feel better about themselves.  In the United States, the biggest sports event of the year is the Super Bowl of American football.  A lot of people who never watch football, or sports in general, watch the Super Bowl, or at least come to a Super Bowl party.
Because the audience for this one game is so big, it costs companies many millions of dollars to run a single one minute advert on the television broadcast.  Many people watch the game just for the adverts!  The single most important element in any advert on the Super Bowl telecast is to make people smile and laugh.  This is the best way to market their brand.  The next day, in offices all over the United States, people talk about the best adverts and they mention the companies by name.
The game that leads to the most smiles is slots.  It seems that it should be easy to bring out a new slots game every month but the truth is that even one new slots game is very hard work.  The goal is to make players smile.  To achieve that goal, the developers have to dig deep in their imagination to come up with new ways to tell a story.
Leading in imagination is the first step to introducing a slots game that will make a million people smile.
Fast and in Control
Speed is a major part of running a successful online casino.  We at Springbok understand that you want to get to the games as fast as possible.  That is one side of the need for speed.  Another side, the one that happens every day behind the scenes, is the need to be aware of changes that are taking place in gaming, in free time activities, and in society in general.  A casino is just like any other modern company; we know that we have to change direction quickly when we see that the people who play online games want us to.  We have staff members whose single task every day is to compare our casino with the needs and activities of our players.
For instance, we found that players want simple registration forms.  They want to be able to withdraw their money quickly.  And South Africans want to be able to deposit Rand instead of having to convert their Rand into dollars or Euro.
Inter-dependence
We depend on Real Time Gaming to do many things that we at Springbok cannot do as well as they do them.  That means developing new games that the public will like.  Slots are very different than many other products that companies produce and try out on the public.  The second term we would like you to understand is inter-dependence.  No one company can do by itself everything it has to get done.
You'll see soon how inter-dependence works within Springbok and with all of Springbok's partners.
The cost of developing even one new slots game is very high and RealTime Gaming has people at every step in the development process whose job is the make sure that the game as it stands at that moment is in keeping with the gaming public's likes.  So, here is another term that we use all the time that we think you might like to learn: interdisciplinary collaboration.
This term is quite a mouthful but it's one of the most important elements in a smoothly running company in the 21st century.  No company can afford to put up with internal infighting between sections of the company.  Cooperation has never been more important than it is now.  Everything moves too fast for a company to get bogged down in internal competitions.
This means that Springbok and Real Time Gaming are companies with many employees who do different things.  Nevertheless, everyone has to collaborate wherever one office's job overlaps with another office's job.  We can't have interdisciplinary competition because the world is moving so fast all around us that if we have to take the time to unravel competition between offices, we might lose out on a major innovation in online gaming.
The Challenge of Innovation
It is very hard to develop something new.  In some industries, it might not be important to develop something new but in most, innovation is a very important part of being successful.
The next term we think you can benefit from knowing is technological innovation.  We can give you an excellent example of how this takes place in the world of online gaming.  We won't name names.  When the first mobile casino came online it was not a very good product.  By the way, that happened many years before Springbok Casino came online in any gaming platform!
Because the first mobile casinos were not very good, some game developers lagged behind others in developing games for mobile platforms.  Some game providers redid their older games so that they could fit onto the existing mobile platforms but didn't develop games specifically for mobile platforms.
The game developers that lagged behind in the race to develop games for mobile platforms found themselves trying to catch up to the developers who always understood that mobile would eventually become a lot more popular than desktop and laptop gaming. 
Here are the main parts of an innovation:
Size
Price
Convenience
Comfort
The example of mobile casinos is perfect to see how technological innovation works.
Too Big for a Pocket
The first mobile phones were big and clunky things.  If you're too young to remember them, they were monster machines!  A few years before the technological innovations came along in graphics, the cell phones started getting smaller and lighter.
The first generations of cell phones were not just heavy; they were very expensive.  As they started to get smaller, they also started to get a lot less expensive.  This meant that a huge economic group in countries with the cellular phone infrastructure could afford to buy one.  Still, mobile casinos were not nearly comfortable enough for most online casino players.
The convenience of mobile is easy to understand.  They became even more convenient when the first smartphones came along.  The final touch was comfort.  This came about as companies developed excellent graphics.  It was the graphics on all of the gaming platforms that created the boom in online casinos and in online mobile gaming.  Springbok Casino is one of the hundreds of casinos that rode the wave of improvements in graphics.
And so ends Part 1 of this series... stay tuned for Part 2.