Can You Tell Me the Best Reasons to Play at an Online Casino?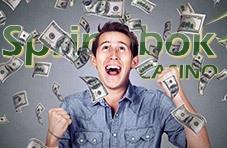 Here at Springbok, we are in full Christmas and Holiday spirit.  We feel so good that we want to give you a list that will simply make you happy.  The news about gaming seems to focus on the negative.  We feel that it's high time for an article that focuses on the positive.  So, without further ado, here are the top ten reasons to play online casino games.
Convenience
You don't have to travel; you don't have to pay for a hotel room, meals, souvenirs, and all the other things that cost money at a land based casino.  You don't need a suitcase to play at Springbok Casino.  You don't need a passport to play. 
With Springbok mobile casino, you can play wherever you are.
At Springbok Casino, you can play for free for as long as you like.
At Springbok Casino, you never give up your seat when you go places.
There are so many aspects of convenience in online casino gaming that we might be able to fill a very long article on just that subject alone.
Games
Gaming at an online casino offers a lot of games in many more games categories than any land based casino can offer.  Land based casinos have banks of slots.  However, there is a lot of repetition in those slots.  There will be several slots of the most popular ones so the one you want to try out may not be there at all.  Cyberspace is truly a remarkable "location" for a casino.  In cyberspace, space is unlimited so you can play a game along with millions of others all over the world and you won't feel crowded in the least!
We offer you variations in many table games and specialty games.  Unlike at a land based casino, where the blackjack tables all show the minimum bet allowed at that particular table, at Springbok online casino, you can make as small a bet or as large a bet as you like.  In essence, you never have to wait; there's always another seat at the table.
Land based casinos value slots so highly that they have large banks of slots.  That takes away from the availability of video poker consoles.  Once again, in cyberspace there aren't any brick and mortar or glass and steel walls so we carry a large number of video poker games.
Taking Some Time Off
Even if you're a rocket scientist, sometimes you feel like you just need to give your brain a cooling off period.  Online casino games are a perfect way to calm those wildly vibrating neurons.  Slots are designed to offer vicarious entertainment.  You can imagine yourself back in ancient Greece or Rome or the First Nations empires in the Western Hemisphere.
We also feature some just for fun games that we categorize as specialty games.  Once again, these games serve to entertain, put a smile on your face, and take your mind off things.  Play the games and rest your mind.
Exercise for Your Brain
Science has discovered that playing brain games is great exercise for your grey matter.  Science doesn't fully understand how this all works but suffice it to say, players never realized how healthy playing blackjack could be.
Blackjack and video poker are the electronic games that best give your brains the mental massage they need to stay healthy, youthful, and energetic.
Multi-tasking
You can do more than one thing whilst you're playing casino games online.   Land based casino gaming is uni-tasking at the uppermost limit; online gaming gives you the opportunity to do more than one thing at a time.
Relaxation
This is different than taking some time off from the project you're working on as the proverbial rocket scientist, kindergarten teacher, or house painter.  Relaxation is perfectly exemplified by the great growth in popularity of mobile casinos.
Before the graphics for mobile improved to the point that people began to choose mobile over desktop regularly, you could rest your brain whilst playing at the desktop but you weren't exactly relaxing.
Now, with your mobile device, you can flop upon your favourite chair or sofa or in bed and play.  We all find numerous ways to relax; many people have found that online mobile gaming is a perfect way to let it go and really relax.
Tournaments
At Springbok, we run slots tournaments all the time.  There are usually several slots tournaments going on at the same time.  These tournaments are competitions only in the strictest sense; there is a winner.  Sometimes there is more than one winner but in any case the winner doesn't win much: a few hundred Rand or so.  The idea is to play for fun and have fun playing with and against players from all over the world.
Our tournaments usually have no buy-in fee!  That means that we give you "money" to play with and you go ahead and play.  You don't get to keep your winnings; they are just a way of measuring who has the most points at the end of the tournament - and that player wins the prize pool.  Some players play in slots tournaments every day as one of their primary pastimes.
Lots of Bonuses
There is a very good reason why online casinos like Springbok can offer so many bonuses.  Every bonus comes with a play through requirement which means that you play a function of the bonus before you can take your winnings.  At an online casino, you can take as long as you like to fulfill your play through requirement whilst if you're at a land based casino, you might feel pressured to use the bonus by the time you have to leave to get back home.
So, online casinos offer bonuses and promotions on the weekend, on Monday because it's the beginning of the work week, on Wednesday because it's the middle of the work week, on birthdays, anniversaries, holidays and more.
VIP Service
At land based casinos, VIP's and high rollers might get a great suite in the hotel.  They get other big VIP amenities.  Online casinos give VIP's bigger bonuses, more comp points, and gifts.  Online casinos might send a VIP on a trip to a championship match in football, rugby, or cricket. 
Higher Payouts
Operating costs at online casinos are a lot less than at land based casinos so we can return more to players.  Sometimes the difference in return to player rate, or payout, is 10% or more.  Also, a lot of the slots at land based casinos are progressive.  We also run some progressive slots but we run over 100 slots without a progressive jackpot.  The return to player rate at land based casinos is thus skewed by the progressive jackpots.
Come Play at Springbok
So, now that you know the top ten best reasons to play online, try us out at Springbok Online Casino.  We do everything we can to make your gaming as fun, entertaining, and comfortable as possible.