Mobile is the Driving Force behind the Fantastic Growth in Online Gaming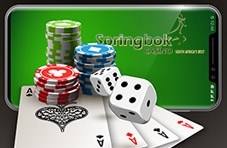 With this article, we will complete our three part series on how Springbok Casino does everything we can to make your online gaming as enjoyable as possible.  We are going to take you through the process of how Springbok Mobile Casino came to be the most popular platform for online casino gaming in South Africa.
The development of our mobile platform owes a huge debt to the great technological innovations of the past decade and it also has resulted directly from our commitment to UX or user experience.
Feedback and Patience
The user experience process, from the point of view of the company and, in our case, the casino comes from two opposite practices which have to work in perfect harmony for either one to succeed.  In scientific terms, two or more elements working in perfect harmony to create a more powerful whole is called synergy.
UX is directly a function of synergy inwardly within the casino and outwardly toward you, our players.  The two practices here are asking for feedback and being patient enough to wait for the feedback, to evaluate ourselves based on the feedback, to look to clarify any points we or you didn't understand, and then, finally, to act on what is in essence new knowledge.
Dynamic and Fluid
Most businesses are dynamic and fluid; most would like to be even more dynamic and fluid than they are.  The world famous Walmart Corporation began in a lonely corner of a small American state.  Their business model had never been tried.  It focused on providing in-store shopping for a large number of products to rural and small town customers.
Before that, rural and small town customers bought either through a catalog or from small local stores.  Walmart was so dynamic and fluid that it grew and grew in concentric circles from its first location until it both reached the outskirts of large metropolitan areas and was noticed by urban populations.
Springbok Casino entered the online gaming market only about ten years ago.  We knew that this market was extremely dynamic, with many new casinos coming online seemingly every day, and with new technology changing the face of the industry at the drop of a hat.
We had to find the way to balance two apparently opposite needs.  On the one hand, we needed to be patient enough to find out what our customers like and what they want us to do more of and on the other hand to be out front dynamically accepting changes that technology and the observable needs of our customers demanded.
Defining Who We Are
Robert Townshend wrote a seminal book about corporations back in the 1960's called Up the Organization.  He said that a company needs to define itself exactly and act accordingly.  He was the new CEO of Avis Car Rental Company.  He and his vice presidents set out to define Avis.  They decided that Avis was in the business of renting cars without drivers.  That prompted the company to sell off a limousine subsidiary so it could concentrate on what it did best.
We, at Springbok Casino, have always seen ourselves as serving the entire world.  But we defined ourselves as the online casino for South Africa.  To that end, we use the Rand as the gaming currency.  We are now redefining ourselves as the online casino for South Africa, Australia, and New Zealand.
Online Casinos in the 21st Century
As a young online casino, we saw immediately that many of our players wanted to be able to play for very short periods of time.  The desktop format for online gaming was conducive to long gaming sessions but most of the new players who joined online casinos in this century wanted gaming to be more like texting.  That means that our players wanted quick access to games and the ability to play for a few minutes at a time or less.
At the time, mobile gaming was just exiting its first decade and was entering a new era.  In the first decade, game developers took established games and changed only the software so the games would play on mobile platforms.  This made for inferior mobile games and at Springbok we knew that the mobile market was about to become extremely dynamic and we anticipated receiving feedback that our players wanted better mobile access.
So we partnered with Real Time Gaming (RTG).  RTG is a young game provider by the admittedly young standard of the online casino market.  They are committed to the same values that we are: giving gamers the most entertaining games to play on the easiest and most convenient platforms.
The mobile games that RTG provides are compatible with all known mobile devices.  We have to say "known" because in the dynamic, fast-changing mobile world, new devices with new platforms could arise at any time.
Instant Play
Thus is another very modern gaming platform.  It allows you to play directly on your internet browser without needing to download the casino to your hard drive.  We also anticipated this grand technological innovation because we saw that gamers would access their mobile casino through a simple app.  If an app is all you need to play on your mobile device, then you would equally like to be able to start playing as soon as you open your computer.
Importance of Mobile Devices
At one time, people thought that online casinos were simply a niche market.  The advent of mobile gaming shows that mobile gaming is as much an everyday activity as texting and accessing social media.  We use it because it's there and it's there because we so much want to use it.
The Funnel
When people talk about marketing, they talk about a funnel.  The top of the funnel is the point at which someone becomes aware that a product or a service is available.  If you aren't interested, you skip the advert or the text message and go on.
If you are interested, you might open the advert.  Then the company has to interest you enough to get you to go from the center of the funnel to the bottom of the funnel where you would likely buy the product or service.
For an online casino like Springbok it means having a homepage that attracts the eye and enough information there to keep your interest.  On our front page, you'll see a link to games, banking, customer service, and mobile.  Without all four of these, most gamers would quickly look elsewhere; that's how important mobile has become.
UX in Perspective
Another aspect of marketing is borne in the question: Why do people spend money they might not need to spend?  Here we'll see how UX, user experience, moves businesses including Springbok.
Why do people eat out at a restaurant when they could eat at home for a lot less money?  Even people who love to cook also like to eat out.  The reason is because a restaurant experience is a lot more than just the food.   The UX of a restaurant involves the atmosphere, the service, and much more. 
The same could be said about online casino gaming.  People have so many free time options that they don't need to play casino games online.  In fact, people sit down to play casino games less and less often than they did twenty years ago
They play a little and do other things a little.
The perfect format for playing a little at any one time is mobile, by far.   We will continue to improve our mobile games and platform whenever we can.  And  Springbok will continue to ask for your feedback, take all feedback seriously, respond by making changes requested by a critical mass of our cherished gamers, and do everything we can to maximize your UX.