Real Time Gaming is a Special Provider with Many Special Features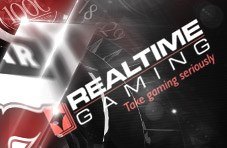 Of course, you play at Springbok Casino because you like to play casino games.  Our games provider is Real Time Gaming (RTG) and in this article we'll talk a bit about RTG and how they help us make Springbok the top online casino for New Zealand, Australia and, of course, South Africa.
A Variety of Games
Real Time Gaming began just about ten years ago and was fortunate to be able to ride one of the technological waves that have made online gaming so popular.  Remember, online gaming is only about twenty years old.  We forget that the technology that makes online gaming so exciting is several generations beyond the technology of, say, 2000.
RTG is also an innovative game developer.  So, let's talk about some of RTG's innovations.  We'll focus here on slots because most industry changes and innovations have come in slots and in many cases RTG has led the way.  Many of the slots provided by RTG have random jackpot features.  Still, RTG has developed several features in slots games that you should know about.  They are amongst the many reasons that online gamers love to play RTG slots.
Feature Guarantee
This feature automatically triggers a free spins round after you have played a given number of games.  In most slots, as you know, the free spins bonus round is triggered by three scatter symbols appearing anywhere on the reels.  The feature guarantee triggers the free spins bonus round without the need for scatters.
The slot, Aztec Treasure, has a scatter symbol that also triggers free spins but the Feature Guarantee triggers the free spins automatically.  Thus, you get two opportunities for free spins and one begins automatically. 
There are several RTG slots here at Springbok that carry the Feature Guarantee.  We suggest that you take a little time to look around the casino and find them.  Whether you play directly on your browser on the Instant Play platform or you download the casino to your hard drive, every game is available to you with just a click.  The slots that have this extra bonus round have a counter at the top of the screen.  You'll need either 150 or 250 spins to trigger the free spins automatically.
If you're an experienced slots player, you know that 250 spins are very few and 150….well, they're even less!
Win-Win Feature
It doesn't happen often but it does happen occasionally that a player will reach the free spins bonus round and not win anything.  Players rightfully feel disappointed when the free spins round doesn't bring extra riches to their bankroll.  So RTG developed the Win-Win feature.
In this extra "way to win", you get a chance to win money if, during the free spins round, you won less than ten times the bet that got you to the bonus round.  If you win more than ten times the original bet, the Win-Win feature does not kick in.
The Win-Win feature has its own unique pay schedule that automatically adds money to your account if you qualify.  If you won no money at all in the free spins round, you get 200x your original bet.  So, if your original bet was R20, and you didn't win in the bonus round, you would automatically receive R5000 as "compensation" for "bad luck".
If you do succeed in winning some money but still not enough to go over the 10x threshold, you receive less money back.
As you can see, if you're near the end of your free spins and you haven't won anything yet, you'll be rooting for your "bad luck" to continue!  In that way Springbok and RealTime Gaming turn your bad luck into very good luck indeed!
Boiling Point Jackpots
This feature shares some similarities with the Guarantee Feature in that it is automatically triggered.  The difference—and a big one it is—lies in the jackpots.  The concept is that as jackpots rise, players become more and more anxious.  We want to reduce anxiety as we always say that online casino gaming should be fun more than anything else and should take you away from the pressures of everyday life and work.
So, RTG developed the Boiling Point Jackpots feature.  It is a prominent part of the Spirit of the Incas slot as well as several others.  In Spirit of the Inca, players vie for five different jackpots.  A lucky player can actually win more than one jackpot with a single spin.
It may interest you to know that the Incas are just one of many ancient cultures, empires, tribes, or nation states that game developers base slots on.  There are slots on ancient Egypt, Rome, Greece, Mayan culture, Aztec culture, Norse mythology, Vikings, ancient Chinese culture, and others.  We seem to be fascinated by ancient civilizations.
The Incas ruled a vast empire just a few hundred years ago.  Archeologists and historians believe that the Incas had the most centrally organized government of all the tribes in the Americas before Columbus "discovered" America.
Five Jackpots
When the jackpots reach their "boiling point", a lucky player wins it automatically.  The five jackpots work independent of each other.  That is why it's possible to win more than one at the same time.  All that takes is luck, and lots of it.
Since the Boiling Point Jackpots feature is run directly by RTG, the awards are listed in Euro: from €100,000 for the Mini Jackpot on up to €300,000 for the Grand Jackpot.  The others are called Minor, Major, and Maxi.  Whatever RTG wishes to call them, we feel that few players would call €100,000 a Mini Jackpot!
A Commitment to Excellence
We have covered only three of the special features in RTG slots here.  As we said above, we urge you to simply run through the slots on offer at Springbok.  There are over 100 slots so it takes a little bit of time to look at all of them.  That's why we allow unlimited free play. 
Going through the slots in free play gives you the chance to discover themes that you might not have been interested in before but become interested in because the slot with that particular theme proves to be so much fun to play.
That's the crux of the RTG system of extra features in their slots: they make playing slots at Springbok just that much more fun!