Online Casinos Have Hidden Advantages over Land Based Casinos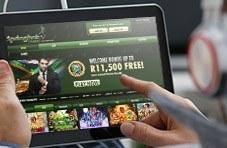 We have written before about the differences between playing at an online casino as opposed to playing at a land-based casino.  Online casinos are more convenient, cost less because there aren't any travel expenses, never make you wait for a game, and have a lot more flexibility.
In this article, we'll touch upon a few areas that you might not have thought about in which the online casino has the edge over any land based casino.
Online Includes Mobile
The biggest change in gaming habits in the last ten years has been the phenomenal growth of online mobile casinos.  In many countries, mobile has become the default platform for gaming.  Springbok mobile casino has the best of all worlds - merging all the most modern technology with the convenience of mobile giving gamers the kind of gaming flexibility that land-based casinos cannot compete with.
In fact, some land-based casinos have already begun to offer mobile gaming at the casino through their own internal WIFI system!  If you can't beat'em, join 'em!
The most ironic aspect of a land based casino offering mobile gaming is that mobile is, in reality, the true opposite of land based casino gaming.  Gamers go to a land based casino whilst a mobile casino is always at your beck and call.
Payout Rates
Everyone knows that the Random Number Generator decides how every spin or hand will end up at an online casino.  At land based casinos, the RNG is used only in digital games which generally are slots and video poker but which may also include scratch cards, bingo, keno, and specialty games.  That means that the payout rate at lands based casinos is pre-determined only in digital games.
The chances of winning at a land based table game are no better than the chances of winning the same game at an online casino.  Blackjack strategy works on land or online.  But in video poker and slots, online casinos pay out more as a general rule.
The manufacturer of the games can calibrate the game to pay out any percentage the casino wants.  Since land based casinos have more overhead, they ask the game providers to calibrate anywhere from 85% to 92% as the return to player rate.  Online casinos generally calibrate slots to pay out 95% to 98%.
As an aside, in Canada, there are online casinos that are designed to raise money directly for charities.  There they calibrate slots to return to players about 65%!
Online casinos can pay out at a larger rate because they have such a higher volume of games played per day.  A land based casino may be open 24/7 but it still is stuck in one location.  No matter what the casino does—such as having no windows or clocks—many or most gamers will sleep between midnight and 7:00 am.
An online casino is "open" 24/7 only in the sense that players can access the games any time they want so, whilst people in the Western Hemisphere may be asleep, gamers in South Africa, Australia, and New Zealand are wide awake.
The online flexibility of being open 24/7 to the entire world simply means that there is greater playing volume online so the casinos can pay out to players at a much higher rate.
Temptation to Stay and Play
This is connected to playing long after midnight at a land-based casino because, with no clocks or windows, many players simply lose track of time.  This never happens to online casino gamers yet the online casinos get a lot of play anyway.
That's because there are other factors that tend to influence land based casino players to stay and play whilst they don't affect online players in the same way.
For instance, land based casinos will send out a parade of pretty hostesses offering free drinks, food, and other casino or hotel amenities.  Many gamers stay on the casino floor because they like to look at the pretty young women.  Suffice it to say that if a scantily clad female comes into the view of an online casino player, she is likely not hoping that he (or she) will stay and play!
On Holiday or On a Break
At a land based casino, you really are there to play casino games.  At an online casino, you are there most often to take a head-clearing break from all the other things you have to do.  This difference in circumstance—between the gamer on holiday and the gamer on a break—is the difference between many gamers who stay and play and others who play for a while and then get on with things.
Finally, at an online casino, if you need to take a break from taking a break and go places, you don't lose your spot.  Too many land based casino gamers delay going places because they fear losing their spot.
Playing Blackjack and Video Poker
These are the games that require decisions on every hand.  Live poker also requires decisions but we will leave poker for another article.  Let's focus here on blackjack and video poker.
The best strategy in these games is to know the optimal playing sequences by heart.  In blackjack, the best strategy involves learning how to count cards.  Both of these strategies take a lot of time to master.  By far the best place to master the blackjack and video poker charts is playing at an online casino.  First of all, you can play for free if you wish.  If you choose to play for real money, you can always find a relatively inexpensive game to play as you learn the skills that will enable you to play for higher stakes.
Land-based casinos can be very intimidating to newer players.  Especially at the blackjack table, where the other players may berate you for decisions that cost them hands, you can play and learn at your own pace and for as long as you need.
Blackjack also requires learning to count cards if you want to even the odds with the house.  As challenging as card counting is, after you've played a long session whilst counting cards and you've either won a little or lost a little, the satisfaction of having played your best is worth the time you spent learning this amazing skill.
Conclusion
We at Springbok are aware of the attractions of land based casinos.  However, we always like to remind our present and future gamers that there are a lot of obvious and less obvious advantages to playing at our Springbok online casino.